Wouldn't it be cool if a kid with Autism Spectrum Disorder had a superhero to look up to?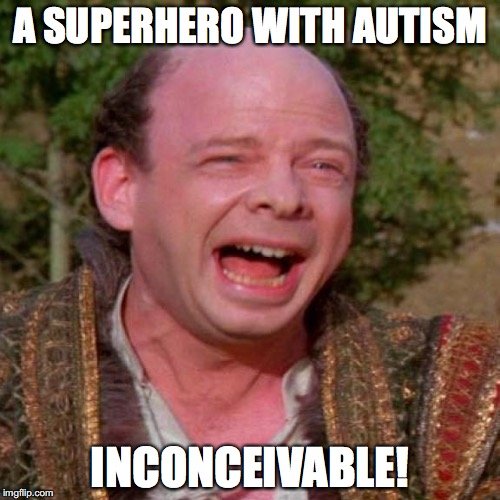 You Keep Using That Word, I Do Not Think It Means What You Think It Means.
I think they already do... and I don't mean Sheldon from The Big Bang Theory (although I'm pretty sure it's safe to say he is also on the spectrum).
No. I mean something more like this...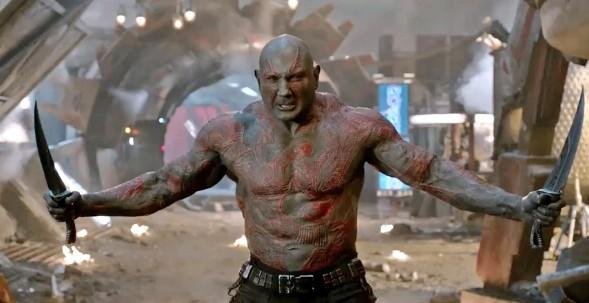 Drax the Destroyer
Although the movie version of Drax the Destroyer is a bit different from the one in the comic books, he is still a force to be reckoned with. This superhero (or "anti-hero" depending on the story line) is the galaxy's fiercest warrior. He possesses super human strength and durability. His body is also nearly invincible. Although his only purpose in life is to destroy the cosmic super villain Thanos (who is ultimately responsible for the death of Drax's wife and daughter), he backs up his teammates on whatever crazy adventure they happen to be on at the time.
Guardians of the Galaxy is my favorite movie based on comic book of all time.*
Not only does this film have action and humor, it also has a huge heart.
In my opinion, it also has a hero with ASD.
I work with kids on the Autism spectrum every day. When I first saw Guardians of the Galaxy, I immediately thought to myself, "Oh my gosh! Drax reminds me of Spencer... and Dillon... and Grace... and Bill... and..."
All of these students have one thing in common, they all have Autism Spectrum Disorder and are all "highly functioning". In the past, these students would have been labeled with "Asperger's Syndrome". Although the designation is no longer used in the medical field, it still has meaning for those of us who work with kids every day.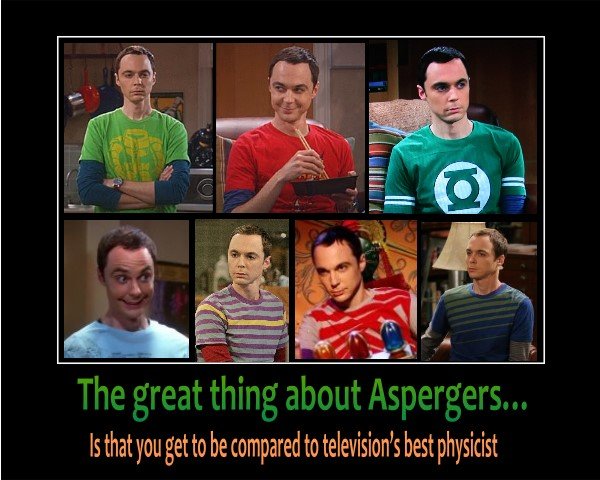 PsychCentral provides the following description of Asperger's Syndrome:
Asperger's Disorder is a syndrome that typically appears first in childhood, and is primarily characterized by a person's difficulty in everyday social interactions with others. For instance, a person with Asperger's may engage in long-winded, one-sided conversations without noticing or caring about the listener's interest. They also often lack usual nonverbal communication skills, such as engaging in eye contact with others they're talking to, or failing to react and empathize with other people's stories and conversation. This may make them seem insensitive, although that is rarely the case. They may have a hard time "reading" other people or understanding humor.
After checking a few other sites (please see the list at the end of this post) I compiled the following list of symptoms of Asperger's Syndrome:
Limited or inappropriate social interactions
"Robotic" or repetitive speech
Challenges with nonverbal communication (gestures, facial expression, etc.) coupled with average to above average verbal skills
Social awkwardness
Tendency to discuss self rather than others
Literal interpretations
Obsession with specific, often unusual, topics
Can be obsessed with numbers
One-sided conversations
Difficulty seeing others' perspectives
Difficulty empathizing
Difficulty developing friendships
Difficulty expressing appropriate and corresponding social or emotional reactions
Difficulty understanding social/emotional issues
Lack of eye contact or reciprocal conversation
I am no psychologist, but if Drax were my student, I would say, "Although I cannot diagnose Drax with ASD, he exhibits behaviors that are very similar to other students who I have taught who have been diagnosed with ASD."
Take a look at the following examples from The Guardians of the Galaxy. Do you notice any of the traits from the list above? I know I did.
Exhibit A:
This scene is a perfect example of Drax's inappropriate social interactions, "robotic" speech, social awkwardness, above average verbal skills and tendency to take everything literally. It is also freaking hilarious! I never felt the writers were making fun of Drax. Often times humor is born from the unexpected. It is definitely unexpected that someone so physically imposing would communicate the way Drax does.
People with ASD can become obsessed with specific topics. Drax is absolutely obsessed with finding Ronan (one of Thanos' henchmen). I would argue that although his desire to punish Ronan for killing his family is not "unusual", the lengths he will go to to reach this goal is. At one point, Drax, tells his enemy (and his entire army) where the Guardians are hiding just so he can finally face him. Drax does not take into account the fact that he has just risked the lives of his team.
This obsession is used against Drax in the following scene.
Exhibit B:
This scene again shows Drax's inability to understand metaphors, his reliance on logic, awkward verbal exchanges and lack of consideration of others... and their favorite knives.
Exhibit C:
In this scene, we see Drax's interest in numbers, lack of interest in what others are saying, and tendency to only focus on himself .
Exhibit D:
One of the funniest parts of the most recent Guardians of the Galaxy trailer is this...
Drax shows no empathy at all. He is unable to put himself in the shoes of the crushed creature or his friends who just saw this gruesome scene.
There are several other examples of Drax's awkward social interactions including a delightful scene where Drax asks John C Riley "What if someone does something irksome and I decide to remove his spine?" Riley explains that this would be the worst crime ever... Drax does not get it.
In fact, Drax does not "get" a lot of things. But by the end of the movie, he gets what friends are... even if he struggles with expressing it.
Exhibit E:
And just maybe, Drax can learn empathy.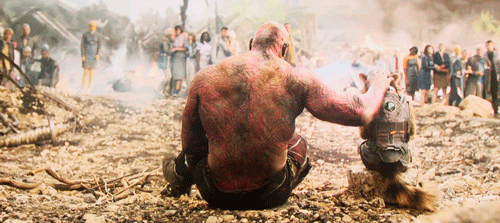 In my opinion, Drax appears to be on the Autism Spectrum. He also appears to be strong, funny, caring, a good friend, loyal, intelligent, a valuable team member... and a super bad ass.
You could give him a label, but he would prove he is so much more than that... just like my students, my nephew and my friends who have ASD do everyday.
They are all so much more than just a label.
April is Autism awareness month so its a perfect time to remember...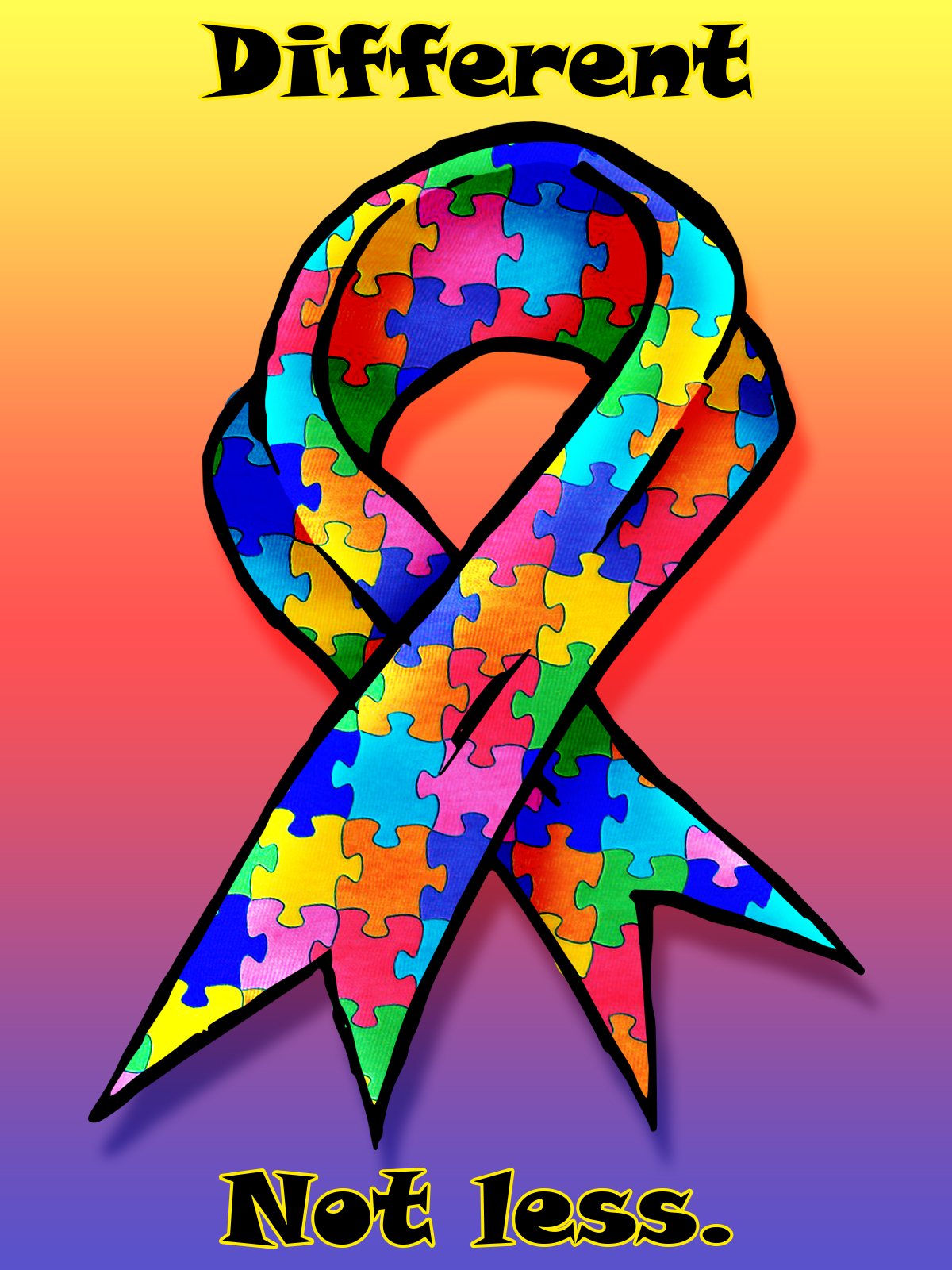 Original artwork by the sensational @rigaronib
*I think the Christopher Nolan's Dark Knight series are better films, but those transcend comic book movies.
https://www.autismspeaks.org/what-autism/asperger-syndrome
https://psychcentral.com/disorders/aspergers-disorder-symptoms/
http://www.medicinenet.com/asperger_syndrome/article.htm
http://www.activebeat.com/your-health/10-symptoms-of-aspergers-syndrome/