A Strong Feeling that Couldn't Be Ignored!
Would you like to read about the strong feeling or premonition I had yesterday because even if I can't explain it, I took action on it?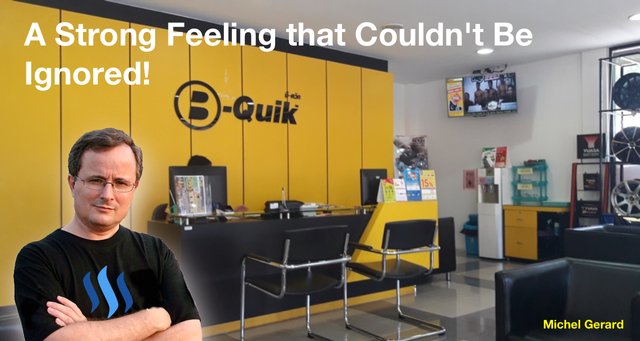 These premonitions do not happen very often, I am not a psychic, but when they come like this so strongly, I just don't want to ignore them.
A Strong Feeling that Couldn't Be Ignored!
Yesterday, while driving my daughter to French school at the Alliance Française, I had a strong feeling that something was wrong with the tires of the car and that one of them might just blow up.
I already experienced a tire blowing up on this same expressway with two different cars in the past and I had to be rescued. Hopefully, I just managed on these two incidents to stop the car without any danger for myself and others.
I remember stopping the car on the emergency lane on the last blow-up to inspect the tires as I was feeling some stickiness on the road and the car was not going straight while releasing the steering wheel. I saw nothing wrong with them, continued my journey and five kilometers later one exploded.
They were old and heavy cars, which could be controlled easily in that situation, but what about my lightweight eco-car Nissan Almera?
That's a photo 4 plus years ago when I got the car.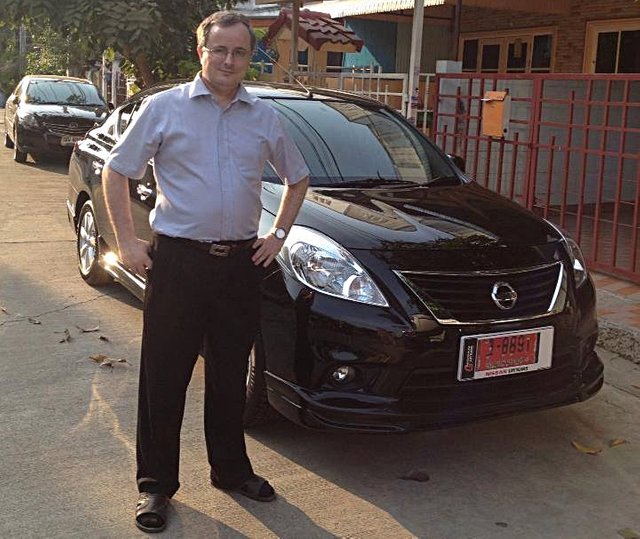 I certainly wouldn't want to find out with my daughter in the car, so I reduced speed until we reached the school.
In the parking lot I inspected the tires and found nothing alarming, I had the car serviced by Nissan 2,000 kilometers earlier and no recommendation was made to change the tires.
I am absolutely not good at mechanics and maintaining a car, and I let that to professionals. The car is now 82,600 kilometers with the original tires and while researching a bit on the Internet on my phone, after my walk and exercising at the Lumpini Park, I read that 50,000 kilometers is already a good average for quality tires to be replaced.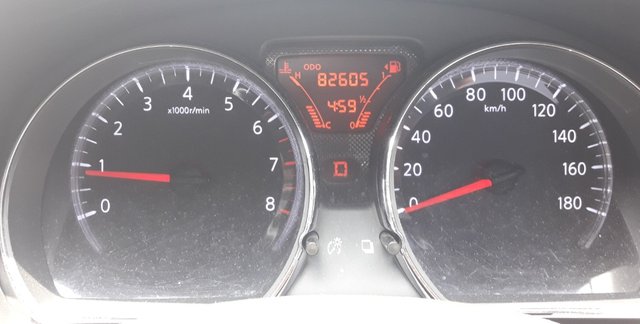 An extra 32,000 kilometers is a lot, and I thought that it would certainly be safer to replace them.
This became an obsession yesterday morning and I couldn't take the image of a blown-up tire on the expressway go away.
While driving back home from the school, which is 40 kilometers mainly on the expressway, I stayed on the left lane close to the emergency lane and did not exceed 70 kilometers per hour.
The car was going fine, but I had this sticky sensation while running on different quality roads.
I just didn't know if my mind was just making this up, but I was listening to that strong feeling of an accident to happen, or this premonition, if we can call it like this.
I inspected the car again at home and even if I saw nothing wrong, the indicators on the tires were showing it was time to replace them.
In the afternoon, I went to have all four tires replaced for peace of mind and safety.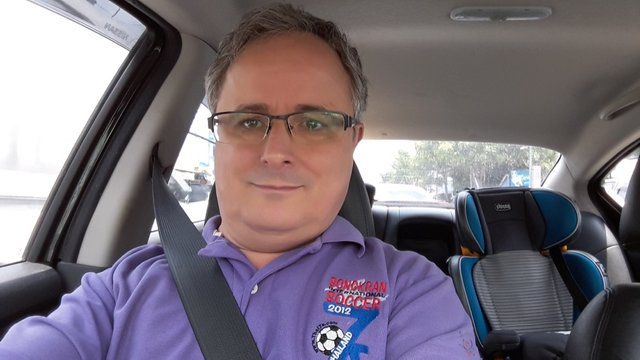 If you are in Thailand, I can recommend B-quik with confidence because I found the service very professional with excellent communication with clients, at last in the branch I went.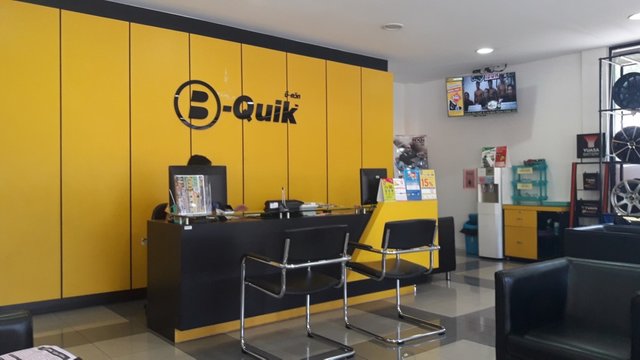 An excellent waiting area where I spent about one hour and a half. Saturday is not the fastest day, but my obsession with the premonition, didn't make me wait Monday.
They have a lot of brands to choose from and I got myself 4 Michelin, instead of Bridgestone that I had before, the price difference being just 100 THB per tire.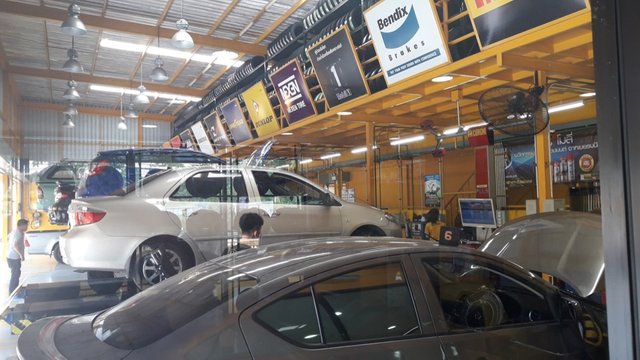 I can tell you that this expense was not coming at a good time, with maybe the worst month I have had financially for several years, but safety is more important.
Hopefully they take credit cards and they also offer a 6-month payment plan at 0% interest. I can tell you that this was a good surprise, because the total bill is 12,000 THB, which is $310. I now have to pay 2,000 THB or $60 starting in 30 days, which makes it much more manageable.
You also get a warranty, and they will switch your tires front and back every 10,000 kilometers five times for free. So, I'm good up to 132,000 kilometers for this, which is a total saving of 1,500 THB when done by Nissan.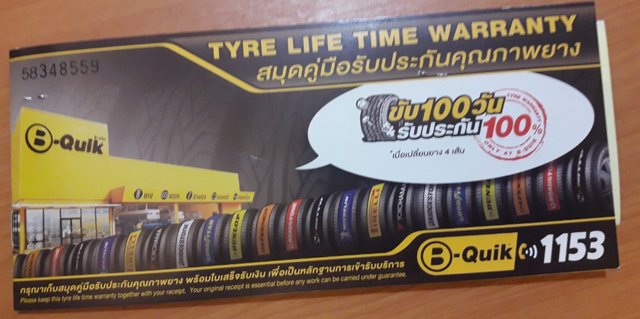 They seem to be a bit more expensive than over companies, but that's serious.
I like them.
Maybe I will go over 60,000 kilometers with this new set of tires.
Have you ever had strong feelings like this and acted on them?
Let me know in the comment section below.
Would you upvote this post and follow me for more because this will encourage me to write more posts about life like this one?
I have categorized my posts on Steemit for easy access:
Steemit tools | Steemit strategies | Steem economics | Steem on WordPress | Blogging on Steemit | Steemit posts I curated | Cryptocurrency | Cryptocurrency trading | Mac computer tutorials | WordPress & online marketing | Self-development & motivation | Travel in Thailand | Travel in Japan | Travel in France | Life in Thailand | Fitness challenge | Fruit-veggie juices & smoothies | Education | My answers on Quora | Fundition tutorials & projects | Miscellaneous writing
You may prefer to go to my Steemit Posts Directory.
The most important votes you can make on Steem are for Witnesses. The top 20 witnesses can influence the addition or removal of features in future Steem hard forks. Read my post: What is a Steem Witness, How to Vote and Why?
Michel Gerard