Vlog 210: Sticking to my plan: Buying crypto with Fiat in the downtrend.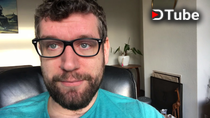 ---
It's one thing to make a plan, it's another thing to stick with it.
For about 2-3 months I have been selling crypto to Fiat.
When I made that move I felt that I was overextended in crypto.
I wanted to mitigate risk.
It was part 1 of a plan that could have gone either way.
Crypto could have gone up and the value of my total holdings would have been less.
But it came down and now I can use the Fiat I put aside to buy back in.
I started this process last night.
I'm not a person that goes all in at once. I buy gradually over a long period of time.
I bought a little bit of crypto from all the coins I want to have.
This is now my baseline.
As long as it's under this line I will buy the same amount in fiat of crypto at certain intervals.
This way I will have a nice buy in average.
I talk about it more in my vlog.
---

---
I am a witness with our developer group @blockbrothers for the Steem blockchain. If you want to support us I would appreciate your vote here.
We build Steemify a notification app for your Steemit account for iOS.
Get it Here:

---

---
▶️ DTube
▶️ IPFS