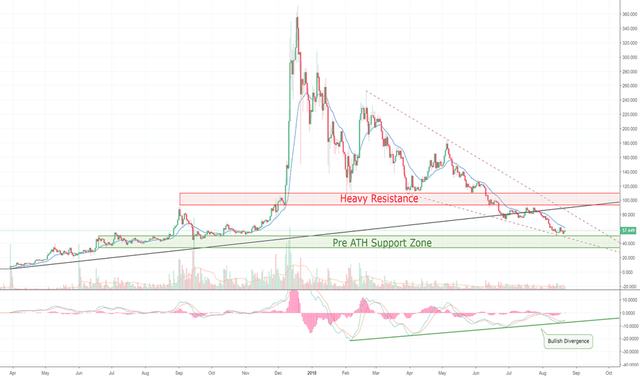 If I'm honest with you guys. I think we are going to see below $50 LTC! What you can see in that picture is a descending triangle and also don't forget that we are in a heavy bearish market right now.
Looking at the chart overall, you can see that there are two major support and resistance zones. Currently, LTC is stabilizing near the top of the support zone, but it's struggling to get above the 20 EMA (in blue.) With that said, I do think there is a decent probability of a bounce here, especially if we get above the 20 EMA , which could potentially take LTC up to the $70 level. LTC has been badly beaten lately, and it is showing sustained support on the top of a huge support zone.
If we even get the slightest of bad news, and that support is broken, we might see a very sad future for the coin. On top of that we have massive crypto projects that will probably topple this behemoth in the future.
IM BEARISH (Short)!
Follow us on facebook for more signals on stocks, forex, and cryptocurrency!
https://www.facebook.com/millionaireFXinvestors/?modal=admin_todo_tour