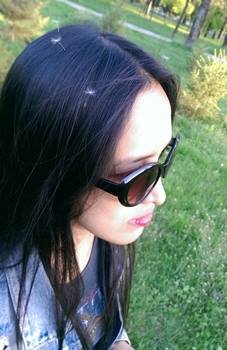 I posted a few weeks ago that I was experimenting with Tinder to promote my travel agency website. I am using it as a social media tool instead of a dating app. It is my own cheeky marketing campaign because a lot of travelers in this region are using the app for convenient hookups. Sure, not all, whatever. Things are just getting more convenient than ever! Not that I'm trying to be holier than thou, I'm aware that I'm not using this app for its intended purpose. I just don't have time for that kind of thing anymore. The bot is way having more fun chatting with random guys who think they will get lucky during their tropical holiday. I know that my ad puts them off straight away and I feel the same way for their obvious agenda. Since I've posted my intention, I only met one person, who happened to be an expat or business owner around here, a DJ from Spain. My friend from the dive shop happened to be our common friend. I enjoyed speaking Spanish again, and apart from that, not interested. Nada mas. I told him that I matched with everyone else, it does not matter. The diabolic chatbot does not feel anything.
I got some leads through the app or those who messaged me to inquire about the tours. At first, they will ask for some information about the destination, then I realize that some are just pretending. They are really traveling, just some are out there clearly 'to have fun'. Though I'm not gonna judge the male species traveling to get laid and have a great party, I see girls are the same, just not a lot. I don't understand it or maybe I just don't belong in this world anymore? Too old, too cold? Or maybe, I just prefer a deeper and more fulfilling connection rather than a series of fuck and dumps, STD hello? I just wonder, how can these people deal with the emptiness? Or, are they really used to it? I might not be the real bot here after all.
So a man will express his interest in the tours then I'll try to get his email. Then subtly he will ask if he can have a date with me too. What do you think? Of course, I don't want to! I don't want to waste my mental energy trying to differentiate. I actually prefer people that travel as a group. I don't want to be alone with someone. I prefer to be in a public place with everyone else because the bot does not belong to anyone. Do I sound complicated? I'm sorry but honestly, I hate Tinder. I hate the people in it. It's even harder to pretend, hence, the birth of the pyscho bot.
Let me remember the good old game here, so when I say no, a man just won't take rejections lightly especially when it comes to being rejected in bed. For some, it is the measure of their value and machismo. I had been traveling and using the couchsurfing community for a while, and I know what it was like to be treated like shit, or to be ignored the next day, or to be wandering around in a big city without a place. I don't forget. I'm sure the whole world is not such a threat to me but whatever. It just makes me remember this chat meme when the guy got rejected. I also remember that it works the same way in religion. When you reject it, you will be thrown into the lake of fire.
This is not an attempt to join the metoo bandwagon okay, I'm just tired of the usual psycho gf story. What about those guys who go on full pyscho after being rejected?
Below is just a sample I got somewhere.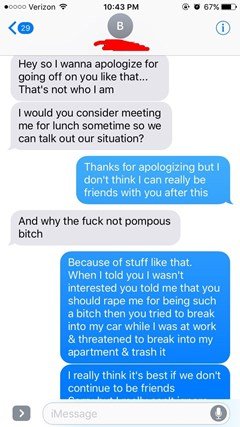 src
Forget about all the pretentious inquiries from the start. No date, no gain. The consequence of breaking a man's heart is that he will make sure that I will not benefit from anything. Payback time happens so fast. I remember a friend who tells me that the worst thing that I can do is not to stroke a man's fragile ego. The walls are built around his heart to be manly enough not to give into emotional stuff. In the end, those who are trying to be strong, break. Only the strong ones break. I just know, go figure.
Anyway, who am I to complain? I'm just hustling all the way. A bot is not supposed to feel disappointed, right? There must be some other marketing strategies to make this more effective or slightly ethical. I read all these digital marketing articles about gaining trust and relationship with your lead or client, I'm wondering what I'm doing wrong here? Maybe it is ok to be a guide and not a date. Will this action hurt my brand in the long run? I should probably quit being a bot. I'm sure there are other ways to live. Let me know.