"There is only one boss. The customer."
- Sam Walton -
---
The Kindle e-reader is an amazing device.
You can get an entry-level Kindle for about $50, delivered. But be sure to read the fine print; that is a subsidized price, because it comes with "special offers."
When I bought my Kindle a couple of years ago, that sounded like a reasonable deal; for the sake of a few ads, I could save fifteen or twenty bucks up front.
The Amazon Kindle Reader - Screen capture from Amazon
The ads themselves aren't that bad.
But there was a hidden problem lurking, not covered in that fine print. I had to discover this problem for myself. The constant refreshing of ads on my Kindle screen—whether I was there to see them or not—was cutting into my battery life.
Amazon offers a "paid" method to turn off ads.
However, I felt that they had already received their display ad money's worth, and that furthermore, the battery life issue was a problem they owed me a solution for. So I contacted Amazon customer service. Here's a record of what happened:
I went to the Amazon website.
I logged in to my Amazon account.
I entered this customer service URL:
https://www.amazon.com/gp/help/customer/contact-us
I saw the page in the image below.
When you clicked on the [ Devices ] tab, I saw a list of my Kindle devices. This included computers and smartphones. The one of interest to me in this case was my Kindle e-ink display book reader.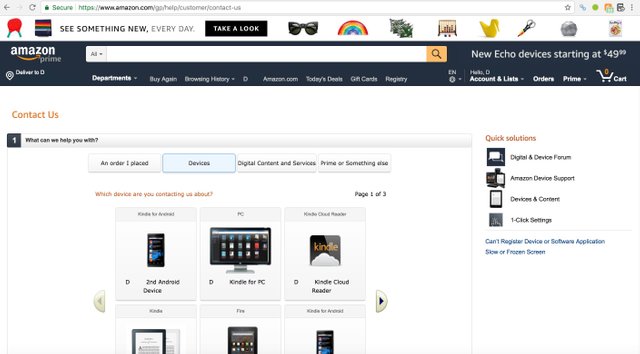 The Amazon Kindle Reader - Screen capture from Amazon
When I selected the Kindle at issue,
a small "chat" window opened, and I was put in touch with customer service.
In the table of images below,
you can follow the entire conversation that I had with Amazon Customer Service representative Namita.
Note: If the print is too small for you, just click on any image for a full-sized version; then click [BACK] to return to this article.
As you can see,
Amazon agreed to turn off the ads on my Kindle. It happened right away, while I was still in contact with their customer service representative.
Will this work for you?
I don't know. However, if you have noticed that you're having battery life issues with your Kindle, it may be worth a shot.
It's nice at last to see the same, stationary, non-battery-consuming screen saver on my Kindle from the time I turn it off until the time I turn it back on again. Thanks, Amazon!
---
~FIN~
---
Note: If you're reading this after the payout window has closed,
you can still reward it: CLICK HERE.
---

P.S. If you have an "in" with anybody at Steemit, Inc. - Would you please ask them to get rid of these damn, extremely annoying "off-website" arrow/boxes? The have, overnight, made Steemit ugly. There are much better solutions.
---
For an extensive collection of stories,
please check out our Library Stories Shelf - CLICK below:

---

---
LOOK! Check out our amazing product:


Introducing: The SILVERengines proton - Image by @creatr
CONTACT US - Will Exchange for Steem
---
Thanks for your time and attention.
You
are why I'm here on Steemit!
I have very eclectic interests and hope, over time, to write about them all.
---
⬇️To Check Out @creatr's World⬇️CLICK Each Image Below⬇️