Steemit Tip: How To Reward Good Articles ~AFTER~ The Payout Period Has Expired
"Preconceived notions are the locks on the door to wisdom."
- Mary Browne -
---
Have you ever seen this error message?
"STEEM_UPVOTE_LOCKOUT_HF17: Cannot increase payout within last twelve hours before payout."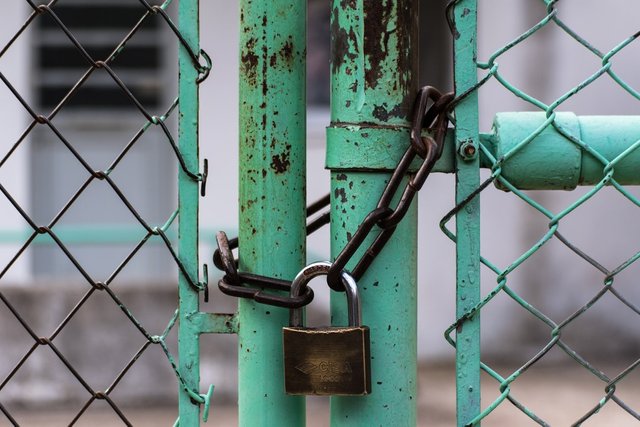 It's a great article...
It was well thought out, painstakingly researched, and curated with lovely images. You found the article fascinating and informative. You desperately want to reward the author for his or her hard work and quality content.
Sadly, that article only earned 73 cents, and THE PAYOUT PERIOD HAS ENDED...
Meanwhile, dilettantes with friends in high places are publishing junk, gaming the system, and walking away with tens or hundreds in STEEM and SBD...
Fear not.
You can reward any great content creator here on Steemit, no matter how long ago their article may have been published.
That's right, you no longer have to be disappointed when you come across a great article after the payout period has expired.
Just do what I do:
Leave a comment like this under the article: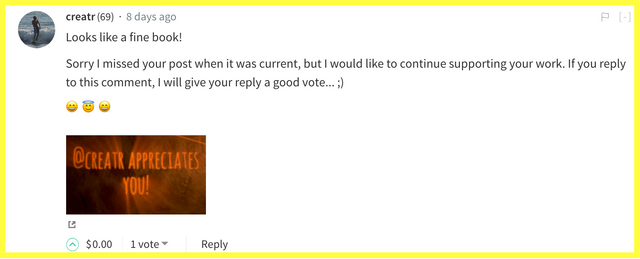 Leave a comment like this... (Screenshot by @creatr)
When your favored author responds,
upvote the heck out of his comment to reward him for his outstanding work.
This works for any Steemit article,
no matter how old. (For example, you can reward me for any article in 📚My Vast Library📚 in this fashion... Just sayin'! 😉)
Now that you know what to do, go for it! Reward all those deserving articles that never made it to the trending page!
---
~FIN~
---

P.S. If you have an "in" with anybody at Steemit, Inc. - Would you please ask them to get rid of these damn, extremely annoying "off-website" arrow/boxes? The have, overnight, made Steemit ugly. There are much better solutions.
---
For more Steemit articles, CLICK our Library Steemit Shelf.

---

---
LOOK! Check out our amazing product:


Introducing: The SILVERengines proton - Image by @creatr
CONTACT US - Will Exchange for Steem
---
Thanks for your time and attention.
You
are why I'm here on Steemit!
I have very eclectic interests and hope, over time, to write about them all.
---
⬇️To Check Out @creatr's World⬇️CLICK Each Image Below⬇️