I have a confession. I like Mondays.
     Please put down the tomatoes and the "Monday's suck" memes!!! I have a purrfectly good reason.
     To be honest, it's only Monday evenings that have me wishing the weekend would hurry up. It's then that I use the guise of 'volunteering' to able play with a room full of cats.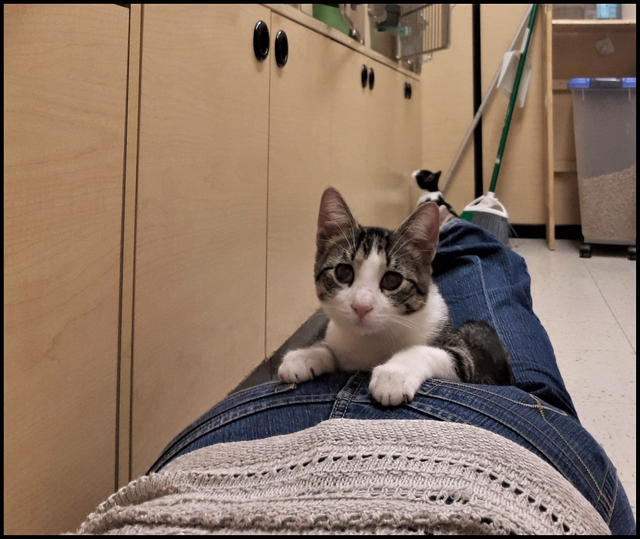 (See? Told it was a good. 😉)
     For a few years now, I've been a part of the Central New York's Spay and Neuter Assistance Program (CNY SNAP). Though our group takes in any animals that are brought to our doors (cats, dogs, rabbits, snakes, horses, rats, et al.) I primarily snuggle care for the cats from my local Petsmart, which has generously given us the use of their adoption center. Atop of that, they donate food, litter, toys, and more towards the care of these adorable furbabies.
     I dare anyone to visit a shelter or adoption center and try to hang on to a foul mood. It's impossible once you're surrounded. These sweet cats are too deserving of all the love and attention that you can give them. Some, like the kittens, frolic around, happy to knock over the basket of toys. Others, have had too many hard knocks from life and are scared to leave their cages. It's for these dear ones that patience and gentleness are a must. When they do begin to trust more, their personalities emerge and it's hard as hell not to take home each and every one.
     The video above is of three buff kittens (Thomas, Timmy, & Toby) who were housed in our shelter back in May. They've since found two families who were excited to take them in. Timmy & Toby were able to stay together which is what we strive for when there are siblings. My favorite part is when Thomas' (wearing the orange collar) little butt bounces as he tries to grab a toy. I'm betting that it'll be @Saffisara's favorite part too. 😂

Central New York's Spay and Neuter Assistance Program (CNY SNAP) is a non-profit ©(3), ALL VOLUNTEER organization dedicated to offering low-cost spay and neuter servies. We are funded entirely by grants, adoptions, and donations. Our mission is to make a difference in our community by ending the overpopulation of cats and dogs in Central New York.
     To find out more information or to help this amazing group, please visit their website.
     If you have room in your heart and your home, please visit Petfinder to find a pet who is waiting to share their lives with you.
All proceeds from this post will be donated to the CNY SNAP organization .