Salt Lake City : Wasatch Community Gardens
aaaaaaaaaaaaaaaaaaannnnnnnnnnnnnnnndd........ IM BACK!
After much of my energy and focus being allocated elsewhere, I am back on this epic blockchain! 
Today I plan to continue where my Oregon travels post left off. 
     I went to visit my uncle in Washington then booked it to Salt Lake City where I had friends actively contributing to their community. One of these fine friendly humans knew of another exceptional human that was directly participating in the regeneration of this concrete jungle. His name was James Loomis, and we had a date with destiny. He was the Farm Manager of the Community Garden called Wasatch. I had set up a time to drop on by for a tour.
There I was, standing in front of this community collaboration with mission in hand.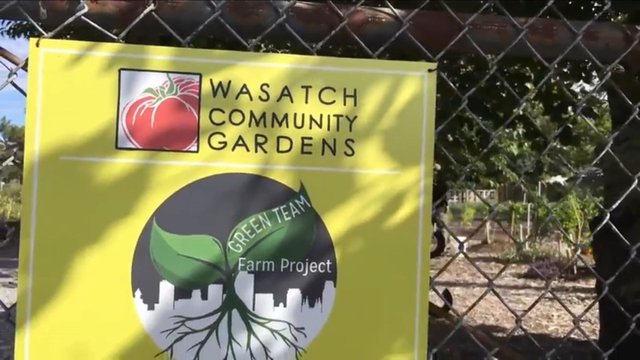 Mission : 
Gather media on Wasatch
learn what drives this place
feel and connect with the land
    Here is some excerpts from their site : 
"Our Mission
To empower people of all ages and incomes to grow and eat healthy, organic, local food.
Who We Are
Wasatch Community Gardens has served Wasatch Front residents since 1989 with the belief that the quality of a community is directly related to the quality of its food. We offer garden space, educational programs, and community events to empower people to grow, harvest, preserve, and prepare fresh, healthy food. We execute our mission through five main programs: Community Garden Program, Youth Garden Program, School Garden Program, Community Education Program, and the GREEN TEAM Farm.

Our Core Values
Community
To practice inclusion and cultivate connections between diverse people around a shared Wasatch Community Gardens mission-related purpose.
Sharing
To recognize that everyone has knowledge and experience to contribute that enlivens and strengthens our mission and community.
Stewardship
To value the human, natural and financial resources that have been entrusted to us.

Our Vision
We envision an inclusive, robust and vibrant community that is nourished by healthy and affordable food." - https://wasatchgardens.org/who-we-are/our-mission
    I received a lovely tour from James and I even got to interview him for 30 mins. Unfortunately the audio was total crap and I wasn't able to include it in my video. James was so kind to gift me a bag of produce they had just harvested to send me on my way.
Here is a short video on my visit to the urban oasis : <iframe width="560" height="315" src="
" frameborder="0" allow="autoplay; encrypted-media" allowfullscreen></iframe>