Hi Everybody !
Honestly, it's pretty hard to keep the rhythm of posting with this little issue on my leg... So many things to do, and the most basic things take me so much time to achieve!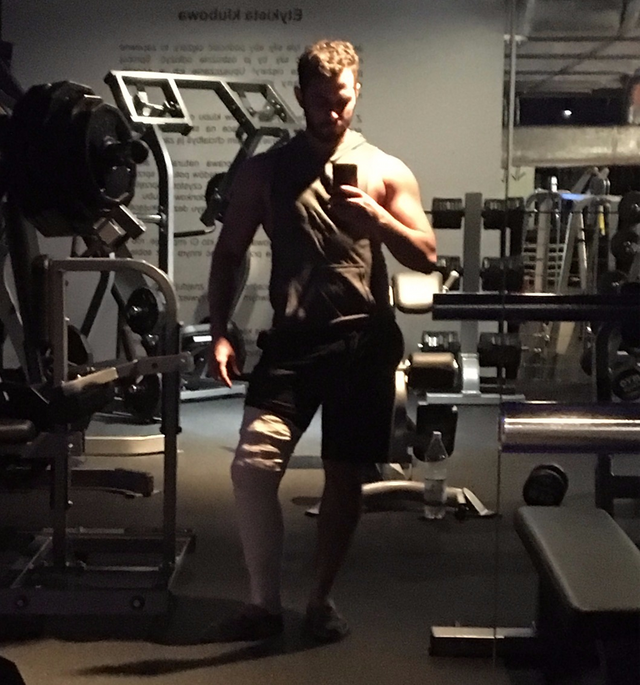 Yes, Gypsum at gym is the new black.
Since I don't work in a studio or company (I work from home-freelance, bitch!) I don't really have sick leave,
and even if I would, I wouldn't care that much since I can't stay without moving for too long. But unfortunately this time a sick leave would be really useful for having more activity in Steemit for you, my fellows!
Anyway, I want to give you an update of the things that are happening here around, I think many of them are really worthy of mentioning.
If you are not familiarized with why the hell I am with one leg less, check this post.
Long story short: I fucked up my left knee doing Snowboard Freestyle :D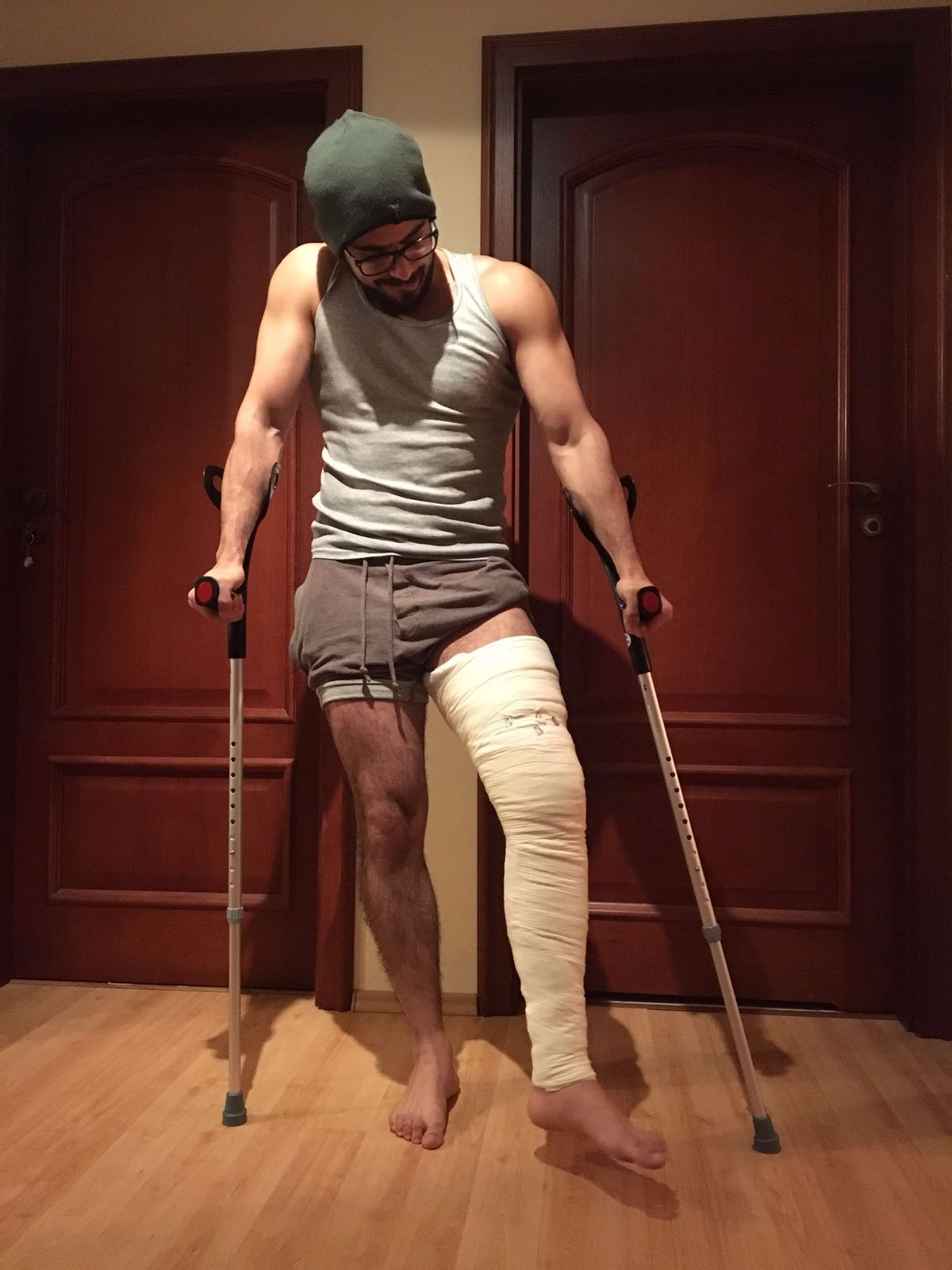 I also don't know if you knew, but I am a calisthenics trainer and been working out for more than eight years (since my 18-19's). But this year (actually the second third of the past one) I started doing mass, for very first time ever, and gained already 12 kg. So it will probably be very interesting to see the final result in a month from now, when I finish bulking and right before I start reduction to get ripped BAABY!
These days have been particularly hard and boring for my body since the only thing I do is to lie my leg up and work on my computer with freelances, sitting on my chair. With the crutches close to me in case I need to go somewhere (or make a super yummy coffee with milk to drink like I am doing right now <3).
So it's natural that for my mind and my body I need to move and of course train. After five days of not working out I feel I am losing my head.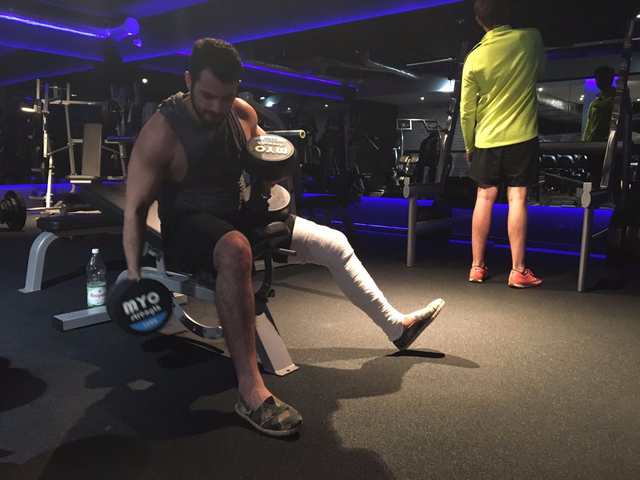 Yet I also feel I am really weak and tired the whole time.
Not to say that it is particularly hard to train and move heavy dumbbells just with one leg. It feels more like an intruder leg day between my chest day. And I say leg, no legs because just one can be activated. But of course, I had to look up for the another to not get stuck anywhere. Which may sound a little bit weird or stupid, but it s really hard to be conscious of where the damaged leg passes through. So it s pretty normal to get hurt just by walking with machines close to you.
*
Something that kinda broke my heart was that I didn't receive help or any attempt of being helped at all by people at gym or outside the gym. I had very good opinion from polish people when I arrived to Poland, but it is slowly being debunked and damaged by the actual behavior of the people here around.
Maybe it is weird for their culture to help each other since they been harmed from everywhere all along their history.
Yet I don't think it is cool that no one helps you at the slope when you just fell and almost broke your leg and outside home when you wear a gypsum and crutches. It just ain't right.
So my actual opinion is that their system work, but not thanks to most or part of their people. Yet I love the country, its nature and their whole structure. And I am also really grateful that I've been so accepted here around. So the previous complain is just too small for the sake of how beautiful and worthy I consider this place is.
*
Sorry for that parentheses, but I wanted to make a tiny relief about my thoughts about the place where now I live in.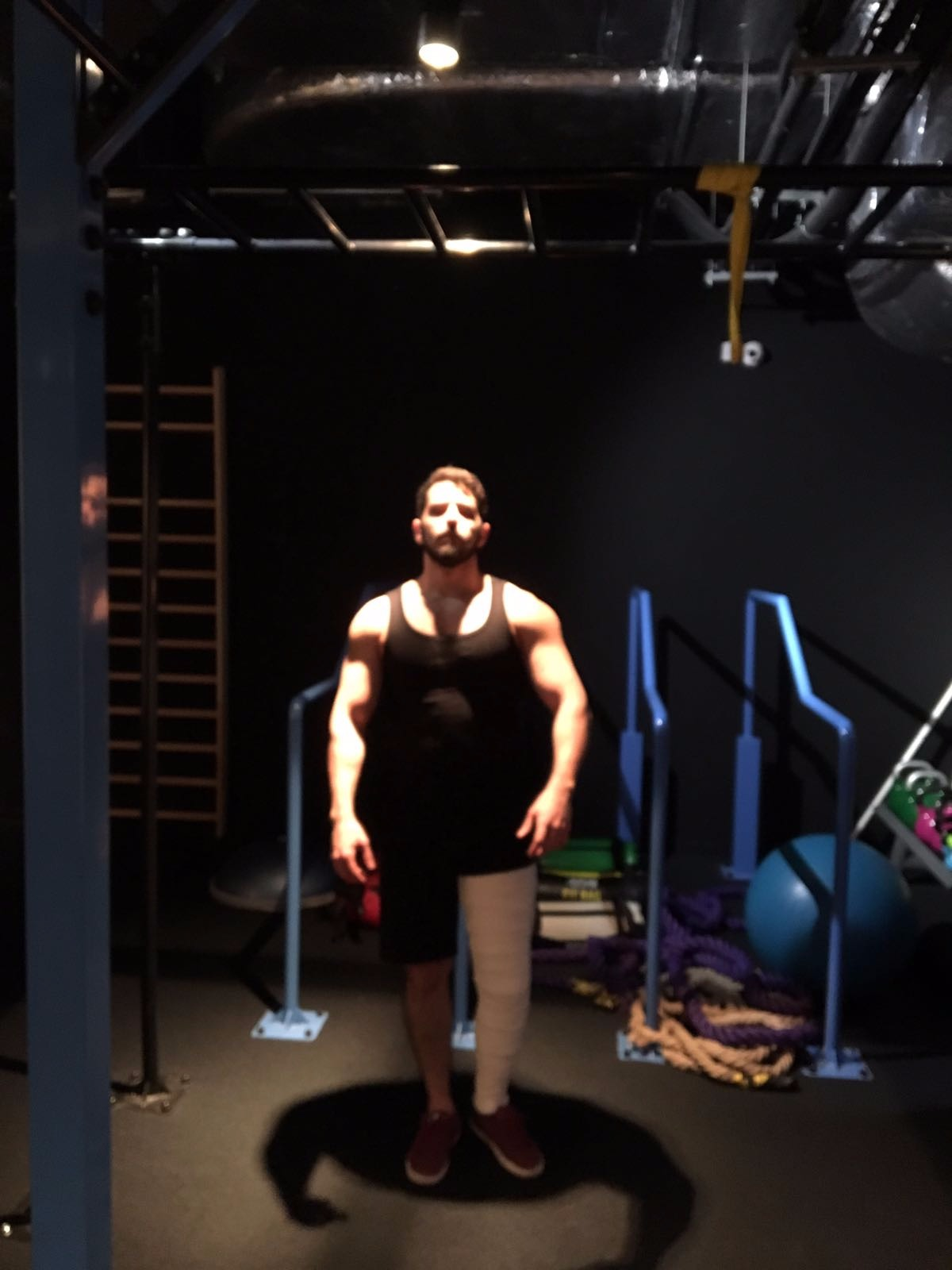 Back to the training, honestly I felt I was lacking a lot of strength and that I was losing a lot of energy just by standing for a while or moving the dumbbells from one side to another. That was really crappy, but training felt amazing non-the-last.
Even If I had to reduce all the weights just in case that the blood pressure would mess around with my leg recovery.
Luckily enough so many years of training and hurting myself were really worthy since my recovery is getting WAY less time than expected and I can even walk already without crutches.
Once again, for someone that has been doing calisthenics for so long, staying at home doing absolutely nothing (because I can't do a thing at home due that the only things i could do compromise the recovery of my leg), being so many days without training is really a torture. No kidding.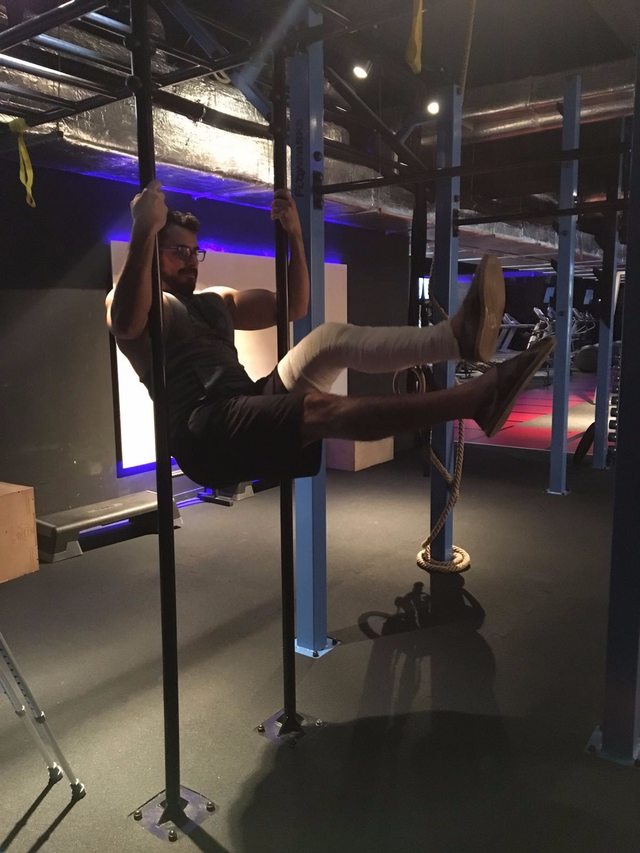 Good news is that tomorrow I go to the doctor to make an ultrasound stuff or electromagnetic resonance to see how good or bad I am doing in my knee.
*I wasn't kidding with the idea of going back to do some snowboarding in a month from now... A whole year of waiting again? No thanks.
So, for those that don't know me, this is me, this is Nico. A stubborn son of a bitch guy that when puts something on his head, he just can't let go. And ladies and gentlemen, I want to be a freestyler snowboarder.
Something really positive about all this is that if it wasn't thanks to my strength and reinforced legs I would probably have broke a bone or completely cut the whole tendon. This is where my advice to all of you plays its role:
Workout, my people. Train your bodies, make a good use of them. Sleep and eat properly. Don't treat your body as trash and you will see that the benefits will be always there for you. And that is a promise.
Be different than average, be unique. Care for yourself and be proud of the result of your efforts, as I must say that I am from mine.
For those who read this, thanks a lot, I really appreciate it and I will appreciate your words of support to keep doing as I am and your critiques to know if I am doing something wrong that needs to be changed =)
Peace out!
---
---
(All the images are my own creation and therefore I own their rights)
---
---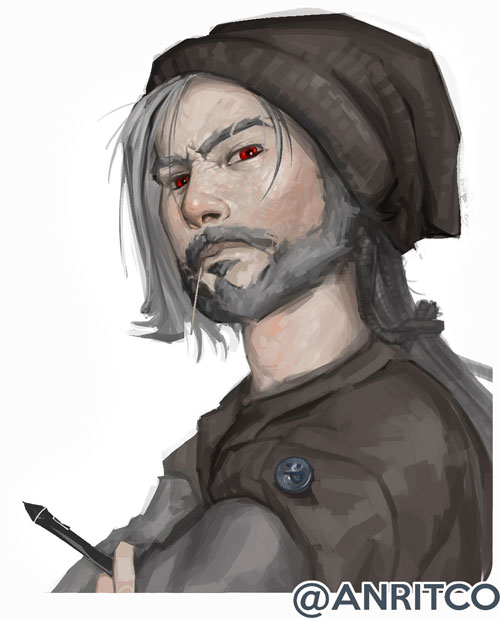 I always try to listen to the ideas of my fellow followers to improve my posts and to give something back to the community... therefor: What would you like the next posts to be about? What should I talk about? What kind of painting? Would you like some tutorials about arts, about cooking? Maybe some fresh gaming broadcast? I would love to know!
I apologize if I don't reply to your message. Sometimes I can't find enough time for it. But you can be sure that I will read it!
Bye!