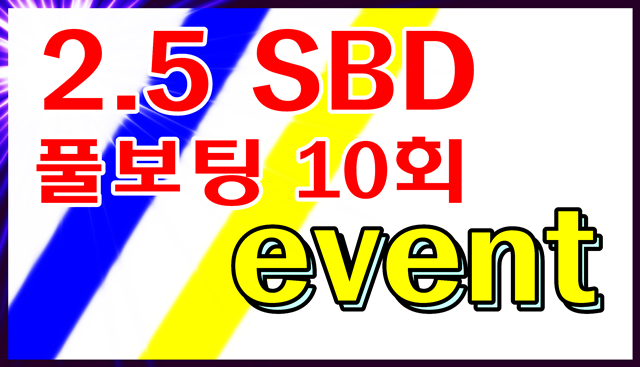 안녕하세요 3회차 이벤트 알려 드립니다.
많은 참여 바랍니다 .
본 회차 당첨자는 총 2.5 SBD 와 10번의 FULL VOTING 의 혜택을 얻게 됩니다.
이벤트 일시 : 2018년 4월 26일 23:00 ~4월 27일 00:00 ~23:00
참여안내
1.follow 를 합니다.
2.본 이벤트 글과 저의 다른 글에 각 한번씩
full voting 과 resteem 을 해주세요.(각 1회씩 총 2회). 타인 게시물이 아닙니다.
3.본 이벤트 게시물에 확인 댓글을 남겨 주세요.
이벤트 응모자 확인은 틈틈히 답글로 남겨 드립니다.
(다른 게시물에 남길시 확인을 못하는 경우가 있습니다.)
4.중복 응모 안내
이벤트를 종료 할 때 까지 3회차 관련 게시물을 여러차례 올릴계획입니다..
게시물 마다 중복 응모시 추첨권을 더 획득 하실수 있습니다.
5.단 신청자가 과도 하게 몰리면 (그럴 일은 없겠지만요...ㅎ)
추가 당첨자를 추첨하며, 동일하게 2.5 SBD 를 송금해 드리지만 단,
full voting 은 나눠서 드리겠습니다.
6.이번 회차 부터는 부정 응모자에 대해서 과감하게 응모 기회를 박탈 합니다.
7.응모종료후 바로 추첨 하고, 통보는 24:00~ 01:00에 합니다.
추첨은 전과 동일 , 공정성을 위해 영상 촬영후 공개 합니다.
(형평성 유지)
감사합니다.!! full voting은 계속해서 이벤트를 진행 할수 있는 힘이 됩니다.
저에게는 팔로우와 새로운 뉴비들과 협력하길 원하기에
향후 몇달간 수익금 전부를 여러분께 돌려 드릴 생각이며
이벤트 당첨금이 커지도록 여러분께서 많은 협조 부탁 드립니다.!!!
궁금하신 점은 따로 문의 해주세요 ~!!!
Hello, I will inform you about the 3rd round event.
Please join us a lot.
This round-off winner will receive a total of 2.5 SBD and 10 FULL VOTING.
Event date: April 27, 2018 00:00 - 23:00
Participation Guide
1.follow.
Each time you post this event and another post on my blog

Please give full voting and resteem (2 times for each one time)

Please leave a comment on this event post.
(You may not be able to confirm when you leave other posts.)

Duplicate application guide
We plan to post several posts on the third occasion until the event ends.
You can get more lotteries for duplicate entries for each post.
If the applicant is overloaded (though it will not happen ...)
I will draw the additional winner and send the same 2.5 SBD,
I will give you full voting.
From this time round, I will be boldly depriving you of the opportunity to apply for a fraudulent applicant.

(Maintaining equity)
Thank you.!! Full voting is the power to continue the event.
Because I want to follow you
I will give you all the proceeds over the next few months.
Thank you so much for your cooperation so that the event winnings will increase!