Despite denials and refusals to admit what most of us already know to be true, Julian Assange is being targeted by the U.S. Justice Department. Specifically by the Alexandria, Virginia U.S. Attorneys, which is the same place where a copy-paste bungle in late 2018 exposed that charges against Assange were sealed and hidden from public view.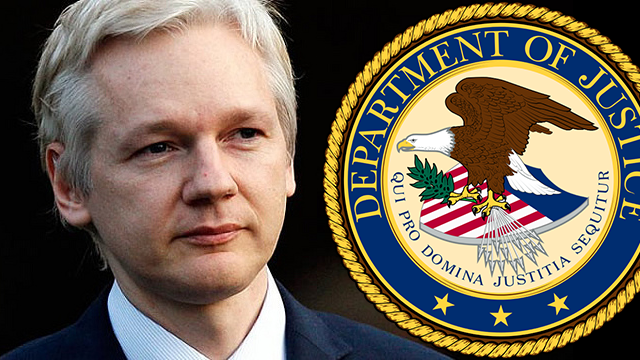 Source, CCBY2.0
The confirmation comes from Chelsea Manning's appearance in Alexandria federal court today, as she attempted to fight the subpoena to testify in front of a grand jury, for case "10GJ3793". This is the same case number from 2010 that was about the alleged WikiLeaks "conspiracy to commit espionage".
The hearing was closed, and Manning's motion to squash the subpoena failed. but her legal team thinks they "still have grounds to litigate". Manning couldn't speak about the proceedings, because Judge Claude M. Hilton held the seal, denying the bid to unseal which would have allowed Manning to speak about it. Manning is expected to return to the courthouse for several days.
The U.S. Attorney behind the copy-paste bungle, G. Zachary Terwilliger, as well as the team going after Assange, showed up for the sealed hearing today. This included Assistant U.S. Attorneys Gordon Kromberg, Tracy McCormick, Thomas W. Traxler and Kellen Dwyer. Is it just a coincidence all of them would show up? No. It's all about Wikileaks and Assange, even if they still won't admit it.
Kromberg previously defending keaping any sealed charges sealed, and not admitting they even existed back in November 2018, saying:
"In either event, the government is not required to publicly acknowledge which of those two possibilities happens to be the case with respect to any individual. The First Amendment does not require the government to confirm or deny the existence of criminal charges in this case."
Despite the prosecutors playing the "neither confirm or deny" game, it's obvious there are charges. Surprisingly, the judge at the time even admitted so saying his name being exposed shows "the fact that he has been charged":
"Given the fact that this statement does appear in a government filing, and given that everybody knows where this man is, what is the rationale for sealing the charge."
This was about the obvious existence of charges against Assange from the copy paste screw up. Last November, a lazy copy-paste mistake from prosecutors showed the U.S. has or intended to charge and prosecute Julian Assange. United States Attorney G. Zachary Terwilliger submitted a document in August for one case against someone named Kokayi, but apparently was working with a document from another case about Assange.
The slip-up talks of arresting Assange:
The complaint, supporting affidavit, and arrest warrant, as well as this motion and the proposed order, would need to remain sealed until Assange is arrested in connection with the charges in the criminal complaint and can therefore no longer evade or avoid arrest and extradition in this matter.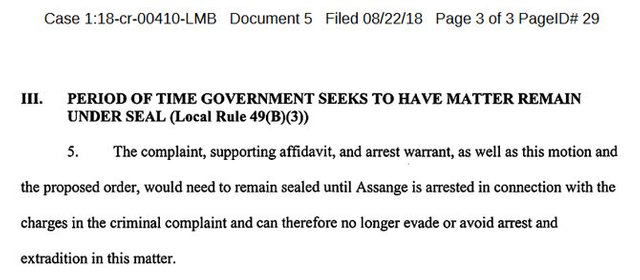 Source
TJoshua Stueve, a spokesman for the United States attorney's office for the Eastern District of Virginia, said "The court filing was made in error. That was not the intended name for this filing." That much seems obvious.
Apparently, federal prosecutors often use documents from other cases as a template to start a new case, and just replace some of the words like defendant's names. The federal prosecutor's office used a secret document for charges against Julian Assange, and replaced Assange's name but got sloppy and missed 2 instances.
So we've known for months that there were charges, but they refused to admit to them, playing the denial game in courts. We knew they existed then,a nd there is no doubt now, give then references grand jury case "10GJ3793" for Chelsea Manning's subpoena, as well as the appearance of the whole Assange-WikiLeaks attack-dog team. Manning was a high profile leaker that provided thousands of documents to WikiLeaks in 2010. Manning was sentenced to 35 years in prison before, but was pardoned by Obama and got out after 7 years. They are bringing manning back in to try to nail Assange and Wikileaks with anything as payback for publishing the leaks.
Manning didn't speak about the purpose of the grand jury, as that is against the seal being imposed on her, but she did speak about the mockery of justice that these grand juries represent:
"Grand juries are terrible tools. The idea that there is an independent grand jury is long gone; it's run by a prosecutor. There is no adversarial process ...I am generally opposed to the existence of a grand jury."
Witnesses, like Manning, don't even have their own lawyer in these secret proceedings. But the attackers are lawyers and get to drill the witness for information:
*"There was an awful lot of government attorneys in there".
A secret interrogation where lawyers try to trip you up and no defense lawyer is present to protect you from the twisted lawyer-speak games they play. What a wonderful system to conduct a witch-hunt. Justice at work ladies and gentlemen, real justice in America. What a joke.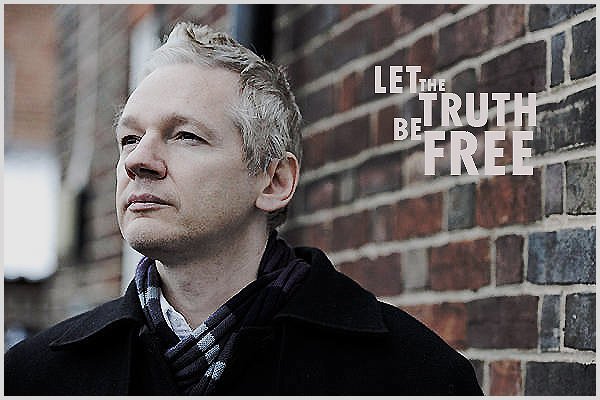 Source
This is a battle for truth in an age of disinformation and lies. As John Pilger recently said:
"The persecution of Julian Assange is the conquest of us all: of our independence, our self respect, our intellect, our compassion, our politics, our culture."
His trial and most-definite imprisonment would send a message to media publishers, journalist and whistleblowers alike that you can end up thrown into a cage for airing the U.S.' dirt laundry. Making journalism or publishing documents a form of "espionage" would violate the duty to inform the public on vital issues that the state would rather be kept quiet.
In a world of information overload, perception management and manufactured consent, getting access to the truth is of vital importance. Whistleblowers and journalists help to keep the public informed and the questionable methods of politicians who seek power through devious and immoral means.
People like Assange who publish information on immoral behavior are doing humanity a great service and justice. In a time where journalists are being killed or jailed across the world, there are signs that doing he job of getting the truth out is going to cost you your freedom, or even your life.
People should be standing against this hostility, not support it by wanting Assange to go to jail. We won't have much freedom left if we can't detect the lies that surround us. None of us would know about the dirt on various governments and their agencies without the work of WikiLeaks and Julian Assange. If people can't expose wrong-doings of authorities, then humanity is heading backwards and into deep shit.
---
References:
---
Thank you for your time and attention. Peace.
---
If you appreciate and value the content, please consider: Upvoting, Sharing or Reblogging below.


me for more content to come!
---
Like what I do? Then consider giving me a vote on the Witness page :) Thanks!

My goal is to share knowledge, truth and moral understanding in order to help change the world for the better. If you appreciate and value what I do, please consider supporting me as a Steem Witness by voting for me at the bottom of the Witness page.