A special gift from the great @steemitri! 🔝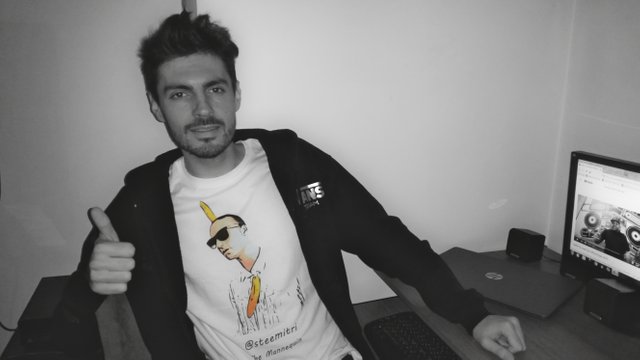 🇬🇧 Dear steemians, I return to publish after almost two months from the injury, although sincerely I had recovered already from a couple of weeks, but I took advantage of this forced interval to detach from the whole routine, to recharge mind and body, find energy and inspiration in order to be able to better face the new challenges that will arise in life and the projects I have in mind for the coming year, where I intend to put most of my energy...
But this first first post I dedicate it to my dear friend @steemitri. Because a few days before my bad luck, I had received a fantastic gift from his, the mythical t-shirt by @steemitri the mannequin. What say, friends?... Simply fantastic!!! I adored this shirt since the first time I saw it on a post of our dear friend and having received one made me really happy and honored. Thank you so much dear @steemitri!

🇮🇹 Carissimi steemians, torno a pubblicare dopo quasi due mesi dall'infortunio, anche se sinceramente avevo recuperato già da un paio di settimane, ma ho approfittato di questo intervallo forzato per staccare da tutta la routine, per ricaricare mente e corpo, ritrovare energie ed ispirazione in modo da poter affrontare al meglio le nuove sfide che si presenteranno nella vita e i progetti che ho in mente per l'anno a venire, dove ho intenzione di mettere gran parte delle mie energie...
Ma questo primo primo post lo dedico al caro amico @steemitri. Perchè pochi giorni prima della mia sfortuna, avevo ricevuto un fantastico regalo da parte sua, la mitica maglietta di @steemitri the mannequin. Che dire amici?... Semplicemente fantastica!!! L'ho adorata dalla prima volta che l'avevo vista su un post del nostro caro amico e averne ricevuta una mi ha reso davvero felice e onorato. Grazie mille caro @steemitri!

All images are personal to the author.
I hope you find this interesting, follow me for more posts. Thanks by @stea90.