Animal Photography - This stone is mine! [ENG/ITA]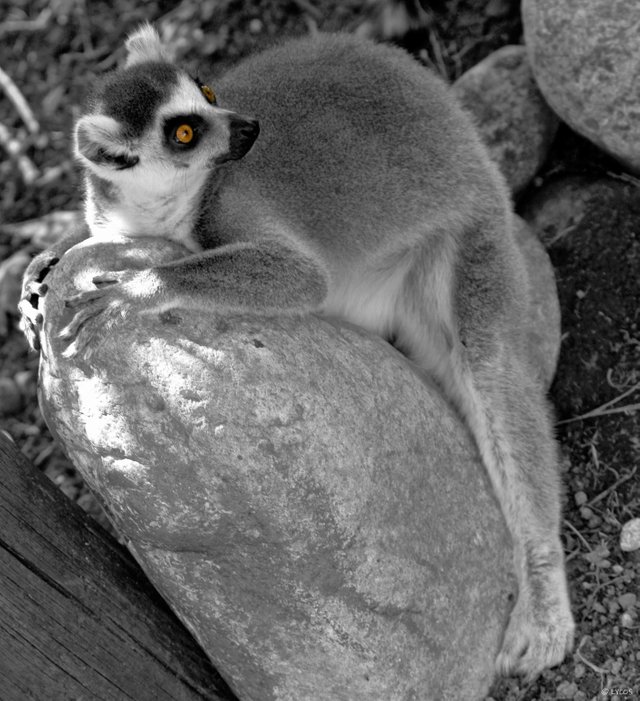 ---
There are wild animals that, by their nature, impressively tolerate life with humans, like the ring-tailed lemur or Lemur catta (LINNAEUS, 1758); it is in fact very sociable animals, not only with conspecifics, but also with humans, which however does not seem to be able to reciprocate this sympathy. Although it is an animal that reproduces with easily, this species is reported as endangered by the IUCN red list, because the wild deforestation is causing the progressive decrease of its territories.
The photo above was taken from very close, and made me smile to observe how the lemur, asleep and quiet until a few moments before, suddenly woke up and clinging to his rock, as if to reiterate that "this is mine and you will not take it away from me "; After all, judging by what we did to them, it does not surprise me that much.
Esistono animali selvatici che, per loro natura, tollerano in modo impressionante la vita con l'uomo, come il lemure dalla coda ad anelli o Lemur catta (LINNAEUS, 1758); si tratta infatti di animali molto socievoli, non solo con i conspecifici, ma anche proprio con l'essere umano, il quale però non sembra essere in grado di ricambiare questa simpatia. Nonostante si tratti infatti di un animale che si riproduce con grande facilità, questa specie è riportata come minacciata sulla lista rossa dell'IUCN, poiché la deforestazione selvaggia ne sta causando la progressiva diminuzione dei territori.
La foto riportata poco sopra è stata scattata da molto vicino, e mi ha fatto sorridere osservare come il lemure, addormentato e tranquillo fino a pochi istanti prima, si sia improvvisamente svegliato e aggrappato alla propria roccia, quasi a voler ribadire che "questa è mia e non me la porterai via"; Dopo tutto, a giudicare da quello che gli abbiamo fatto, non mi sorprendere più di tanto.
---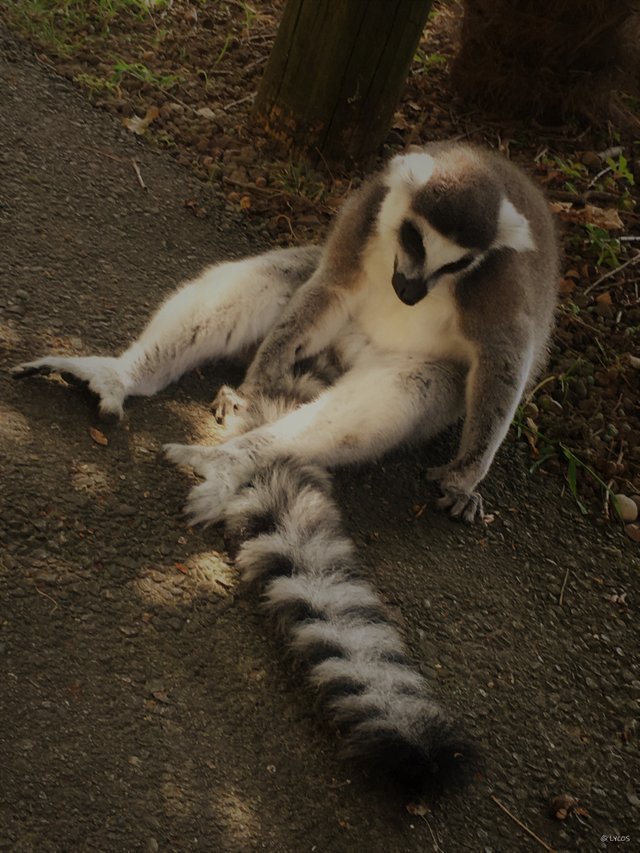 ---
These lemurs are quite common in the southern part of Madagascar and mainly inhabit forests, especially the areas where the tree vegetation is interrupted to leave room for lawns (where they usually heat in the sun in a position that resembles that of yoga) and courses of water. Here they feed mainly on fruit and seeds, with a contribution of proteins derived from insects.
They live in social groups formed by a few dozen individuals, organized into two different hierarchical scales based on sex. However, it seems that the actual leader is usually a female.
Having such a marked sociality they show a complex communication system, based on the possibility of emitting different types of sounds and on the use of odorous signals.
Questi lemuri sono abbastanza comuni nella parte meridionali del Madagascar e abitano principalmente le foreste, soprattutto le zone in cui la vegetazione arborea si interrompe per lasciare posto ai prati (dove sono soliti scaldarsi al sole in una posizione che ricorda quella dello yoga) e ai corsi d'acqua. Qui si nutrono prevalentemente di frutta e semi, con un apporto di proteine derivante dagli insetti.
Vivono in gruppi sociali formati da poche decine di individui, a loro volta organizzati in due differenti scale gerarchiche basate sul sesso. Sembra comunque che il capo vero e proprio sia solitamente una femmina.
Godendo di una spiccata socialità mostrano un sistema di comunicazione complesso, basato sulla possibilità di emettere differenti tipi di suoni e sull'uso di segnali odorosi.
---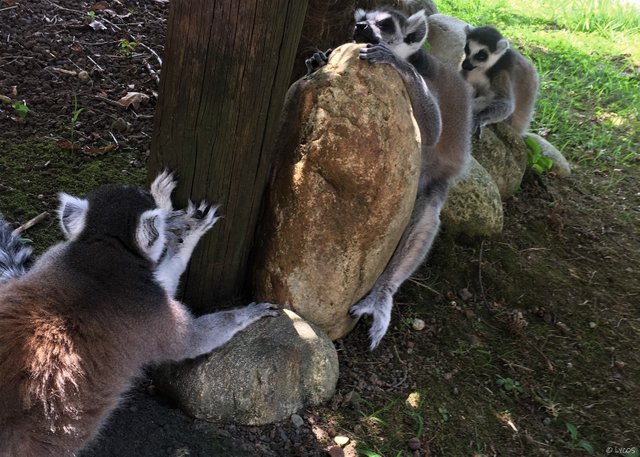 ---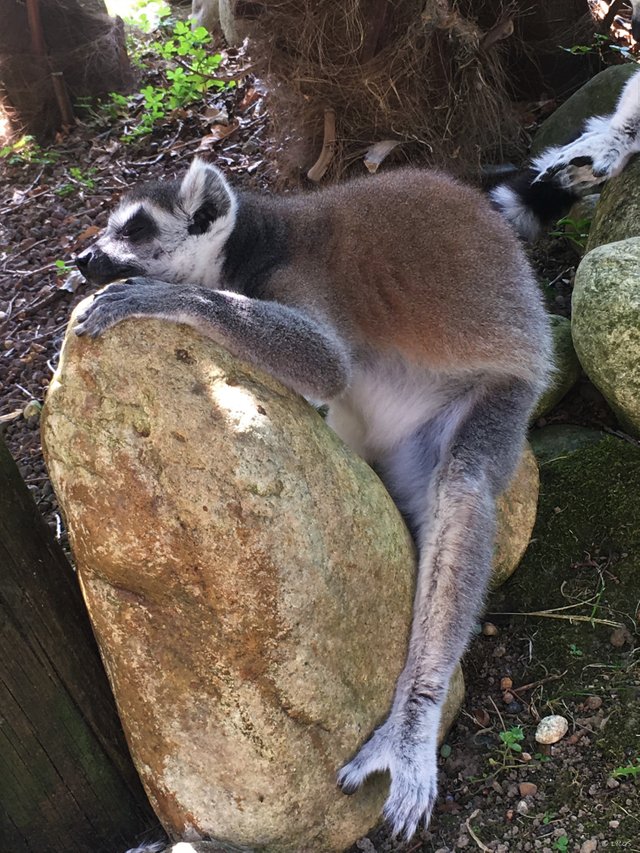 ---
The typical color of the tail, with white and black rings, is very curious, similar to that of the raccoon. Although the meaning of this adaptation is not clear from an evolutionary point of view, it is sufficient to note that also predators of lemurs and raccoons are very similar, to hypothesise an equally similar evolutionary boost between the two animals.
The alternation of white and black rings could give the false impression of being close to a snake, especially in the foliage of a forest, and this could discourage a great part of the terrestrial predators, represented fundamentally by the fossa, or Cryptoprocta ferox (BENNET, 1833). Or, as in the case of zebras, black and white could cause problems to the sight of predators, in this case especially the winged ones, like owls and buzzards, which would have difficult to hook the target.
Molto curiosa risulta la colorazione ad anelli bianchi e nera della coda, decisamente simile a quella del procione. Sebbene non sia chiaro dal punto di vista evolutivo il significato di tale adattamento, è sufficiente constatare come i predatori di lemuri e procioni siano molti simili, per ipotizzare una spinta evolutiva altrettanto simile tra i due animali.
L'alternarsi di anelli bianchi e neri potrebbe dare la falsa impressione di trovarsi vicini ad un serpente, soprattutto nel fogliame di una foresta, e questo potrebbe scoraggiare una buona parte dei predatori terrestri, rappresentati fondamentalmente dai fossa, o Cryptoprocta ferox (BENNET, 1833). Oppure, come nel caso della zebra, il bianco e il nero potrebbero causare dei problemi alla vista dei predatori, in questo caso soprattutto quelli alati, come gufi e poiane, che avrebbero così difficoltà ad agganciare il bersaglio.
---
| Camera | Canon EOS 450D + iPhone 6S |
| --- | --- |
| Lens | 18-55mm f/3.5-5.6 |
| Data | 02.08.2018 |
| Time | 03.00 PM |
| GSP | 45°38'34.5"N 8°36'54.4"E |
---

Immagine CC0 Creative Commons, si ringrazia @mrazura per il logo ITASTEM.
CLICK HERE AND VOTE FOR DAVINCI.WITNESS