Because we want the sea -ENG ITA- Perchè vogliamo il mare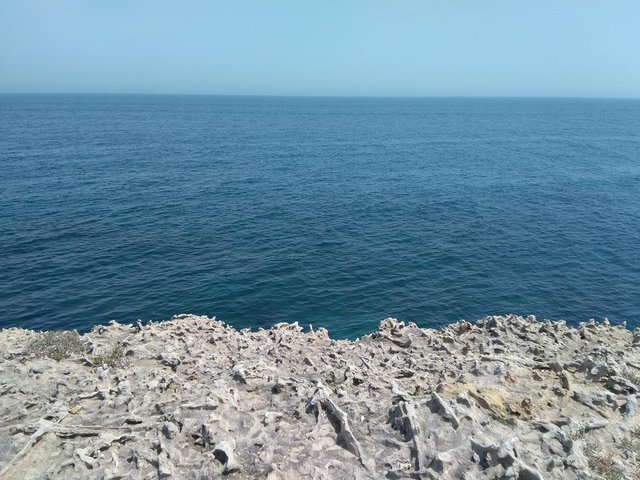 Author's photo ~ Foto d'Autore
ENGLISH
How many of us, at least once in our lives, have felt the need to sit by the sea, listening to that silence that screams more than an angry crowd?
Even the most joyful and hilarious soul becomes melancholy as soon as one enters into communion with it.
Have you asked yourself why? There are not many reasons to stay there perched on the sand to fix that vastness: there are those who have just separated from someone, those who want to relax or those who seek some sort of inspiration; the explanation for all this is much more remote and is in our subconscious, in our true being.
ITALIANO
Quanti di noi, almeno una volta nella vita, abbiamo sentito il bisogno di sedersi in riva al mare, ascoltando quel silenzio che urla più di una folla inferocita?
Anche l'animo più ilare e giocondo, diventa malinconico appena si entra in comunione con esso.
Vi siete mai chieste perché? Non si trova nella causa la spiegazione, perché di motivi per restare lì appollaiati sulla sabbia a fissare quella vastità ce ne sono tanti: c'è chi si è appena separato da qualcuno, chi si vuole rilassare o chi cerca qualche sorta d'ispirazione; la spiegazione a tutto questo è ben più remota e si trova nel nostro subconscio, nel nostro vero essere.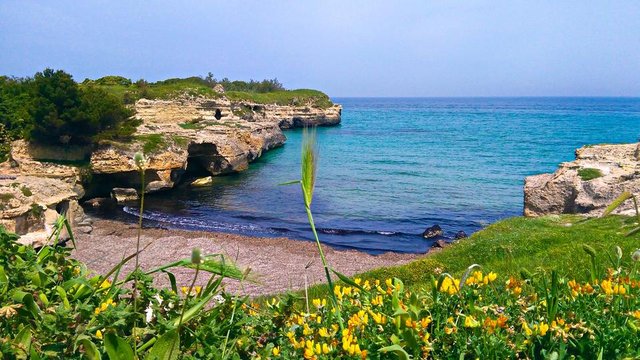 Author's photo ~ Foto d'Autore
ENGLISH
No one can remember, but we all know that the first months of our lives were lived in water, in amniotic fluid. It was nice to be there, always facing in the present, without worries, without thinking, totally free from all the fears and hardships of life.
We are there to fix the sea because the human being, as he grows up, forgets that freedom, and looking at it intensely, we feel sad because we still have that desire to rejoin it, return to being that drop in the ocean, because our real nature is rebellious, flows everywhere without obstacles, such as the Niagara Falls or any other stream or river.
Our own body is made up of more than 70% water, our brain more than 80%, water is the source of life, freedom is within us. It is enough just to rediscover it or remember it to return souls and not slaves of society.
It's the continuous conditioning dictated by advertising, fashion, laws and whatever else that make it possible to make us zombie without any sense of criticality, the SEA instead reminds us who we were, what we want to be, and what we will be! SOUL and not ROBOT! Good summer and rebirth to all of you!
ITALIANO
Nessuno ovviamente ricorda, ma tutti noi sappiamo che i primi mesi della nostra vita sono stati vissuti proprio nell'acqua, ovvero nel liquido amniotico. Com'era bello stare lì, sempre volti nel presente, senza preoccupazioni, senza pensare, totalmente liberi da tutte le paure e dalle avversità della vita.
Ci troviamo lì a fissare il mare perché l'essere umano, col crescere, dimentica quella libertà, e guardandolo intensamente, ci rattristiamo perché in noi permane quella voglia di ricongiungerci a esso, ritornare ad essere quella goccia nell'oceano, perché la nostra vera natura è ribelle, scorre dappertutto senza ostacoli, come le cascate del Niagara o qualsiasi altro ruscello o fiume.
Il nostro stesso corpo è costituito da oltre il 70% di acqua, il nostro cervello più dell' 80%, l'acqua è fonte di vita, la libertà è dentro di noi. Basta solo riscoprirla o ricordarla per ritornare anime e non schiavi della società.
Sono i condizionamenti continui dettati dalle pubblicità, dalla moda, dalle leggi e quanto altro che fanno in modo di renderci zombie senza alcun senso di criticità, il MARE invece ci ricorda chi eravamo, cosa vogliamo essere, e cosa saremo! ANIME e non ROBOT! Buona estate e rinascita a tutti voi!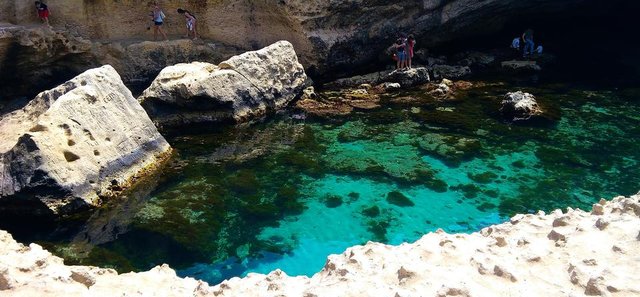 Author's photo ~ Foto d'Autore
ENGLISH
Photos taken with my Asus Zenfone smartphone with Android system and with the following features:
Megapixels: 13
App: Room PV-5
Photo mode: Manual
ISO: 50
EV: 0
WB: 4500
Focus: Touch Manual
Exposure Time: Auto
Post Production: Cyberlink PhotoDirector
P.S. The images were taken by me in ROCA in the province of Lecce (ITALY)
ITALIANO
Foto scattate con il mio smartphone Asus Zenfone con sistema Android e con le seguenti caratteristiche:
Megapixels : 13
App : Camera FV-5
Modalità foto : Manuale
ISO : 50
EV : 0
WB : 4500
Focus : Manuale Touch
Tempo Esposizione : Auto
Post Produzione : Cyberlink PhotoDirector
P.S. Le immagini sono state scattateda me a ROCA in provincia di Lecce (ITALIA)