Is Gold A Good Inflation Hedge? And Crude, Copper?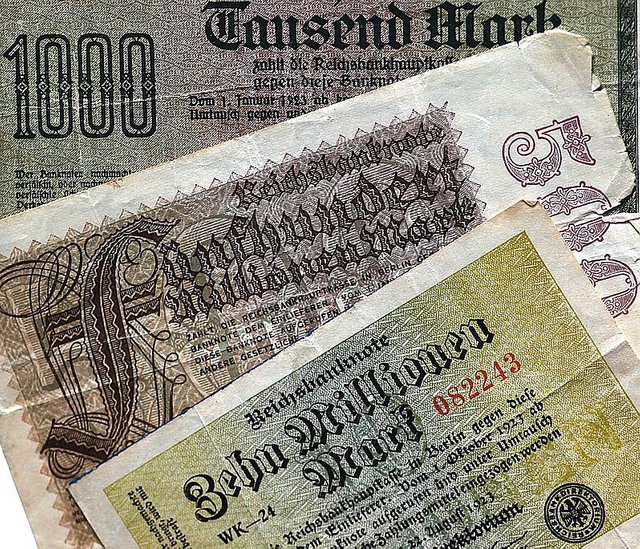 (Commodities And Inflation Part I.)
As I wrote various times before, I'm a bargain hunter by investments, searching for assets with good fundamental value but on 10-15 years lows. I was many times wondering before if all that seems to be a very low price on the long term, is even lower because of the inflation. So, I started my own research today.
Prices doubled in 30 years
Commodities are mostly priced in US Dollars, so, the dollar inflation is a logical choice if we want to know the real price changes. North American inflation wasn't high lately, but it exists. Various US institutions are publishing a monthly inflation index, the "Consumer Price Index (CPI-U) data provided by the U.S. Department of Labor Bureau of Labor Statistic".
"Based upon a 1982 base of 100", this inflation index was at 255.55 in April, 213 in 2009, by 166 20 years ago and by 133, 30 years ago. That means 19.8 percent in the last 10 years, 53.8 in 20 years and 107 percent in 30 years. (Total, not per annum.) With other words, since 1989, the prices surged more than to a double level. (Hodling any cryptos? I wrote also about the inflation of cryptocurrencies.)
The real price change
And the commodities mentioned before? Commodities prices mostly decreased in the last five years but emerged a lot in 10, 20 or 30 years. (See the table, section 2.) The interesting part is, if we discount the actual prices with the inflation, and calculate a "real price change". (For example, if the commodity surges 20 percent, but there was 10 percent of inflation, the real price change is only 10 percent.)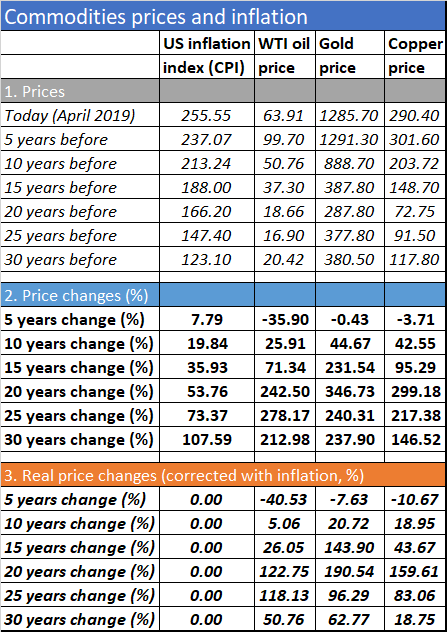 As you see in the table, WTI type crude fell more than 40 percent in five years if we calculate in real terms. Gold and copper holders also lost money. But in 10, 20 or 30 years, all these commodities could maintain its real value, above the inflation.
But, be cautious, the prices of the commodities mustn't follow the inflation. On longer term the supply and demand, the production costs, on the short term, political tensions or market sentiment can influence the price. Some commodities can be more scarce, reserves can fall and the remaining stocks can be accessed only with difficulties. New technologies or simply fashion can influence the demand heavily.
Bottom line
Most commodities on longer-term aren't suitable as an inflation hedge, because of the effect of contango. (The devastating effect of higher settlement prices.) Actually, shorting them seems to be often a better idea. But the calculation of the inflation-adjusted price can provide more information for traders near many years lows, in my opinion.
(Photo: Pixabay.com)