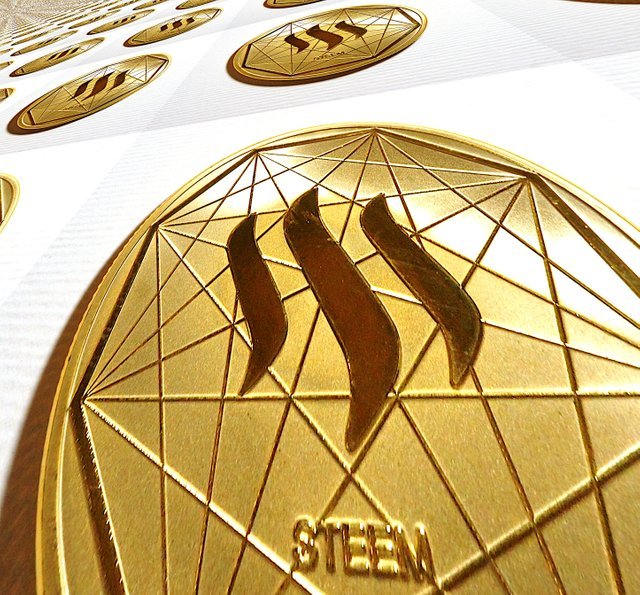 What would you think, which was the most inflated cryptocurrency in the last 12 months? From the most important 15-20, at least? Dogecoin, maybe? Or… God, but it couldn't be Steem, could it? Scared? I made my research. It's not Steem, but almost.
How high is the inflation rate of the Steem cryptocurrency? Is it high or low compared with other cryptocurrencies? Should we blame it for the price falls, for the underperformance of Steem compared with other cryptos? I have some answers.
That is what white paper wrote
There are some rules how each cryptocurrency works. For example, Bitcoin has a maximum amount of 21 millions approximately, and every some years the emission of new Bitcoins decreases 50 percent (halves). Next time in 2020.
And Steem? In the Steem white paper you find this "roadmap" of Steem emission:
Starting with the network's 16th hard fork in December 2016, Steem began creating new tokens at a yearly inflation rate of 9.5%. The inflation rate decreases at a rate of 0.01% every 250,000 blocks, or about 0.5% per year. The inflation will continue decreasing at this pace until the overall inflation rate reaches 0.95%. This will take about 20.5 years from the time hard fork 16 went into effect.
The winners are…
That would mean an inflation rate between 8.5 and 9.0 from April 2018 to April 2019. But the reality is different. Coinmarketcap.com is widely used as a reliable source of cryptocurrency data. It has also the information "circulating supply", but only the actual number, not the historical time frame. But you can easily calculate it from market capitalization. (Which is the number of circulating cryptocurrencies multiplied by the market price.)
In the next table you see the year/year inflation (or, the increase of the circulating supply) of 17 main or otherwise important cryptocurrencies. And the winner is… Binance Coin, with 21,41 percent inflation per annum. Second place, Steem, 20,47 percent, 3rd, EOS with 14.98 percent. Congratulations.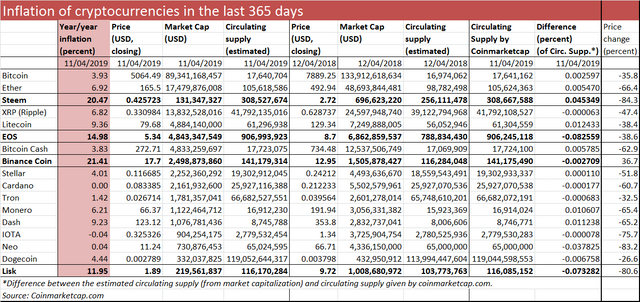 (Click the picture for large version)
Steem price fell 84 percent in one year, Neo 83 percent and Lisk (a potential competitor of Steem) 81 percent. But Binance Coin is up 37 percent and EOS fell only 39 percent. So, I don't see the connection, any real correlation between the two factors. (The correlation coefficient R2 is 0,12, that means, no correlation.) But, better, don't inflate Steem too much, please…
Why was Steem inflation so high? I recognize, I don't know it really. I recommend you to read this post from @exyle.
Inflation or something else?
USD will have soon more inflation than Bitcoin – wrote somebody a few days ago.(@jrcornel) After the next halving, when bitcoin output will drop to the half in 2020. But in the case of cryptocurrencies, inflation means in reality the growth of the circulating supply. In case of US dollars, or any other fiat, you don't call the change of supply of money inflation, right? Inflation, in fiat terms, is the growth of costumer prices (or producer's prices). But this not very accurate use of the term inflation is very extended today in the crypto-space.
(Photo: My post)