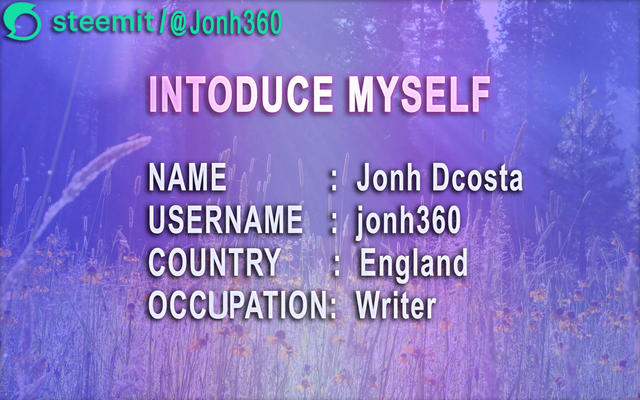 Hi everyone,
I am totally new here and want to introducde myself. My name is Jonh Dcosta and I am from England.Actually I am a writer so writing is my passion.
First of all I want to thank Steemit because Steemit give me oportunity to learn and share knowledge with everyone.
Steemit and cryptocurrencies are an entirely new experience for me, but I really hope to find some people helping me on my journey into learning about it. They both came to my attention through friends, bloggers and youtubers constantly talking about it, so I thought to myself, why not give it a shot and see what the fuss is about.
I am also very interested in exchanging thoughts, experiences and opionions about all kinds of topics, so this platform seems pretty interesting.
My main fields of interest are tech related,travelling, music, reading, politics, philosophy, history etc but I am pretty much open to learning about anything.
Since I like to learn and exchange thoughts with people from all walks of life, I will probably write in English, in order to attract a bigger influx of different thoughts from all over the world.
I know that some of bot like @originalworks give free upvote which is very useful and important for newuser.
Is that right?
Thanks.