Back On Steemit... Finally
Hansenator Is Back!

I am glad to be back on Steemit. Unfortunately, I come back with a new account because I lost my old account. Here is how: When making my last Steemit account @hansenator I took a picture of the password on my phone and saved it to my reliable Toshiba laptop as a picture. Having it in two places is safe enough, right?
After the better part of a year of blogging and investing in this wonderful community we all love, I became more of an inactive member. During this time my phone broke, so I got a new one thinking nothing of it. Months later, my hard drive in my computer broke. Called Toshiba, gave them $100 US, and they literally did not know the implications of installing a new operating system, which would have erased my data and some stored crypto with it. Luckily, I know some knowledgeable people. I have the hard drive, but it is still broken (with the data on it). Considering sending it to "Drivesavers" because my co-worker that does IT at the school I work says they're the best!
If the quest for the hard drive is solved I will resume my @hansenator account for education and @hansenatortravel will be for… you can assume. Haha. If not, hansenatortravel will become my one-and-only account.
Today, I bring you a treat! My last post for hansenator had to do with a trip to Louisiana. Well on my drive out there from Florida I collected snapchat filters from cities I passed through. Snapchat saved this for me, so we have them to thank for this compilation!
Florida to Louisiana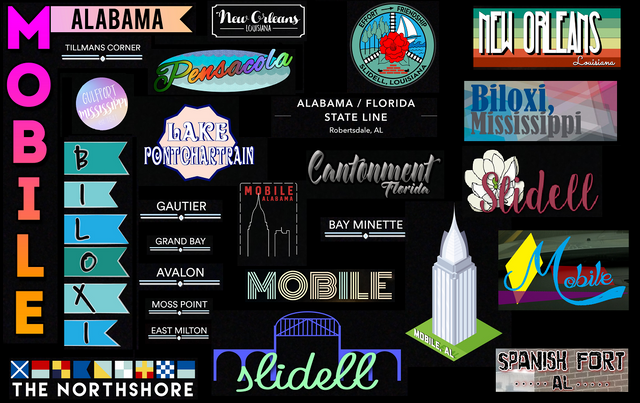 Most backgrounds are black, but there were a couple I snagged from regular photos I took.
Biggest Influences for hansenator
I would also like to thank my old friends and teachers on Steemit, by mentioning them in this post. Wish you all the best and I hope to learn a lot more from you!
@acromott, @aggroed, @always1success, @bentleycapital, @blapone420, @bleujay, @cristof, @crypt0, @curie, @daveks, @deadspave, @diggerdugg, @donkeypong, @doughtaker, @drewley, @fibra59, @fyrstikken, @good-karma, @graceland, @scottland, @harleymechanix, @hitmeasap, @hr1, @investmentfool, @jbozz3o, @jeezzle, @joe28, @juliank, @katdvine, @kaylinart, @kingscrown, @kishore1988, @mes, @papa-pepper, @pizzachain, @rigor, @rufans, @soldier, @slickhustler007, @splash-of-angs63, @steemclaira, @steemiteducation, @superbuckles, @theguruasia, @tornadoman, @twogirls1planet, @vegansilverstack, @zothuro.
Each of you have impacted me in a positive way and I thank you for it!


Have an amazing day Steemers! Stay Positive!