Coral reefs are some of the most beautiful natural areas! They are spectacular to see, as if you are entering a different world. You can encounter hundreds of species of fish. From the famous clownfish, turtles, rays, seahorses, nudibranchs to sharks. In addition, you can also see dozens of different species of coral in all shapes and colours.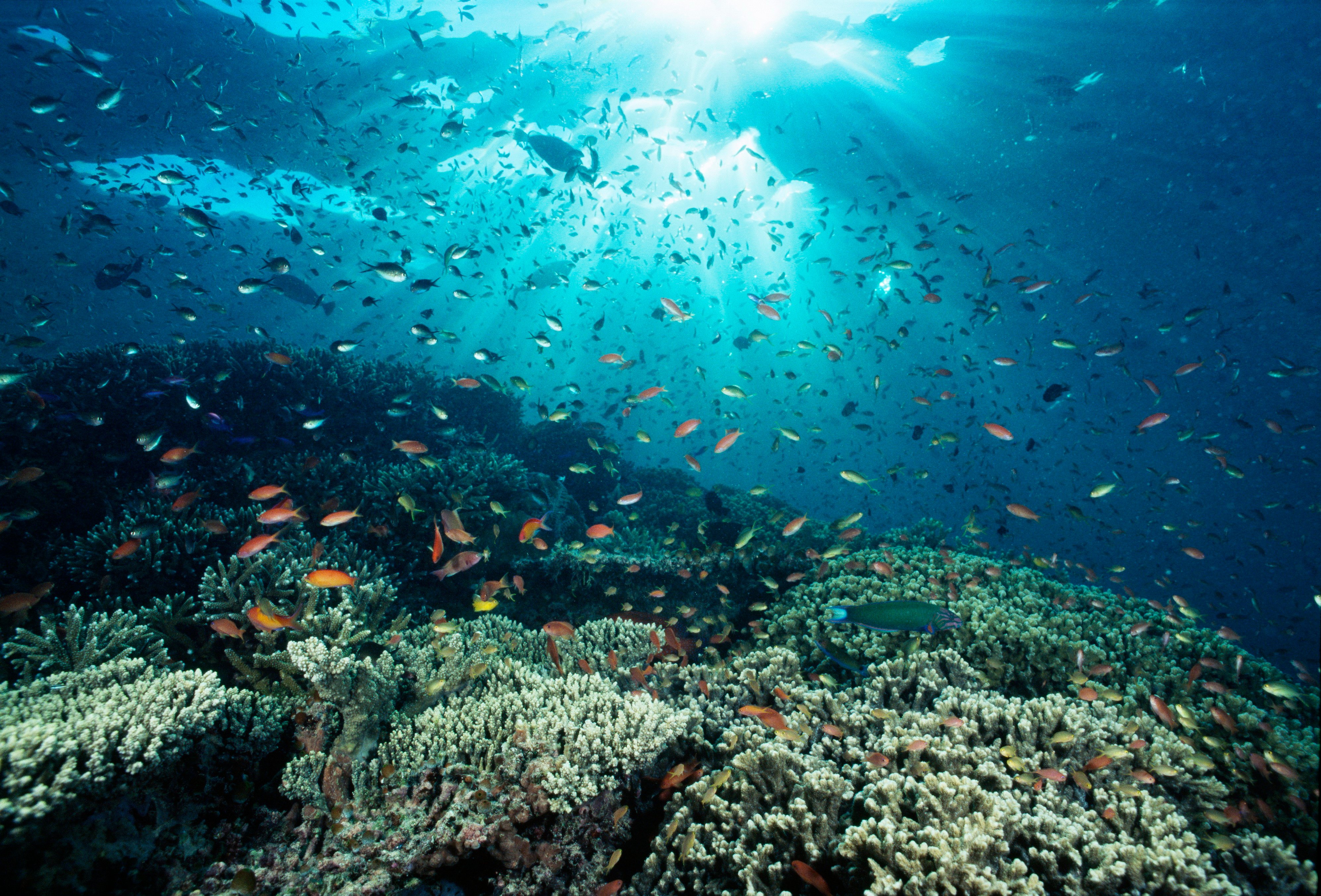 Picture of a healthy coral reef (Picture by Dos Winkel)
Corals are also essential for the well-being of humanity and nature. They serve as coastal protection, provide shelter and are nurseries for many species. But despite their importance, coral reefs are threatened worldwide. This is why CoralGardening is stepping up to the challenge of protecting and restoring coral reefs.
Healthy reef
CoralGardening is a non-profit foundation founded by Frank van Klaveren and Vera Aarden in 2015. CoralGardening protects and restores reefs. The foundation runs purely on volunteers, no-one volunteering for the foundation gets paid.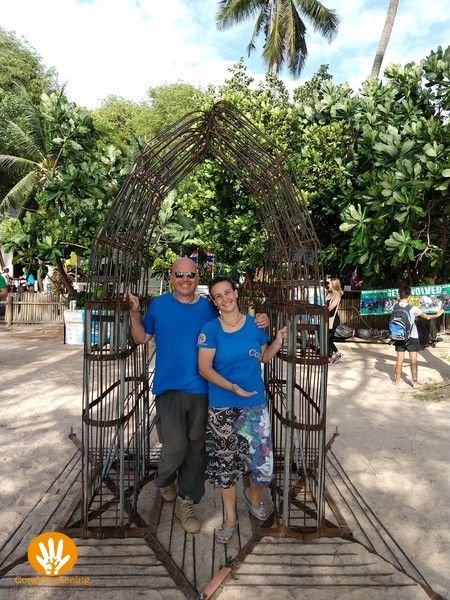 Frank en Vera in front of a piece of artificial reef.
What is the goal of CoralGardening?
In spring 2016 Frank and Vera moved to Thailand to build the first pilot artificial reef, with the support of (local) volunteers.


Artist impression of pilot in Thailand
A functional reef improves biodiversity and also helps build a healthy environment which serves both humans and nature in general. CoralGardening works with partners and supporters to build artificial reefs. We build underwater sculpture gardens where we farm corals. These reefs immediately become attractive sites for diving and snorkelling. Together with universities, other NGO's and companies we are constantly looking for new ways to improve the building of artificial reefs.
Our slogan is: Educate – Protect – Restore
Educate
We educate local school kids, dive professionals in dive schools, new divers on dive boats in Koh Tao, Thailand. Also schools, universities and divers in dive schools in the Netherlands. On national and international diving exhibitions we educate and inspire people. Our lectures are about, what coral is, the importance of coral reefs, why coral reefs are threatened and what we can do. We don't not only focus on local causes, but also about the world wide problems, like pollution, climate change and overfishing. We are in the process of developing an educational program for kids from 5-12 and young people from 13-20. We aim to develop the kids programs to be more suitable for Thai and Indonesian culture and translate these to Thai and Bahasa Indonesia.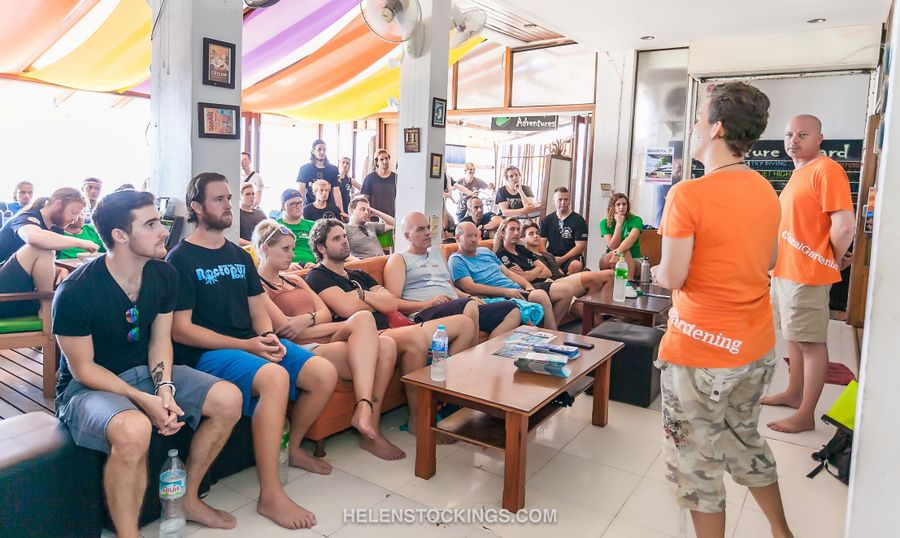 Lecture about the importance of coral reefs (Picture by helenstockings.com)
Protect
It is more efficient to protect existing reefs, than to build new ones. We participate in all kinds of local activities to protect existing coral reefs. For instance we talk to local stakeholders to close a bay to let the reef recover from bleaching. Amongst other things we organise and participate in beach and underwater clean-ups, maintain mooring lines, inspire and convince businesses to ban single-use plastics and persuade people to buy a refillable bottle instead of using plastic bottles, to fight the plastic pollution etcetera.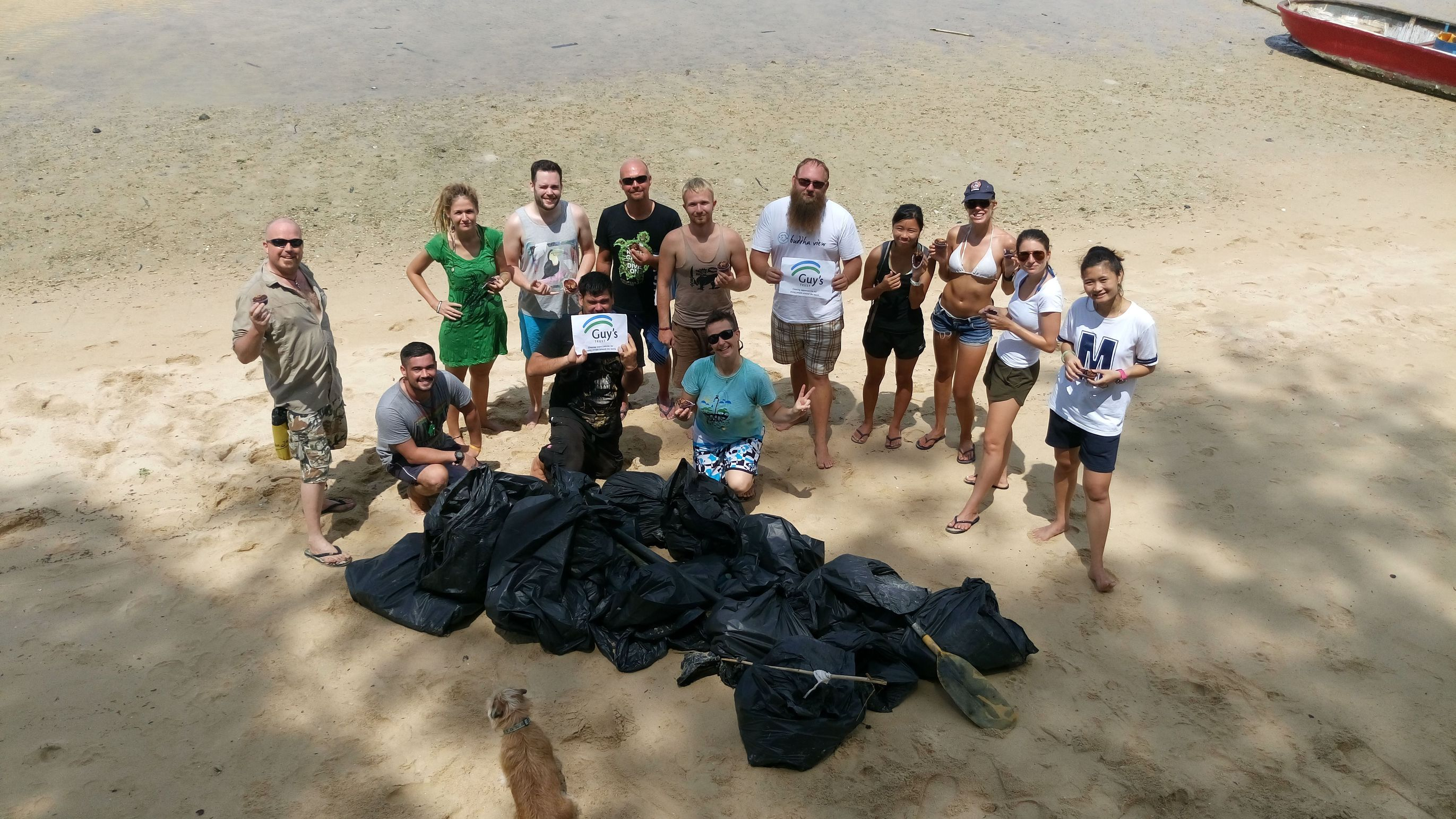 Result of one hour beach clean-up
Restore
Our aim is to restore the ecosystem as soon as possible. Therefore the artificial reefs are designed to attract the necessary fish and critters immediately. The structures are made to provide shelter for all kinds of marine life. This makes it for the corals transplanted on the reefs easier to grow. We transplant all kinds of different, local corals on the reef, to get as much diversity as possible.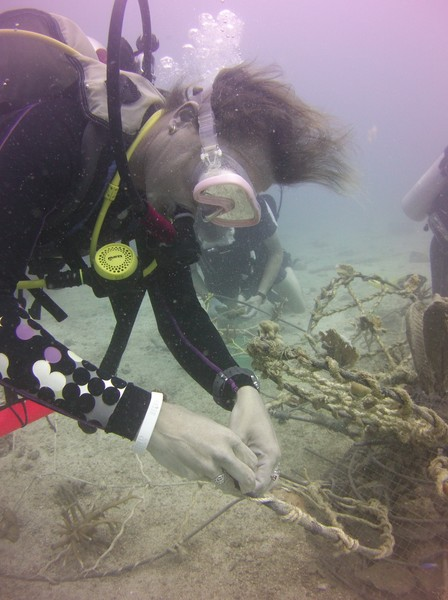 Transplanting coral of a flower in the CoralGarden
We give workshops to local dive professionals, tourists and other people who are interested to create an artificial reef with us. During the workshop they learn to work with metal and can even learn welding under controlled circumstances. During the workshop we talk about sustainability in general, share tips and inspire them to implement some of these in their lives.
What we have achieved:
We have build our proof of concept, the CoralGarden, in Hin Wong Bay on Koh Tao. It consist of 8 flowers, built from different materials. The amount of marine life in this area has already increased. We want to attract more herbivorous fish, because we still need to do maintenance to get the macro algae of the statues. Algae grows faster than corals and can overgrow the slower growing coral species we transplant. Momentarily we maintain the statues by brushing the algae away. When there is enough marine life, fish will feed on the algae and create a natural balance on the new reef. We are currently in contact with a marine biologist / fish ethologist to conduct research into better structures in our sculptures to attract more marine life.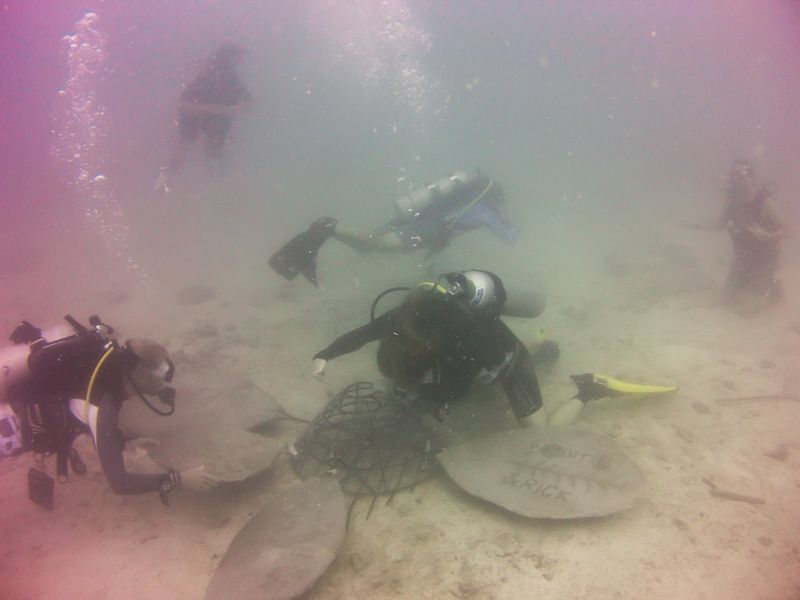 Building a flower under water
The transplanted coral is growing well on the structures. We are currently monitoring the growth, but don't have sufficient data yet to share with you. We learned a lot about the use of different materials and constructions. What works well and what does not work. There is still a lot of pioneering in field of creating artificial reefs. We want to share the best practices and the techniques we developed, in a handbook for local marine conservation projects and communities.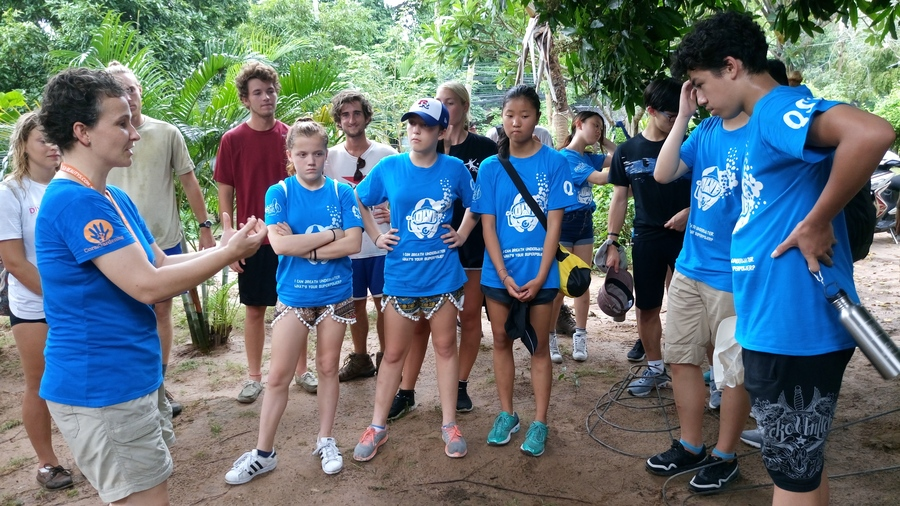 International school from China at our workshop, building an artificial reef
Finance
In 2015 we ran a crowdfund campaign to raise money for creating the artificial reef in Koh Tao Thailand. This money is used to buy local building materials, tools, and placing the sculptures in the ocean (renting boat, dive equipment), transplanting corals and basic maintenance. Also promotional and educational expenses were paid by donors. No-one receives a salary from CoralGardening. We pay our living costs and expenses from their own savings. Also occasional volunteers who come over from the Netherlands, pay for their own expenses and living costs. The money we will receive from Steemit will be used to continue our volunteer work. If you want to donate to CoralGardening Foundation, go to our website: www.coralgardening.org.
Join us building a healthy ocean!
Frank & Vera
Website: coralgardening.org
Steemit: steemit.com/@coralgardening
Facebook: facebook.com/coralgardening
YouTube: youtube.com/coralgardening
Twitter: twitter.com/Coral_Gardening