Hello community! - Esteros de Camaguán
Hello! My nickname is Astro, an second self on steemit of Inti Garboza, a Venezuelan Documentalist, I will be sharing a series of pictures of some places and everyday life of the "Tierra de Gracia" and other trips to the continent.
This is my first publication in Steemit, thanks to the recommendation and insistence of a friend, the truth is that I think it is a very interesting project, I also take it as an exercise for me, since I usually do not post much for any of the social media and I would like to improve the frequency and quality of the posts as you go along.
Today's picture is a sunset in the Esteros de Camaguán, in the central Venezuelan plains, and in the rainy season it is largely flooded, allowing you to enjoy one of the most colorful sunsets of the Venezuelan plains.
I took this picture in 2012, on a field work with my Canon 60D camera.
To know more about my work, my profile in Flickr: https://www.flickr.com/photos/[email protected]/
---
Hola! mi nickname es Astro, alterego en steemit de Inti Garboza, Documentalista venezolano, estaré compartiendo una serie de fotografías de algunos parajes de mi país, y vida cotidiana de la "tierra de gracia" y otros viajes el continente.
Esta es mi primera publicación en Steemit, gracias a la recomendación e insistencia de una amiga, la verdad es que me parece un proyecto muy interesante, además lo tomo como un ejercicio para mi, ya que por lo general no publico mucho por ninguna de las redes sociales y quisiera mejorar en la frecuencia y calidad de los post a medida que vaya avanzando.
La fotografía de hoy es un atardecer en los Esteros de Camaguán, en los llanos centrales venezolanos, y que en época de lluvias se inunda en buena parte, permitiendo disfrutar de uno de los atardeceres más coloridos de los llanos venezolanos. La foto la hice en el año 2012, en un trabajo de campo con mi cámara Canon 60D.
Para conocer mas de mi trabajo, mi perfil de Flickr: https://www.flickr.com/photos/[email protected]/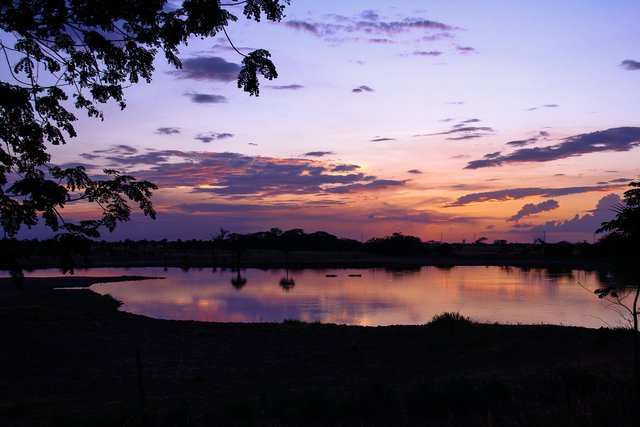 Photo by Inti Garboza© - Canon 60D ƒ/6.3 EF-S18-135mm ISO 250