About AMN - Al-Masdar News (@amnlive)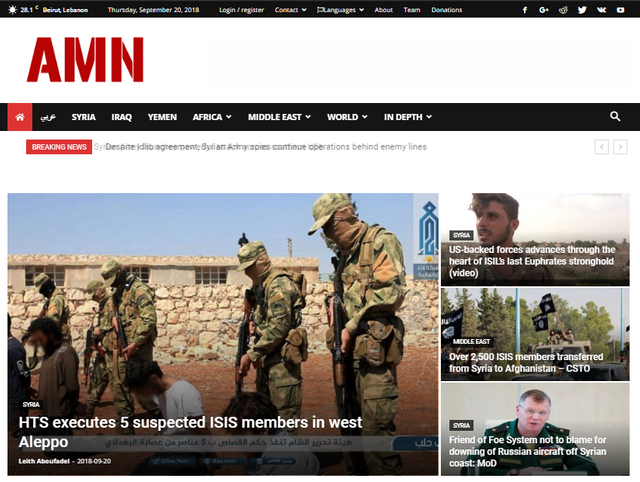 Al-Masdar News (The Source) [https://www.almasdarnews.com/] is a news publication based out of Beirut, Lebanon - active since 2014 with a subject matter focus on the MENA region.
AMN is staffed and contributed to by a diverse range of journalists and contributors from all over the world who in turn come from equally diverse religious, ethnic and political backgrounds. This gives AMN a broader and fairer perspective in its reporting of the news, especially in the case of the Middle East-related news, which represents the media group's most prominent feature.
The distribution of breaking news on steem is an experiment started by the request of quite a few of our readers that enjoy the steemverse.
It has been an awesome process with a lot of absolutely great community interaction!
Hiccups & Incompatibilities
Unfortunately, there are no rules on steem, just recommendations everywhere (so we have basically no clue of what we're doing on steem, usually until it's too late), and the traditional news desk and editorial process; republication of mainstream news agencies (REUTERS/AP/AFP/TASS etc) in combination with an high frequency of in-house produced content has brought the ire of some of the steem watchdogs that disregard the value for the readers that aggregating news that touches on a specific subject matter together in a single feed brings, and considers it spam. It seems to be an incompatibility of the real world news production versus steem ideology.
There is also the technical challenges of embedding visuals such as self-hosted video etc in an automated way that hampers the proper delivery of the news and a few other bits.
So the experiment of bringing news to steem might be a very short-lived one.
We're working on ways to make everyone happy while maintaining a high-quality news feed for our readers.
Stay tuned for updates below as we progress.
Best regards
The AMN Team
PS. Let us know if there is anything you'd like us to add/change/remove to make your day better, we're open to constructive ideas!


https://www.almasdarnews.com/steemit-verification/