We, that's you and I dear reader, have been following the Democratic primaries pretty closely these past weeks, with an particular focus on Bernie Sanders. It's been an exciting journey so far and it looks like it'll stay that way for a while yet, maybe until the very end. The main source of all the excitement around Sanders' candidacy is the fact that he is the first presidential hopeful in decades who poses a realistic threat to the status quo, and also has a realistic chance of actually becoming the next POTUS.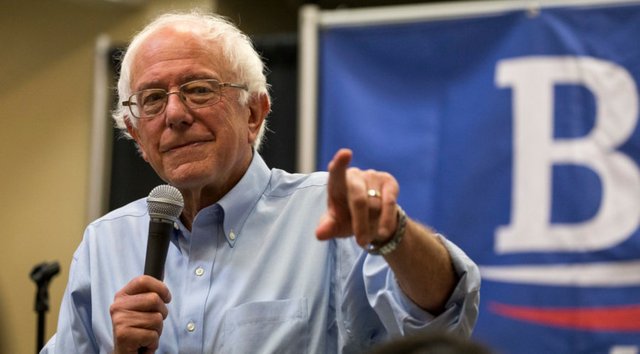 Image by Phil Roeder - source: Flickr
Not just in America, but all over the western hemisphere people are waking up to the reality of the eternal and growing class divide that's inherent in the mechanisms of the for profit market ideology that lays at the basis of the neoliberal status quo. We, the people, are sick and tired of being sick and tired; despite the continuous and rapid growth in productivity through technology and automation, people from the working class have been working more hours for less money, literally making us sick and tired. At the same time the proverbial top 1% have seen their share of the pie grow to the heavens; I don't know how often it has to be repeated before there's a general consensus that it's just ridiculously criminal that the three richest individuals in a country own half of that country's wealth. Somehow there are still countless souls out there who genuinely believe that's normal, that it's even possible for one person to gather hundreds of billions of dollars without exploiting (the labor and gullibility of) countless other people.
Lady To MSNBC: I Voted For Bernie Cause You Hate Him
An often recurring topic in Bernie's journey is his complicated relationship with the mainstream media; the political establishment has no love for him. When Hillary Clinton claimed about Bernie that "nobody likes him", this is what she meant to say; no one in the small bubble of the political establishment likes him, no one at the billionaire cocktail parties she attends likes him. In my posts I've covered some of the stages of grief the establishment class has gone through as Bernie's popularity surges; the first was denial, the #BernieBlackout, and then came the smears, and when that didn't work they started aiming their fear-induced anger at Sanders' (online) followers, going so far as to compare the "Bernie bro's" to Brownshirts (that's Nazi's; watch the first video). Keep in mind that we're talking about potentially the first Jewish POTUS here. That's low, but to be expected after we've seen the same happen to Trump supporters; I'm not saying that there are no racists, fascists or white nationalists among Trump supporters obviously. What I am saying though is that there certainly IS an overlap here in the sense that on both ends of the political spectrum people are becoming aware of the class divide and are ready for a real anti-establishment candidate. They are both populists, but that's the end of the similarities between them. The last two who were successful running on a populist program of change to benefit the working class, Obama and Trump, both turned out to be fake; Sanders, with a track record of nearly four decades of fighting the same battle against BOTH parties and cooperating with BOTH parties where possible, is something else entirely.
Chuck Todd's Attack On Bernie Supporters BACKFIRES
The New Hampshire primary is underway as I'm writing this; I hope you're as excited as I am to see how Sanders does there after the whole Iowa debacle. As a non American I can't vote for Bernie, but I'm painfully aware that this election and the general election in November could possibly decide which direction world history goes from here. If America, the leader of the so called free world, could become the voice of reason, progress and peace for the first time in more than a half century, then maybe it's not too late to restore trust in democracy and hope for a better tomorrow for everyone. So, go out and vote to get this man elected so that you'll be able to tell your grandchildren that you were there and played your role when things started to change for the better, that you were on the right side of history, which is clearly on the left side of politics. I'll leave you with this delightful video discussing seven strategies used by the mainstream media to fight against a Bernie presidency, or the seven stages of grief the media have gone through; watch it, it's really good, and funny to boot ;-)
7 Ways The Media Sure Is Freaking Out About Bernie Sanders - SOME MORE NEWS
---
Thanks so much for visiting my blog and reading my posts dear reader, I appreciate that a lot :-) If you like my content, please consider leaving a comment, upvote or resteem. I'll be back here tomorrow and sincerely hope you'll join me. Until then, keep steeming!

Recent articles you might be interested in:





Thanks for stopping by and reading. If you really liked this content, if you disagree (or if you do agree), please leave a comment. Of course, upvotes, follows, resteems are all greatly appreciated, but nothing brings me and you more growth than sharing our ideas. It's what Steemit is made for!





I am a proud helpinaut! @Helpie is looking for new members! Helpie has been growing nicely and we are always on the lookout for new valuable members. We are very supportive and community oriented.