This is the Kind of Lies I absolutely can't just pass unnoticed and unresponded - "Isreal Needs our Help????"
I'm copying here a response to the Post made by @interceptor about Israel and Palestine and how:
"People of Steemit should hear that cry, and dedicate some of their time for righteous fight, where Israel is heavy underdog, taking serious beating and without any friend who would help them against media beast".
He isn't joking! Israel "need our help", billions of dollars worth of money directly from US taxpayers (AIPAC) isn't enough I guess...
Here is my response:
---
I firmly believe that Palestinians are in a dire need of help... Israel? Not so much. Israel is a powerful nation among poor countries, with lobbying power in the US and a military force to support its policies. So let me ask you, can you give us any source for this claim you make:
Things are so bad, that every media, lead by mainstream media corporations, are pushing anti Israel, antisemitic, antihumanrights agenda, calling for destruction of Israel, ethnic cleansing, and allowance for terrorists to freely attack Israeli armed forces with knives and stones.
Mainstream media pushing anti-semitism?
I'd love to see that.
You should quote sources. I'm pretty sure I can refute them. The video is just hilarious: min. 0:22, the narrator states that a reporter lied by saying the attacker was shot unarmed, and he was armed with a knife indeed. BUT THE(y) SHOT HIM IN THE BACK WHILE RUNNING AWAY, THAT'S MURDER ALL THE SAME, besides every time a palestinian "terrorist" little girl attacks anyone the response is she/he is gunned down by a heavy equiped soldier with a powerful rifle, body armor, etc. And the whole Israeli military apparatus to support him.
I don't know if you are just a completely indoctrinated ignorant saying what you believe is true or just another lier. Palestinians have been chased out of the land where they were born and massacred many times, then Israel cries because some "rocket" makes it to their protective walls.
How many Palestinians vs Israelis have died so far? What's the ratio and how do you interpret it?
You don't get to label anyone you dislike a "terrorist" and then proceed to excuse anything that is done to him because he/she was a "terrorist". The fact that they get to call others terrorist while being an aparthaid Terrorist state only shows how powerful they are and how well they lobby and dominate mainstream media.
Finally, your point of view is 100% biased and completely unfair to the suffering of people you don't identify with.
Here is a picture of the organization you quoted, who claim to fight "bias"... right. How many Palestinians or not-zionists are working there to make it not totally biased in favour of Israel?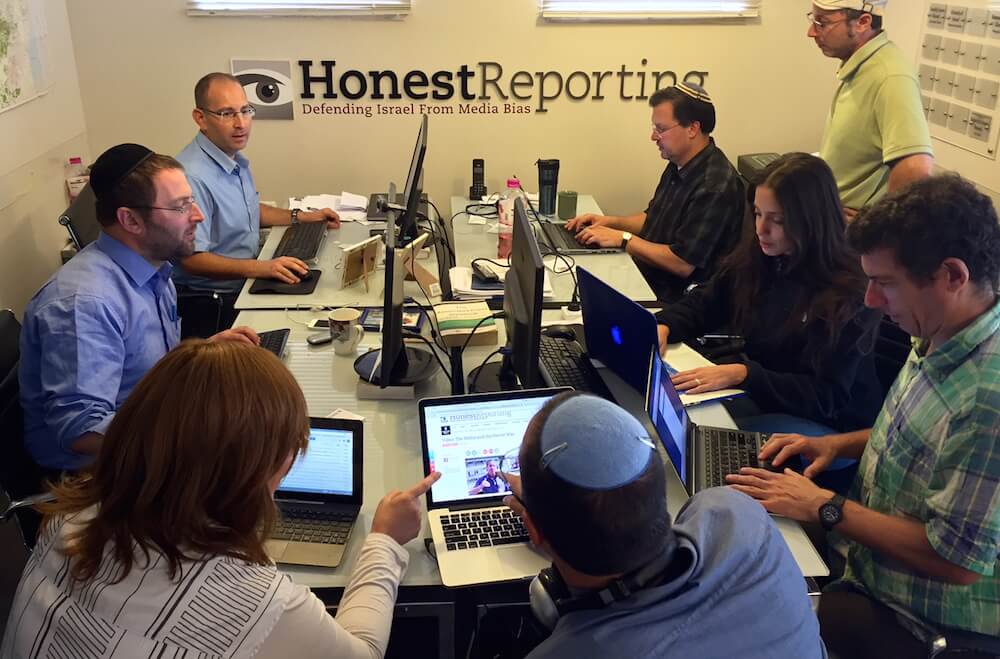 Now here (below) is a Jewish intellectual not biased in favor of the rogue state of Israel, incapable of following any kind of directive from the UN, like its protector, the US, completly disrespctful of International Law. Prepotent and criminal, murderous Powers. Palestine? only another extremely poor Third World country.
In my opinion you are completely biased. Reality scapes you and you don't care about truth enough to think for yourself and RESEARCH from different sources than those who support and reinforce your point of view. You identify yourself with some people and believe you are different from everyone else, but you are a human being in the first second and third place, then you are jewish palestinian or w/e... white, black, hispanic. That's all nonsense, time to wake up passed a long time ago.