"Don't cloud - wind anymore" is the comment of Facebooker Tinh Vuong Xuan when talking about discussions on parliament forum on October 24, 2019.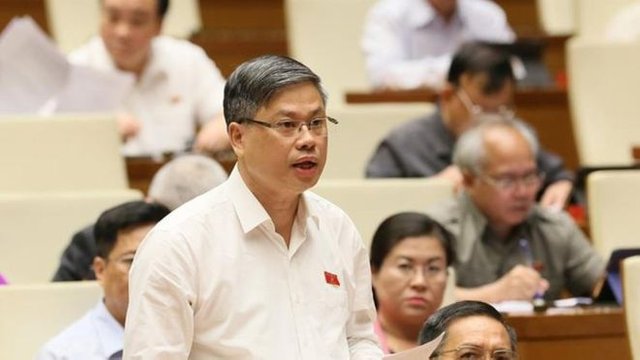 Members of the National Assembly of Vietnam discuss in the hall on October 24, 2019 - source photo [1]
This idea said that, instead of discussing practical and effective matters, delegates spend time discussing things like cutting pensions with people who have their titles removed or defining what a talented person is.
It should be noted that the National Assembly of Vietnam consumes VNĐ 1 billion (ie $43,121 at current exchange rates) for each meeting day. This cost is known in 2013 [2], 2019 I think is likely to be higher.
Journalist Nguyen Nhu Phong (he was revoked a journalist's card, lost the position of Editor-in-chief of PetroTimes newspaper) commented on the parliamentary session of the 14th National Assembly of VN, the 8th session as follows (Ask for permission to translate some of his comments [3]):
"I saw at this session, some delegates debated "what is talented" and were really surprised, I thinking: Perhaps Congress has nothing to do anymore but is planning to discuss and set "criteria" about "what is talented"."
....
"Also at this session, there were comments that were to "cut pensions"; must cut the word "original ... " with the disciplined officials.
I see people who seem to raise this idea either ignorantly about the law, or being bitter, resentful to those who are disciplined, or criminally treated ..."
........
Connect with me on other foundation
facebook || youtube || twitter || blogger || wordpress || d.tube || minds || reddit || linkedin || tumblr || instagram
🔥🔥🔥

Follow me to get minimum 1 follow from @anhvu & daily random upvotes from the @hoaithu's Curation Trail

💰💰💰

If you want to earn more rewards with your Steemit account, you can refer to the ways from

this post

.

Recent posts