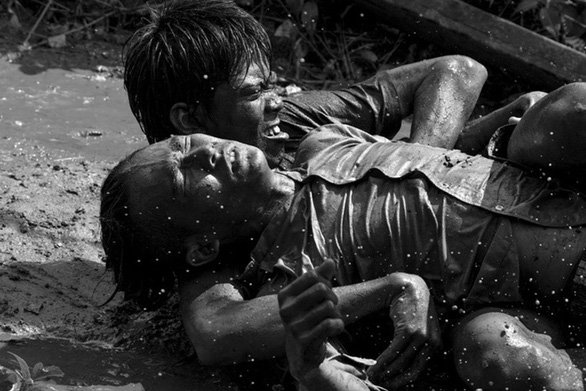 Vietnamese drama film 'Rom,' which was honored with the top award at the Busan International Film Festival (BIFF) last week, has been slapped with a heavy administrative penalty for joining the fest without first acquiring a screening license at home.
Before the film set out for Busan, the Department of Cinema announced that the movie "violates the current law" without a film dissemination license but self-signed and submitted films to the 2019 Busan International Film Festival.
A week after the film came to the festival, the production unit just submitted "ROM" to the Cinema Department and have slideshow for expertise.
It is known that one of the reasons why "ROM" is not licensed is due to the offensive content, showing a negative view on Vietnamese culture and people. And when not licensed, the producer sent a "letter" to withdraw the film.
Personal opinion
Censorship in Vietnam as well as in China for works of art is rigorous. I know that many countries do not have censorship activities, only have age restrictions on works that are not suitable for minors.
ROM movie talks about the lives of children who have to earn their own lives from an early age and the mentality want good luck of many people. I have been to many places and witnessed many scenes of unfortunate life and the expectation of an opportunity to change life from the sky of Vietnamese people. and I find that this film reflects reality, not objection and does not reflect right. But anyway, that's the way they don't want to look at the truth and ban it.
Censorship will curb the film industry in particular and the arts in general in a state of confusion and fear. & art and cinema are all oriented, it's not art anymore.
I remember the movie "dust of life Cho Lon" (or ChinaTown, LOL This English title has a lot to write), It was also banned release and because we were very curious, the truth was that it was available on YouTube and can be viewed for free. And almost everyone who knows the internet is watching this movie, ROM probably will be no exception. Censorship and bans have countered its effects.
The ridiculous thing is that they censored like that, but recently there was a movie with the Chinese cow's tongue that has entered Vietnamese cinema. It is true that the Communists, things that need censorship to stop get through, What I and many other people in Vietnam don't need to censor are they censor and prohibit.
You can watch ROM film here, this is a full version on youtube with 24 minutes. I do not know if this is a film released by the publisher or a copy from an anonymous account. But it has english subtitles and you can enjoy it.
Photo & excerpts are sourced from tuoitrenews

Connect with me on other foundation
facebook || youtube || twitter || blogger || wordpress || d.tube || minds || reddit || linkedin || tumblr || instagram
Follow me to get minimum 1 follow from @anhvu & daily random upvotes from the @hoaithu's Curation Trail

If you want to earn more rewards with your Steemit account, you can refer to the ways from this post.

Recent posts
Court banned photography the case of music teacher accused of "defaming the government" - Nguyen Nang Tinh