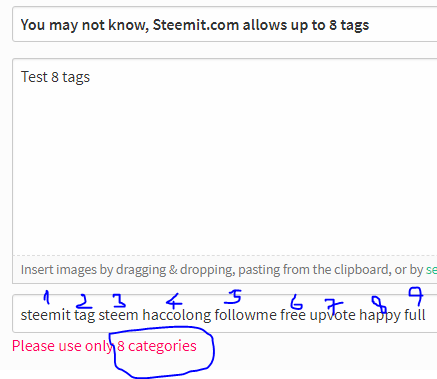 After looking at some of the newly posted articles, I found that many people still use only 5 tags. Although these articles can completely use other tags.
Using multiple tags and the right topic will help the post reach many and the right audience and avoid spam tag reviews.It also means that your post can get more upvotes and more rewards.
I don't know if Steemit.com has a notification, but 3 days ago I was writing an article. And when I accidentally added a 6th card but still didn't see the same error as previous times, I tried more cards. Incidentally, a maximum of 8 tags instead of 5 as before.
This is a great thing, I had to choose very difficult tags before because it was limited, but with 8 tags I felt quite comfortable.
However, now I write on "steempeak" so I can use up to 10 cards. And if on "steepshot" there are probably infinite tags (I don't know, because I can't use the app yet). But much is not necessarily good. I am satisfied with 10 limit tags and if possible add I will create 1 or 2 separate tags for myself. Isn't that great? But my steepshot doesn't work. So bad. so bad
This is just for you, if you haven't already noticed :) Take welcome the new limit and assign appropriate tags to your posts so you can reach more people!
Wish you success

Connect with me on other foundation
facebook || youtube || twitter || blogger || wordpress || d.tube || minds || reddit || linkedin || tumblr || instagram
🔥🔥🔥

Follow me to get minimum 1 follow from @anhvu & daily random upvotes from the @hoaithu's Curation Trail

💰💰💰

If you want to earn more rewards with your Steemit account, you can refer to the ways from

this post

.

Recent posts
The film has not been licensed in the country - Busan Film Festival winner - ROM>
Court banned photography the case of music teacher accused of "defaming the government" - Nguyen Nang Tinh