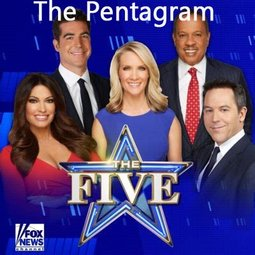 Is anyone else bothered by Greg Gutfeld's "UNICORN" coffee mug that he displays so proudly on his moronic fake-news show "The Five"?
It bothers me. Because I've noticed a definite connection between the "unicorn" symbol and pedophilia. But I was sort of discounting Gutfeld's mug, because, well, yes, unicorns are EVERYWHERE. And he seems like a nice guy (famous last words).
But I just stumbled upon this odd moment from an older Gutfeld interview with Andrew Breitbart, and it got me thinking about that stupid coffee cup again. Keep in mind, this video is from before the COMET PING PONG scandal.
Greg G. "It's hard to play uh, uh, uh, PING PONG when you don't have any opposition…"
Andrew B: "Why did you change the subject to the sport of ping pong?"
Greg G: "(laughs) I don't know."
Andrew B: "Ya, you're weird that way."
I'm sure none of us can forget about Breitbart's famous tweet in which he accuses Podesta of being a child sex trafficker. I'm among those who believe Andrew was murdered for that tweet. So Breitbart is very familiar with the Cabal's codes for these crimes.
Is Breitbart implying that he knows something about Gutfeld here too? "You're weird that way"? At the very least Breitbart seems like he's TROLLING Gutfeld here.
Anyhow, this is not proof of anything but rather seems worth filing away as a red flag. Maybe Gutfeld isn't even aware of all this symbolism and is just doing what the producers tell him to do. Surely many people in media are just obedient monkeys and don't necessarily the most heinous commit crimes. But I'm inclined to at least ask the question about anyone who rises to that level of success within the Cabal's media swamp. (Trump's recent tweets about Fox definitely confirm Fox is Cabal media.)
Oh, and notice also that the symbol for Gutfeld's Fox show "The Five" is, ya, the five-pointed pentagram. Probably just a coincidence.