Some of you have reached out to me personally regarding this situation. I'm still under a deluge of DMs and haven't been able to come back to all of you. It's just easier to post my thoughts here on the on going matter concerning the state of cryptocurrencies in India.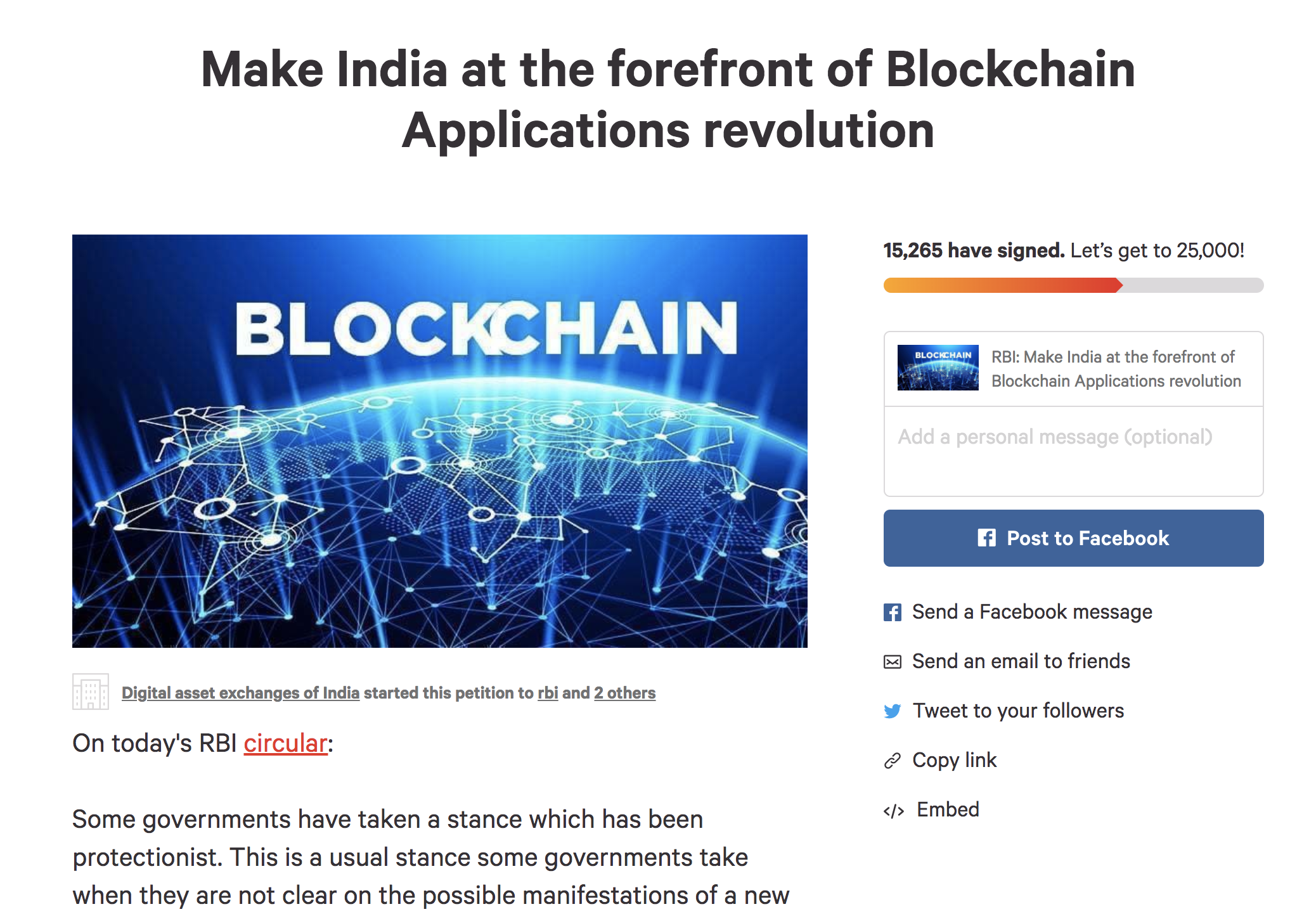 Cryptocurrencies are not banned by the Indian government.
RBI is preventing banks and payment processors regulated by them from dealing with cryptocurrency exchanges.
After 3 months if the situation doesn't change. You can purchase and sell via Cash/Peer to Peer transactions using services such as Localbitcoins.com. Your tokens are yours only!
Do not panic sell your hard earned cryptocurrencies away.
Exchanges operating in India are currently doing whatever they can to get RBI to reconsider it's notification. In the 3 months to go I certainly hope there will be some kind of regulation in place that will allow all regulated banks from dealing with cryptocurrency exchanges.
Currently autonomous banks don't have to adhere to such rules. One such bank is the Bank of Sikkim. However, this bank alone cannot come to the rescue of exchanges or users in India. We need the banks that we use everyday to allow us to do what we think is best with our money.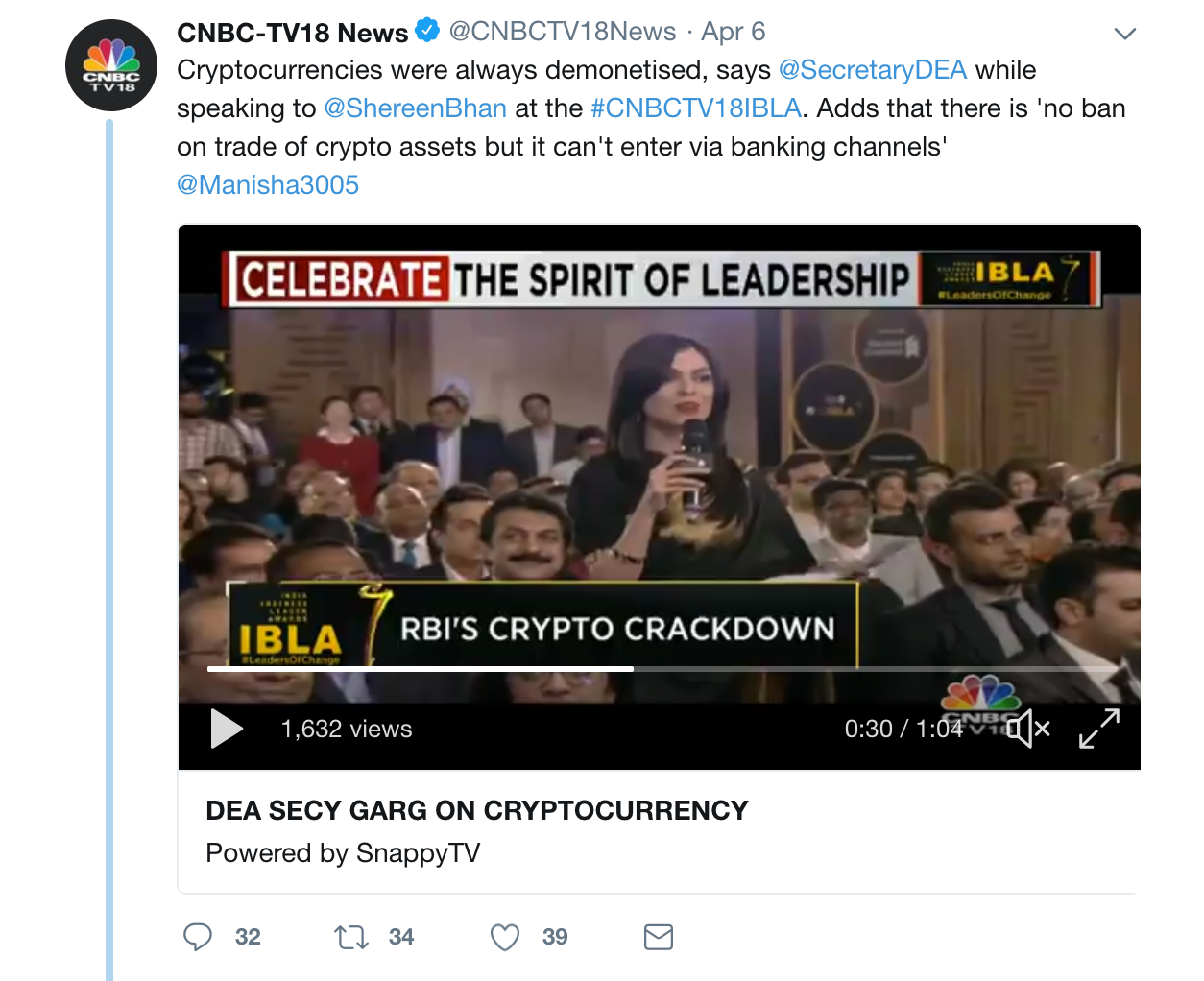 Here's the link to the video in the tweet by CNBC-TV18. Watch the video.
It's ironic how the Secretary DEA says that cryptocurrency users are free to trade via cash, implying that back channels are open and can be used. While the rest of the government wants us to go cashless. It's a funny world we live in where our elected officials control our lives by controlling our money.
Hopefully we can come together in stopping them. Please support the growing movement by signing this petition. Please spread the petition link far and wide and tweet with this hashtag on twitter: #RBICantStopMe.
Link to Petition!
A couple of official emails and statements from cryptocurrency exchanges in India: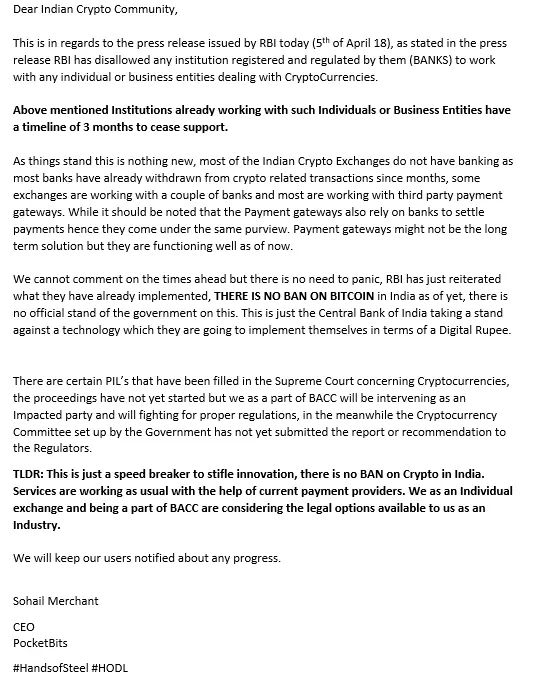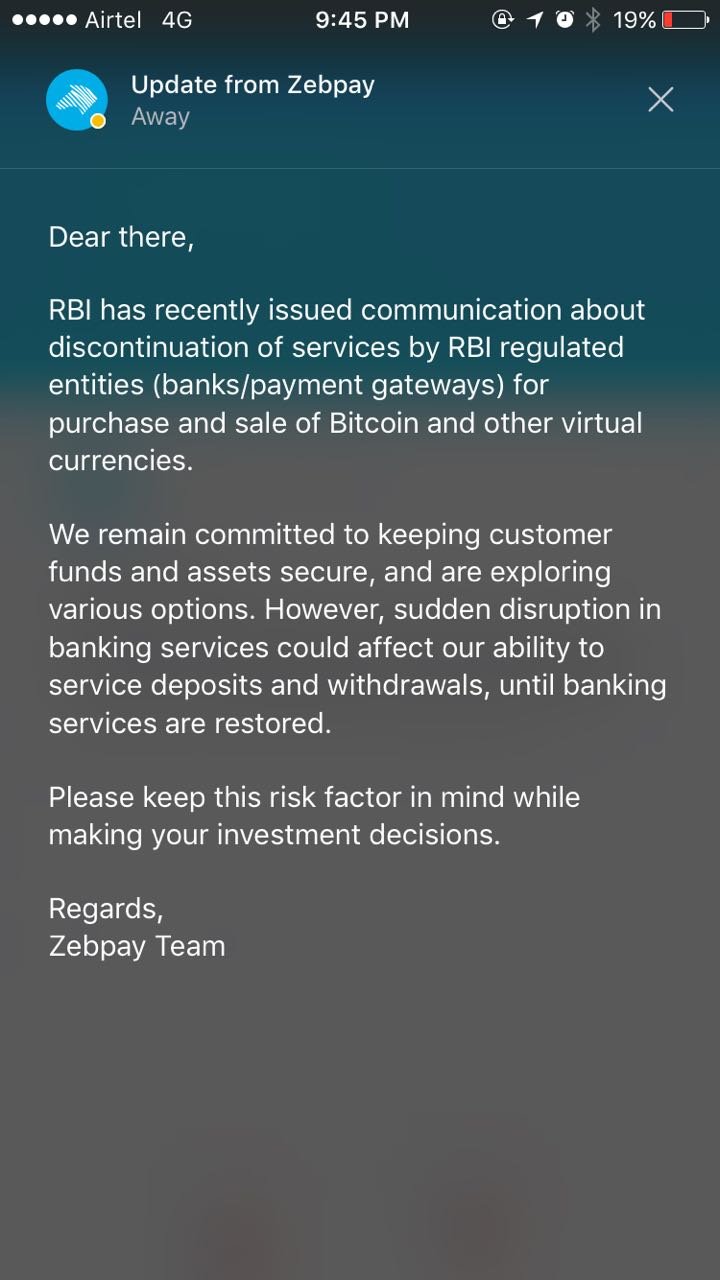 You can read Koinex's blog on this matter here!
You can also read what these cryptocurrency exchange owners have to say about the decision here!
As you can see all major exchanges are trying to change this scenario or find solutions to it. We have some time.
Please don't exit the market based on fear and doubt. Please be informed and do your research on the subject. Stop panic selling on Indian exchanges. This new FUD has made no impact on global prices. We're basically shooting ourselves in the foot by our actions led by fear!
There are challenges to purchasing and selling now but these are mere hurdles that we have to cross. Hopefully the government will change its decision and do the right thing. Only time will tell.
IMO It's too early to dump and exit. But be aware and make the right choices for yourself. Goodluck!
---
If you like my work kindly resteem it to your friends. You may also continue reading my recent posts which might interest you:
---