DxChain ICO Review: | Big Data Meets Blockchain
DxChain ICO Review: | Big Data Meets Blockchain

Good Day Everyone! I am going to share my thoughts on DxChain, an upcoming potential ICO. It's going to be the huge one as it is highly hyped project and the team has a strong technical background and relevant working experience in the fields of big data, distributed systems, blockchain research, and network security.
What is DxChain?
"DxChain is the world's first decentralized big data and machine learning network which aims to design a platform to solve the problem of computation of big data in a decentralized manner". The network of DxChain provides two basic abilities which are computation and storage. DxChain network has been designed to serve as a data trading platform to give power back to the users.
Before we analyze the whole project, I need to present the key summary of the project.
Summary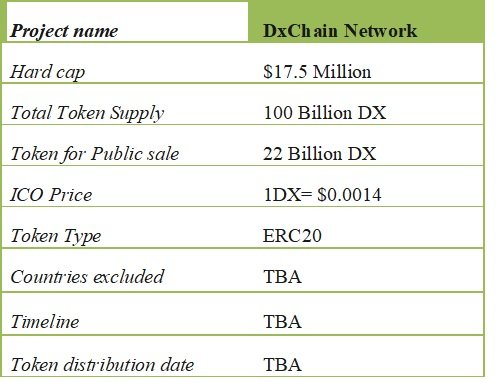 DxChain uses a concept of chains-on-chain architecture thats includes one master chain and two side chains. The structure has been designed as such in order to solve multiple issues related to data computation, storage, and privacy issues; this would otherwise be difficult to do simultaneously with only one chain.



The idea for the structure was inspired by Lightning Network, which features a second layer payment protocol on top of a blockchain. It was also inspired by Hadoop, a centralized big data platform that was developed by The Apache Software Foundation.
The three chains on DxChain's platform are each responsible for storing different information:
The Master Chain stores asset information and events such as states, transactions, receipts, and contracts.
The Data Side Chain stores non-asset information, or metadata.
The Computation Side Chain stores specific computing tasks performed on the DxChain platform and is responsible for recording matching processes of computation.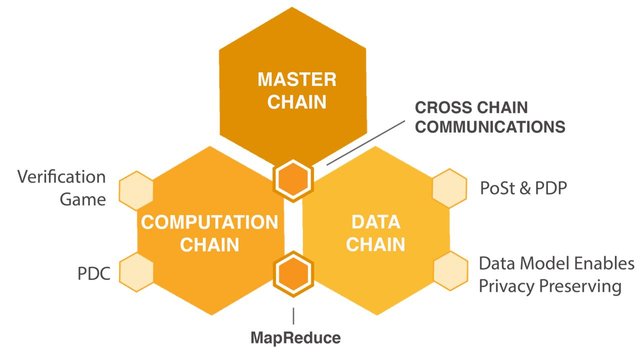 Token Allocation
DxChain is running its ICO on the Ethereum Blockchain network. The exact date is not yet announced but it would be sometime in early August 2018.
Officials state that their exchange listings will be right after their ICO is accomplished. Their funding goal is 17.2 million, 22% of their total 100 billion token supplies will be available for the token sale.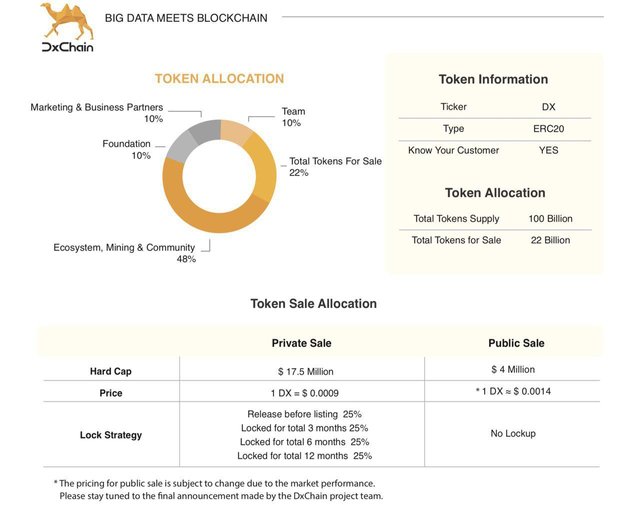 Project Road Map
The project's historical milestones and future development roadmap is as follows: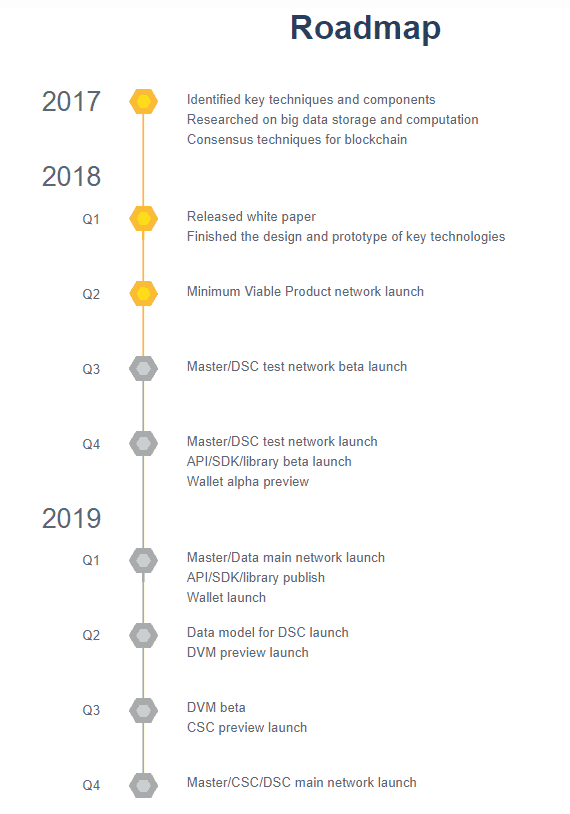 Investors
DxChian has a very big list of investors; some of them are mentioned in the figure below;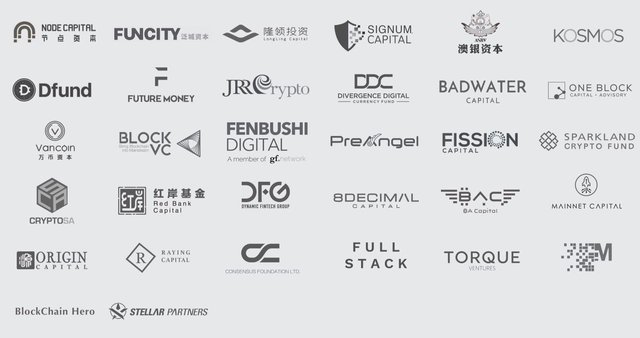 Team
DxChain project team is currently comprised of ten experts who are based in San Francisco, USA. The profiles of the team members are as follow;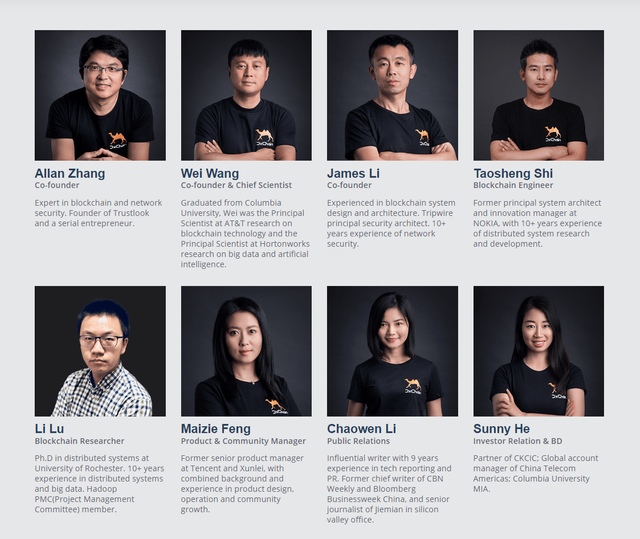 Allan Zhang, Co-Founder –
More than 10 years of experience in security, network application protocol detection and network based vulnerability detection assessment.
James Li, Co-Founder –
Mr. James is experienced in blockchain systems design and architecture. and have more than 10 years of working experience in mobile network security.
Wei Wang, Co-Founder & Chief Scientist :
Mr. Wei has experience in various fields including but not limited to blockchain research and development, big data, and distributed systems.
Taosheng Shi, Blockchain Engineer –
Mr. Shi has more than10 years of experience in distributed system research and development, big data integration, data warehouse architecture.
Li Lu, Blockchain Researcher –
Mr. Li has got more than decade of experience in distributed systems and big datain various positions at The Apache Software Foundation, Hortonworks, Google, and Microsoft.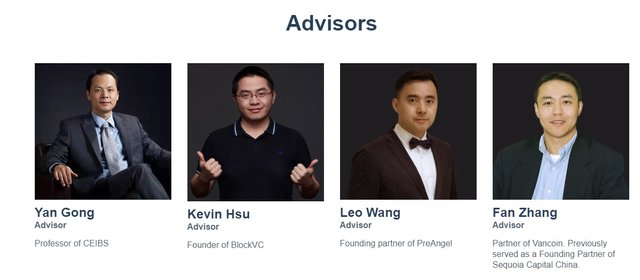 Project Market Hype rate
Market growth potential: VERY HIGH
Hype in social networks: VERY HIGH
ICO Drops score: HIGH INTEREST
Twitter: 32k Followers
Telegram (chat): 63k members
Telegram (news channel): 7k Members
Official website: 12k+ visitors/month
Final Verdict
DxChain is an interesting and highly specialized blockchain platform. The final verdict for the project is "Recommended" due to following reasons;
• DxChain's structure is innovative and unlike the rest of the competitors out there in the maket.
• The project has great market awareness with strong team, good idea and token metrics.
• DxChain is backed by a large amount of VCs who will bring in more partnerships and opportunities for Dxchain.
• DxChain has backing of the several reliable investors, and it is believed that the project will be able to get listed on bi exchanges.
•Tthe potential will be awesome and lots of dApps will benefit from DxChain.
Further Information about the ICO can be obtained from the following given links;
Website: https://www.dxchain.com
Whitepaper: https://docsend.com/view/8w3fman
Blog: https://medium.com/dxchainnetwork
Telegram: https://t.me/dxchain
Telegram: https://t.me/dxchainchannel
Twitter: https://twitter.com/DxChainNetwork
Facebook: https://www.facebook.com/DxChain-179719632741800
YouTube: https://www.youtube.com/channel/UCNIWZiYjMKVjF1LIY9uIslg