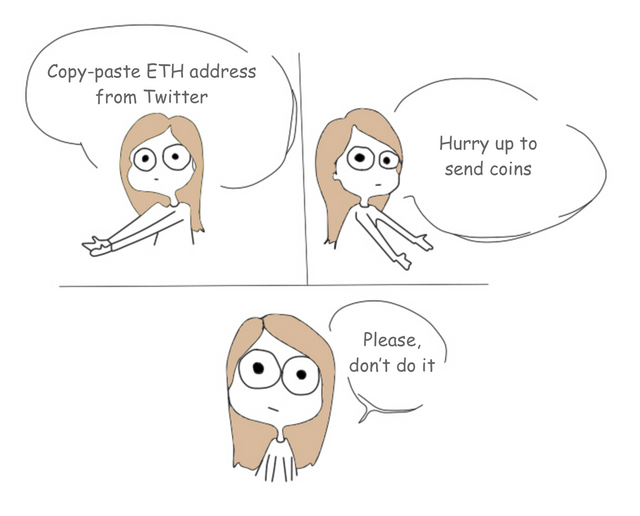 This picture shows all my feelings associated with ICO investors. These guys got their first coins and ready to give them to scammers. Because they are very naive, wanting to make a lot of money and not attentive.
You may find a lot of Telegram chats, Slack teams with ICO discussions. ICO community is fantastic stuff, I was surprised that the community is growing very fast (faster than Elon Musk builds rockets :D).
I saw many times questions like "could someone give me a site about ICO???" or "guys, I can't find correct address for sending ETH" or just PM messages in a Slack team with details about "new" ICO conditions with URL.
And.. This is normal. Seriously. Many people are not attentive when need to do something very fast. Why fast? Because ICO of Tenx was closed for 9 minutes. Too little time for opportunities to earn money.
No one wants to study the details of ICO. Everyone wants to know how much money they need to invest and how much money they will earn. I'm sure many people don't know what goal of Bancor project but we were able to break Ethereum network (too many transactions for a little time).
I would like to ask all ICO investors to be attentive and I guess this three recommendations will help not to give money to scammers.
Be sure to use an address of contract only from an official site. Don't use an address from chats, Twitter, Instagram, etc.
Explore ICO before pre-sale. Remember URL, design. Read rules of a game and whitepaper. Scam sites look like original but you may discern scam after exploring the right site.
You may check address here if you have distrust. For example, Tenx address. You should see the label Contract Address and this is the right label and it means you will send ETH to the contract. All ICO are collecting ETH via smart contracts. Scammers still don't know how to forge smart contracts.
Good luck!