How I made 1270% gains by investing in ICOs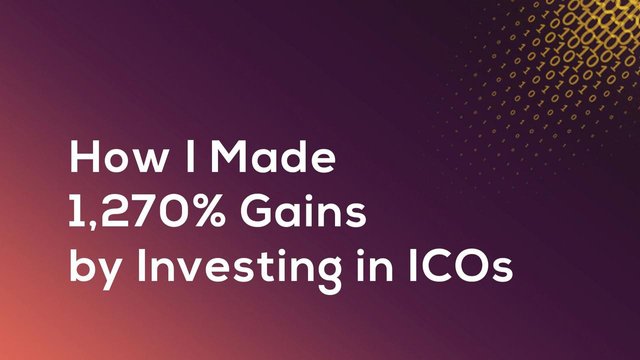 When I started my investment in cryptocurrency, mainly in ICO's , I never imagined I could multiply my initial investment by 1,270% in just 6 months.
Decision to get into Crypto was the most remarkable decision in my life.
I have to mention something though, I lost 50% of my initial investment before I started making money. But those losses were the foundation of my gains. I learned a lot from my losses and reverse engineered the metrics.
I studied top 15 ICO's ever and took down all the metrics and applied them into projects I want to invest. I came up with 25 data points to gauge a project before investing.
Some of my best gains are Wabi, DNT, 0X, EOS, SALT LINK and some more.
Some of my biggest losses are Ambrosses, SIA, DAO Casino, Propy etc.
One of my biggest miss was BQX, I had 120,000 BQX, sold it for 8 cents. Now its $1.50 USD when i checked last time.
This is my portfolio now. I need to add few ICO I invested like wanchain, ICON and storm.
Update on ICX and STORM
This was a huge win for me. Invested $5000 USD and got back $239,000 in profit as of now.
Storm also almost the same gains but its not listed on major exchanges yet.
My Portfolio Today (January 2nd 2018)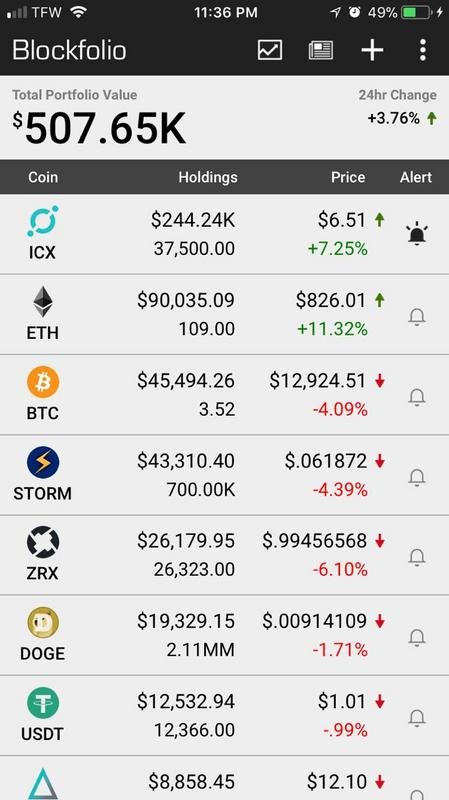 How to choose the winners and avoid the losers?
I will share some of my top parameters to pick a project to invest.
Tip 1 : Platform or a working product
All of my gains are from projects which are either a platform or have a working product.
Advantage of a platform is that the probability of all the companies using the platform to lose money is comparatively less. Examples are EOS, DNT, 0X etc.
This aspect makes Ether a very strong investment. Ether will fail only if all the companies using ether platform migrate away from it. This is highly unlikely.
A project without a working product is really precarious for obvious reasons. A tested product is essential to boost confidence in the project, which also shows the team is not greedy. Example is WABI.
Tip 2 : Do we really need blockchain for the project?
There are many projects which dont need blockchain to function. Every single one which I invested which dont need blockchain to function was a dud. A good example is DAO.
This is critical because big corporations who are the competitors, cant compete with the ICO project if blockchain is a necessary factor to implement the system.
Tip 3: Project actually solves a problem
Ask this question. Is it something broken with the legacy systems ICO project solves? Every single project I invested which addresses this factor has been fantastic. Examples are Wabi, 0X, SALT etc.
A dud was SIA, I bought it because I know SIA's founder. SIA's main competitor is Google. There is nothing broken with Google storage system. Google actually provide more features with Google Drive. For example Google Form is integrated with Drive. Its highly unlikely someone will migrate to SIA just because its a bit cheaper. I personally wont, but I completely overlooked this aspect when I bought SIA. It was an emotional decision but a very costly mistake and I learned a lot from it.
Tip 4 : Time of investment.
All the coins I invested when crypto market cap was down was a loss. There are few things we can control in terms of market cap, but whenever I invested when market is bullish I have made gains.
Tip 5 : Technology and competitive edge
A project with a competitive edge had been a winner twice in my case. Examples are EOS and 0X are good examples. EOS claims to be technologically advanced than Ethereum and they market it well.
Same with 0X, they are solving the problem of difficulty Ethereum encompasses for building more DAPS easily on Ethereum platform.
Tip 6 : Competitors
Who are the competitors? Lets be real, its not easy to beat Google, Apple or Amazon. These companies are not one product companies. SIA is a perfect example, they are competing with Amazon and Google for storage space. No one is going to migrate to SIA just for space because Google is not just a storage space company, same with Amazon.
Tip 7 : Team and advisers
Actually all the project I invested had a good team, but the projects I didnt invest because the team wasn't upto mark didn't fair well. I followed this aspect from the start because I am a engineer and I know to evaluate good team by looking at the experience and such.
Tip 8 : Hype
All projects which has launched with less hype but had legitimate business models and usage behind the project experienced a phenomenal growth.
I invested in wabi when no one was looking at it. I invested before they hit their minimum cap of 30,000 USD. I owned 1/6th of that company at that point :)
I made 850% gain from this project alone.
Same with SALT, I found a fantastic business model and necessity for that token and invested in it when it was $1.50 USD a token. It was $12.10 USD when I checked last time.
But projects with lot of hype also did good. But percentage gain was lacking in most cases.
Tip 9 : Hardcap of the project
I made some investments on highcap projects like Ambrosus, EOS. But the best returns are the project with anything under 30 Million and its sweet if its under 20 Million. Examples are BQX, ICX, 0X, Wabi etc.
Nowadays I dont touch anything above 30 Million or maximum 40 Million if the team is super good and have lot of influencers in the team.
In my opinion any project less than 20 Million Hardcap with all the other parameters aligned is definitely a big opportunity.
Being said that accurately forecasting the future of a project with 100% accuracy is nearly impossible because it involves looking not just at the variables itself but the constantly shifting parameters which we cant control.
However, its extremely rare that all these tips and concepts converge on a token. I found a project which has all these elements present, its BOON Token at www.Boon.vc
Boon has a working product, it is a platform, project actually solves a problem which cant be solved without blockchain, cutting edge patent pending technology, manageable competitors, fantastic team and advisers and zero hype.
Boon is a Artificial Intelligence powered decentralized job platform on blockchain.
Not a lot of people know this, but Freelance economy annually is $1.4 trillion USD . Major companies are Upwork and Fiverr which has a combined market cap of 1.3 Billion USD. There are many other players with 50 to 200 million market cap.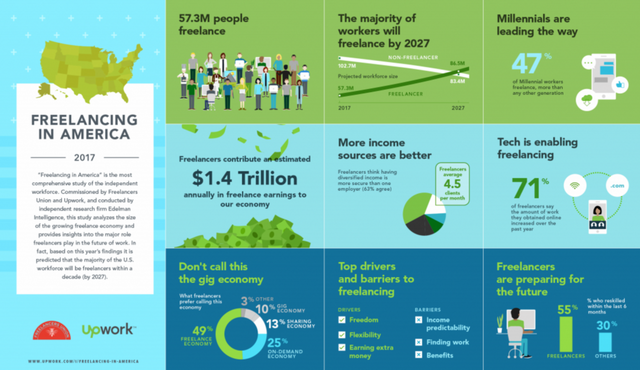 According the the studies, by 2027 majority of workers will be freelancers. Millennials are leading the way.
If you are reading this, actually you probably want to be like a freelancer without a boss and manage your time and life at your own leisure. That was one reason I got into Crypto investment.
Boon actually goes one step further and address the most important barrier for any blockchain project to be adopted by mainstream.
Volatility
For any blockchain project to be successful, it has to attract the mainstream users from legacy platforms. There is no other short cut to it.
One of the most prominent reason users hesitate to use a blockchain product or service is the volatility of cryptocurrency. No one like to lose money.
Boon address the volatility issue by a patent pending technology that solves the fluctuations of cryptocurrency in Boon platform. Boon solves this problem by introducing Boon dollars which is pegged to the most stable currency in the world, US dollars.
Mainstream Adaptability
Imagine you are a Android user, will you move to a blockchain phone if the new product allows you to keep your number and dont charge for the phone service?
I will move in a heartbeat.
This is exactly Boon has done to attract new mainstream users to Boon platform. Boon allows users from Upwork, Fiverr etc to import their profile to Boon and charge no service fee to use Boon platform. For freelancers its their reviews and ratings.
BOON has a remarkable competitive advantage with zero service fee compared to 20% service fee at Upwork and Fiverr.
This reduces the friction of any Upwork or Fiverr users to try Boon platform.
Artificial Intelligence Integration
Boon has integrated Artificial Intelligence into Boon platform. If this is true and working condition I will be buying more Boon tokens.
I know from my freelance hiring experience, there is no intelligence in matching the perfect talent you are looking for in Upwork or Fiverr. Its a hit and miss to get the right person. There are many fake reviews or rather meaningless reviews in the platforms.
If Boon gets the match making aspect in AI right, that will be ground breaking. In the white paper its mentioned that IBM Watson Personal insights is used to rank and match the freelancers to the clients. I know a little bit of Personal Insights and its actually amazing. IBM PI reads a text and gives you a score based on the personal traits of the user who wrote the message. So Boon will be able to identity good apples from bad apples in the platform and can only promote good apple.
Artificial Intelligence for identity protection
Boon uses AI for identity protection. I looked at the white paper, this means there is no human interference in verifying the Identity of a user on the Boon platform. I think this feature will give lot of confidence for people who are worried about identity theft.
Artificial Intelligence for removing language barrier.
Boon uses artificial intelligence for reducing the language barrier in the platform. This is actually a good feature, I never hire any one who doesn't speak good English because it actually affect the project. So language translation is a great tool for eliminating the communication barrier.
I think these are well thought out features which is actually required on any platform.
Hardcap - $10 Million
This is a beauty. Cant get better than this. This number actually says they are not greedy and really care about the project even after they launch. Also the potential of the project grow is huge. If the marketcap hits 100 Million, its 10X. Love it!
As an icing on a cake, its a US based company so they cant just disappear taking our money.
I suggest you check out the site and register if you like what you see.
If you use my referral link, we can split the referral bonus. https://Boon.vc/?refid=12201710111145 .
PS: This is not a financial advise and I am not a financial adviser.
References :
https://en.wikipedia.org/wiki/Upwork
https://blog.freelancersunion.org/2017/10/17/freelancing-in-america-2017/