Promoting Wildlife by Excluding Deer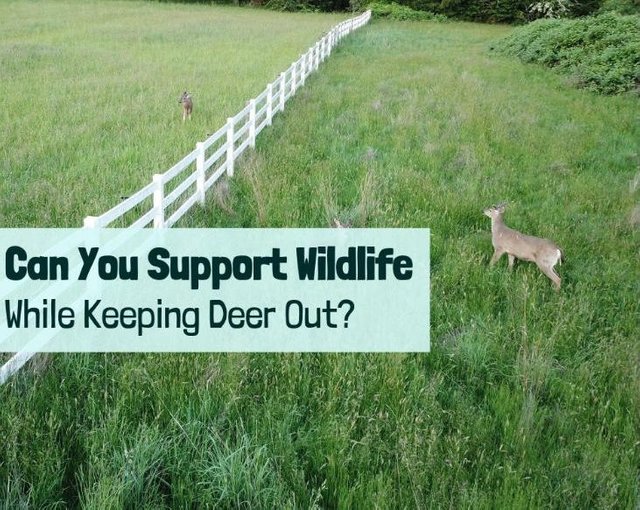 As a wild homesteader the idea of excluding wildlife just seems wrong. But I have completely fenced my homestead to keep deer out. So how do I balance these 2 views?
This week's blog post–Can You Support Wildlife While Keeping Deer Out?–sets out to tackle these 2 different views.
When my family and I first moved to our homestead my goal was to work with all wildlife including deer. But I quickly discovered that there were just too many deer in my area and it would be very difficult to get my plants established.
Ultimately, I decided that by fencing my homestead I could actually support more wildlife even if I excluded deer.
But I did not reach that decision lightly—here is the journey I took over the first year of homesteading at my current property. Make sure to–check out the blog post for more information about why excluding deer can actually support more wildlife.
Deciding to Keep Deer Out
[youtube]
[/youtube]
As I started preparing my homestead for planting, I noticed there were signs of deer and I started seeing them on and off. But since the deer mostly came by at night I did not really see them.
I thought there were only a few deer and not much to worry about.
So, I got busy planting my hedgerows which were meant to provide privacy and ultimately direct deer around my core plantings. These hedgerows were mostly native plants and I figured a little browse would not be a big deal.
I was so wrong…
It turned out that my homestead was basically a deer highway that the deer used to get between 2 forests. Some of my new plantings were right in these high traffic areas.
The result were the plants just got eaten down to the ground… over and over again…
So my first response was to put up a fairly minimal fence. Just using some wires between u-posts all around the planting areas.
This helped but it was ugly and eventually the deer pushed their way in. I tried adding more wires but it just got more ugly and more frustrating.
Because of this I finally decided to not just fence the planting areas but to keep the deer out of my homestead entirely. There was already an existing fence, so I mostly just expanded it upwards by attaching u-posts, some wires and deer mesh.
At first I tried just the wires and again it worked for a while until eventually some deer just jumped through it. One even did a faceplant (I watched it happen) doing so but that did not really seem to slow it down. Ultimately, I had to add the deer mesh and once I did the deer stopped coming through.
This cycle has continued for a while now. I try a simple fence, it works for a while, the deer break through, I have to go to a more formal fence that finally seems to work.
The issue has mainly been the young deer. I have found these deer to be more adventurous and willing to challenge the fence. Plus, they are just smaller and can fit through any gaps—when a fawn does this the mom will often force her way in to get to her fawn. So formal fences has been the only lasting solution for me.
Even now I'm still switching from my old simple fences to more formal fences. This weekend I will be finishing the last section that the deer seem to be challenging. It is also the location of their original highway…
It has been a long journey but ultimately keeping deer out has been the best way for me to ensure that my homestead is filled with a diversity of plant life that will in turn support a diversity of wildlife.
The results of keeping deer out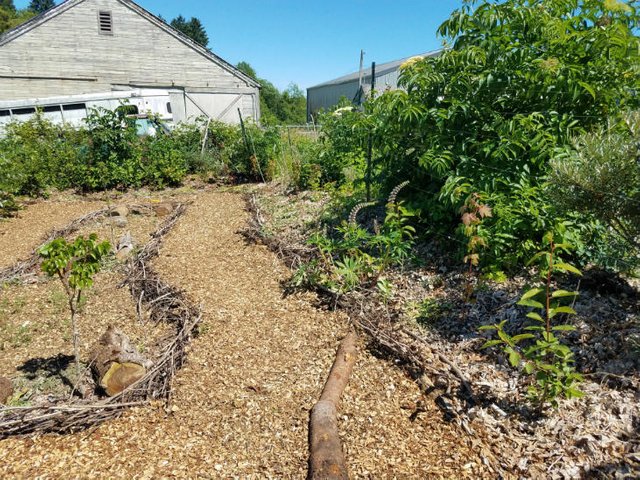 This was the location of the deer highway—it was also an old parking lot just a couple years ago. I'm turning it into a food forest and since I have kept deer out my plants have just taken off. But the deer don't give up easily and this year I had 1 deer keep forcing its way in which is why I'm replacing the temp fence with a more formal fence that will be on the outside edge of the hugelkultur hedgerow.
Across my homestead my plants are thriving, and the amount of wildlife has exploded. But this would not have been possible with widespread deer browse. The fence has proven to be a necessary evil.
I did add one critical feature to some of my deer fences to let other wildlife like coyotes in since I don't want my homestead to only host birds and other small critters.
What I did was install wildlife tunnels under the fence. Deer don't seem to be able to use them, but coyotes and other animals just go right through these tunnels. The current tunnels are fairly simple using logs and sticks but I want to make some permanent ones using small culverts cut in half.
Without these tunnels I could have ended up excluding a lot of wildlife beyond just deer.
The blog post goes into this in more detail and asks the question… are deer today truly wild? Check it out and tell me what you think!
Thank you!
---

Follow me for more posts all about wild homesteading, working with nature, and growing your own food: @wildhomesteading
And check out my blog - www.wildhomesteading.com for weekly in-depth posts on how to work with nature, grow your own food, and build a wild homestead. When you work with nature, nature works with you.