Scripophily? What the heck is that?
Well, the term may sound as descriptive name of some strange personality disorder or even deviation but in reality it refers to fairly innocent and very interesting hobby which is about collecting and researching old securities such as shares, bonds, treasury bills and other financial documents other than banknotes or coins (which are taken care of by notaphily and numismatics).
​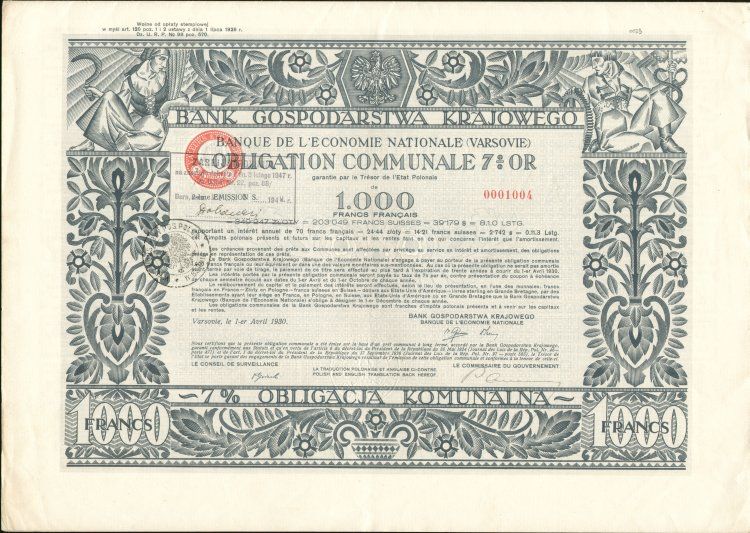 Communal bond from 1930 - issued by Polish bank in French Francs because it was floated and listed in Paris
All money related instruments are highly collectable but while collecting of coins dates back to ~ XVII century and collecting of banknotes to XIX century, old bonds and shares became collectible only in early 1970-ies when the process of converting paper certificates into book entry form have begun, and paper securities started to disappear.
​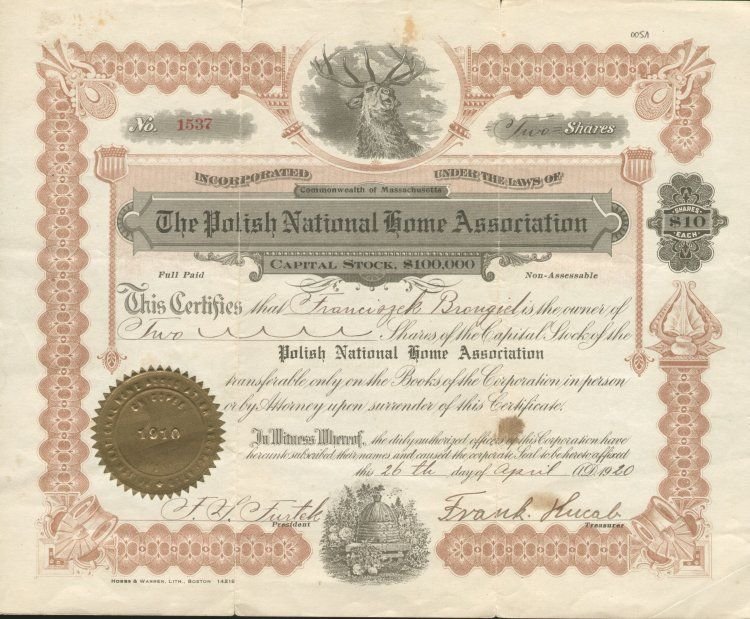 Polish National Home Association - share certificate from 1920, US based company organized by Polish immigrants in order to provide affordable housing
Even today it is fairly exotic hobby as the total number of collectors worldwide is well below 50k figure.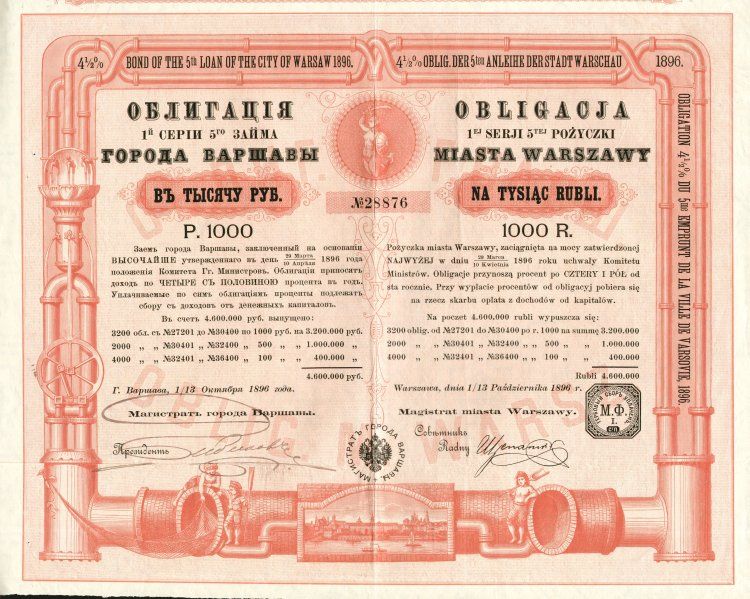 ​
Warsaw, municipal bond from 1896 issued to finance construction of water supply infrastructure for the city. Also in Russian as Poland at that time was under Russian occupation. Infrastructure being financed by this issue is actually shown on the bond.
​
What's being collected?
All sorts of financial documents but share certificates are the most popular, followed by bonds (debt instruments). Then there are bills of exchange, letters of credit, promissory notes, checks, talons and other paper documents.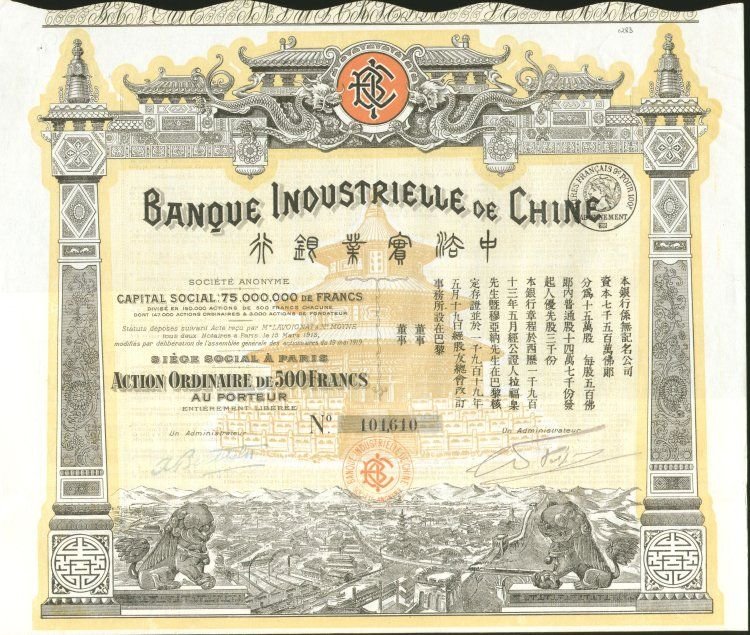 ​
Banque Industrielle de Chine - ordinary share from 191. May sound strange but this bank invested also in Poland and for that reason I kept this certificate
​
How it's being collected?
Well, its really up to an individual to define the scope of ones interests. Some people focus on certain industrial sectors (like banking, insurance, oil, mining, textiles, sugar, transport, automotive...), other collect anything from particular country or region, but there are also collectors who collect old shares or bonds because of their decorative properties - like the guy I know who collects anything which has a picture of a bee :-)
​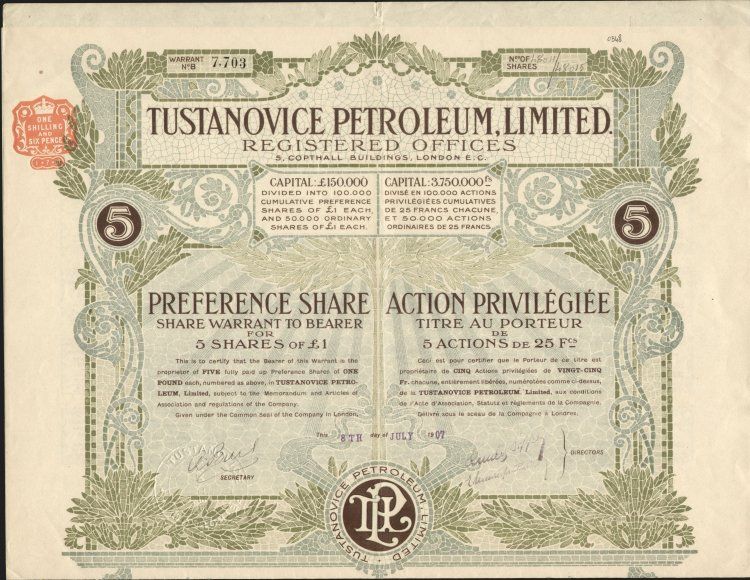 Tustanowice Petroleum Limited - UK registered Oil company operating in eastern Poland (today it's Ukraine). The place looked like this: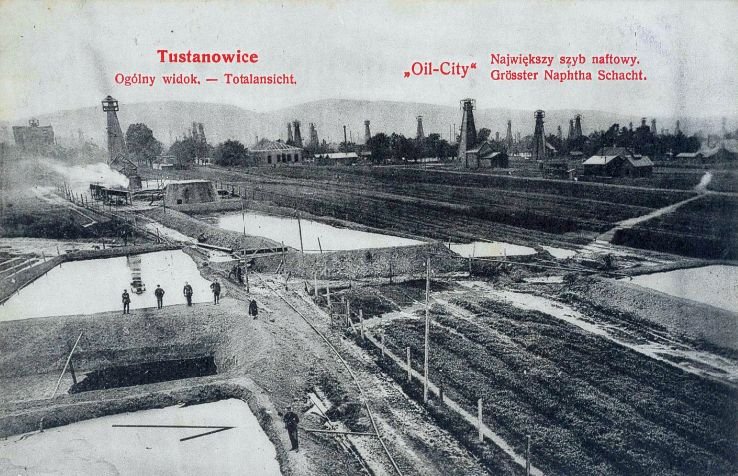 Why it's being collected?
To satisfy possessive instinct, that's for sure. But in fact there are also other considerations because those documents provide an insight into economic and financial history and some of them are also very well designed and extremely decorative.
​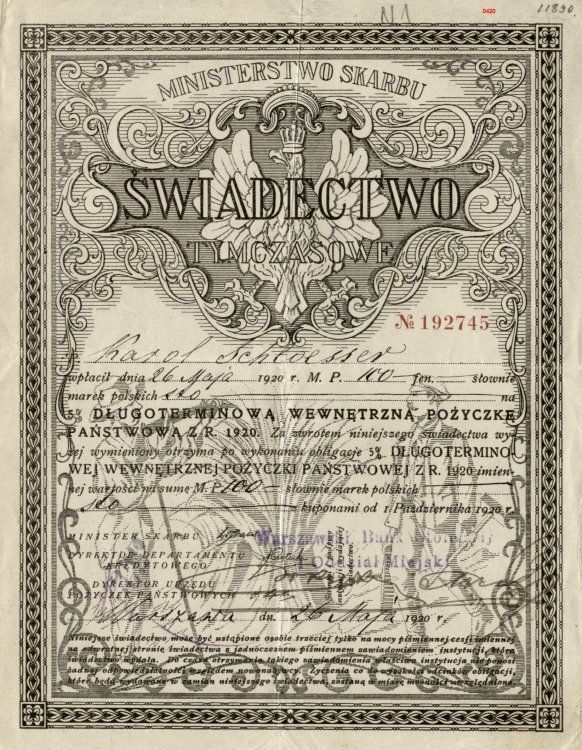 100 polish marks provisional bond - Polish loan of 1920 for financing the war with Soviets
What do I collect?
All financial documents which are either Polish or related to Poland (like certificates issued by foreign companies operating in Poland) but also debt instruments from all countries but only those issued by central governments (government bonds).
​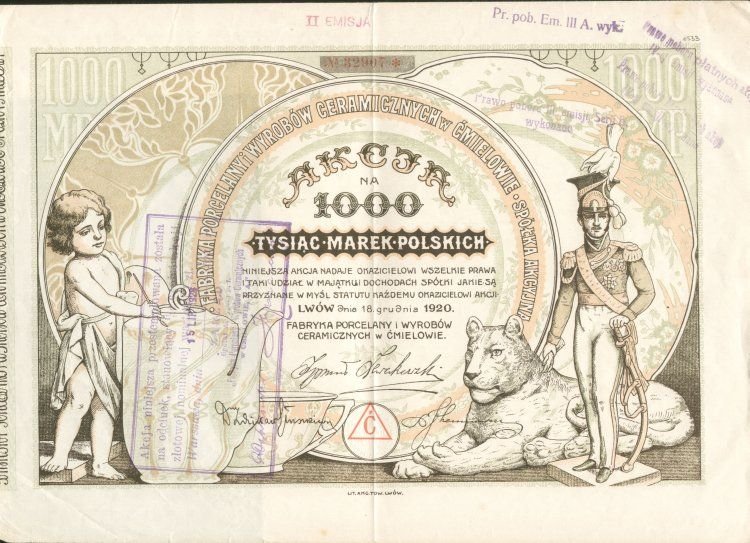 Ćmielów - bone china factory. Ordinary share of 1920. Actual products (bone china figurines) are depicted on the document
Majority of those documents are just collectibles and have no value as financial instruments
but this is not always the case - sometimes such old documents are actually valid securities which can be cashed. This happens very seldom but when it does it adds to the excitement.
​
Shipyard in Gdańsk (Danzig) - debenture for 100 pounds sterling
​major part of which is dedicated to Scripophily.
Few more pieces from my own collection - all scans were made by myself from original documents: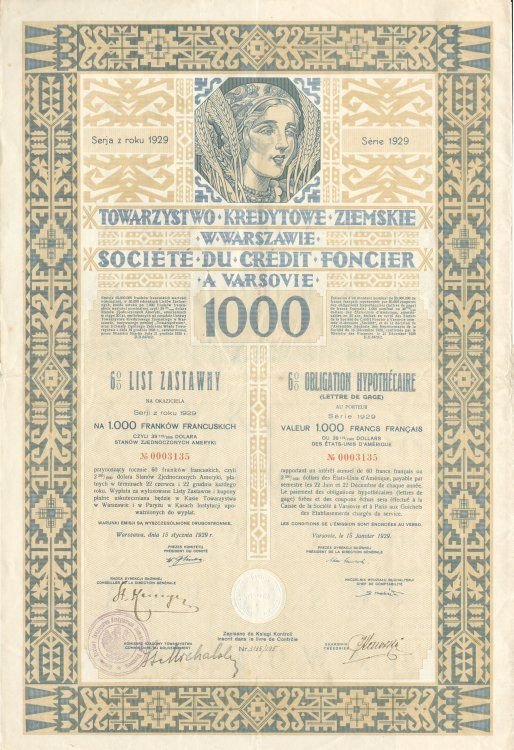 Mortgage bond issued in 1929 by Land Mortgage Credit Society in Warsaw - in French Francs as it was floated in Paris and listed on Paris Stock Exchange.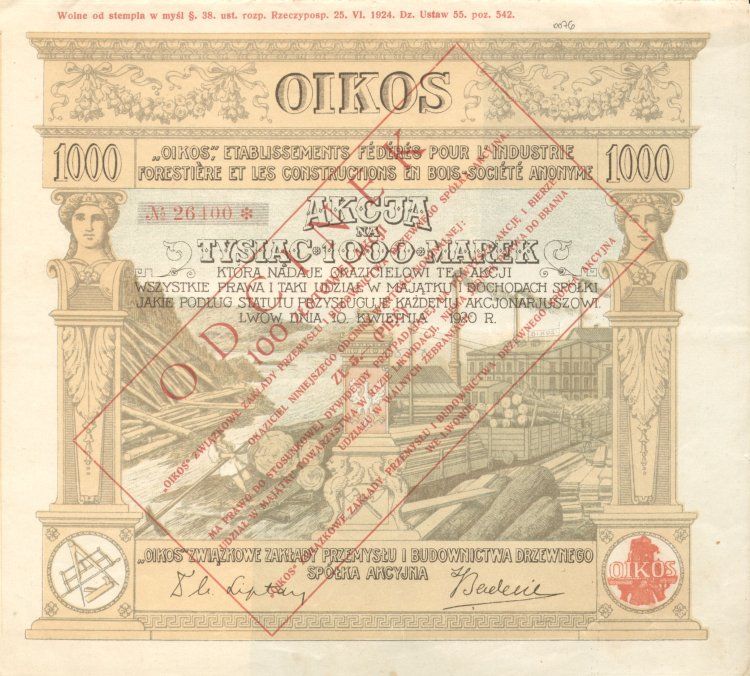 Oikos Company share from 1920 - the company was engaged in forestry, wood processing and construction.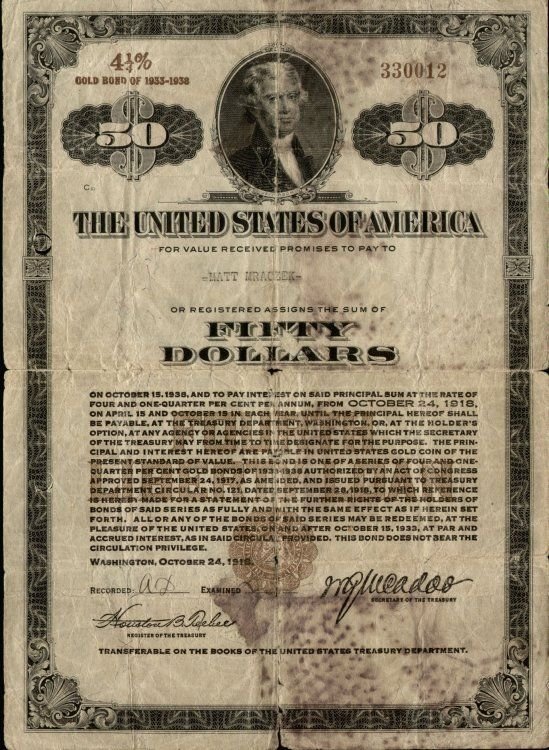 US Government bond from 1918 - this one is probably still valid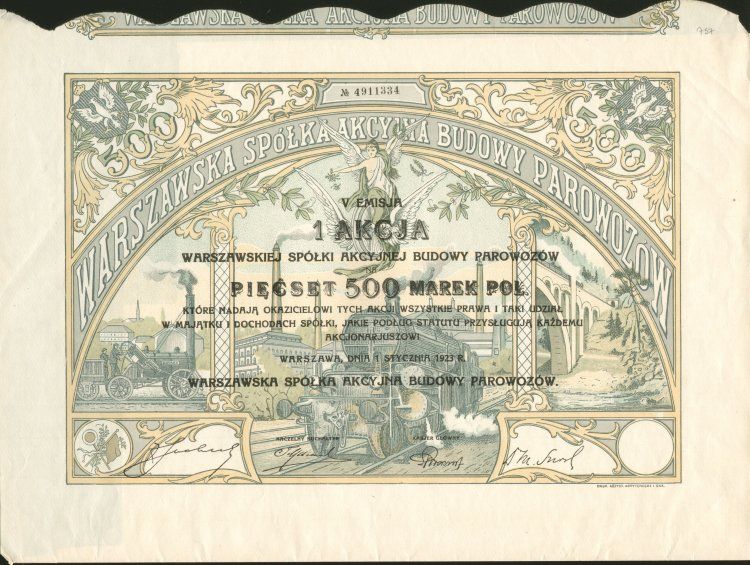 Warsaw Steam Engine Factory - share from 1923