Steem Cameroon - Steemit Engagement Challenge - Season 4 (Week 1)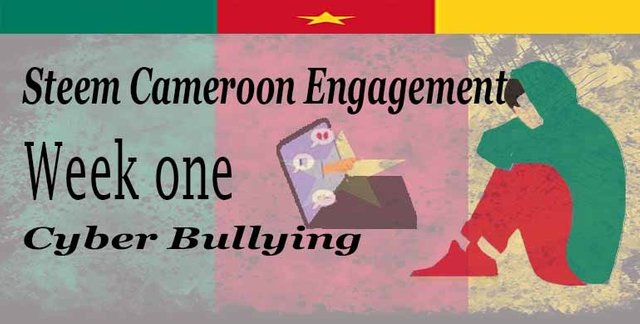 It goes without saying that many online users have come in contact with cyberbullying activities, be it on themselves or towards others. Most people result in taking wrong and hasty decisions due to such encounters. This week, we decided to bring forth the topic to throw more light on the issue with the belief that your audiences could pick up one or 2 things from your encounters/experiences. We frown at cyber bullies and hope to bring back confidence to most discouraged cyber users.

Cyber Bullying

Guiding questions
What is your understanding on Cyber bullying?
Have you ever been a victim or perpetrator of Cyber bullying?
Give an instance (if any) wherein you or someone you know felt bullied in cyberspace, and what spiked such a feeling. (It could be throughout any social platform)
How did this encounter affect this said person?
How safe do you feel on Steemit? And have you ever felt bullied at any point in time? (on Steemit)
What lessons did you gain from such a scenario? And what advice can you give to your audience?

Rules

Publish your entry post in the [Steem Cameroon Community] (https://steemit.com/trending/hive-195150)
Your title should be Steemit Engagement Challenge S4-W1 | My view on Cyber Bullying - by @username
The minimum length of your post must be 300 words.
Plagiarism of any sort will be detected and you will be disqualified.
Use only original images or copyright-free images and properly cite them. (You can visit this post to know more).
Your entry must be #steemexclusive
You must belong to a club status (either #club5050, #club75 or #club100) to participate in this contest.
Include #steemcameroon-s4w1, #fintech, #steemexclusive, your club status tag (#club5050, #club75, or #club100), and country tag within your first 5 tags.
This contest is open to all, and all languages are acceptable.
Invite 3 friends to participate - Follow @steem-cameroon, and subscribe to the Steem Cameroon Community.
You must leave your entry link in the comment section of this post, and do not forget to upvote and resteem this post.
This contest will start at 00:00 (UTC) Monday 29/08/2022, and end at 23:59 (UTC) Sunday 04/09/2022.

Rewards

Lucky authors will be selected and will receive booming support based on the rules and originality of the post respectively. Note, that some authors will be visited by SC01/SC02. This is not guaranteed.
Wish you the best.

Note

Although this is not a rule, we would appreciate it if you support Steemit growth and community growth by supporting the burnsteem25 project and allocating 10% rewards to our curation account (@steem-cameroon) respectively.
Remember that the purpose of this engagement challenge is to promote daily engagement. As such, you are expected to interact daily with other participants' entries and engage with quality comments. We shall carefully check the engagement levels to select our winners. You are obligated to make out time and respond to comments that support your entry.
Quality comments will be supported using the @steem-cameroon curating account.

CC:
@steemcurator01
@saxopedia
@fombae
@chant
@majerius
@b-naj
@wase1234

Thank you,
Steem Cameroon Team
Steem Cameroon Discord Server
Steem Cameroon Telegram Channel