Cameroon Steemit Njangi And 100k Shares Program - 26SBD To Be Spent On Completing My School Fees So As To Write My Second Semester Examination
Hello!
Steem greetings everyone in steem-cameroon and the world at large. Today Is a very special day of my life as well as the most special post.
Firstly I'll like to thank @thegreens,@saxopedia,@fombae for considering me. It's a super great honour for me to be the #Njangi #Beneficiary, words can't explain the joy that I feel in my heart right now, at first when @thegreens brought-up the idea of 100k Shares , and 100k SP , I didn't have a full understanding. But when he detaily explain how it would function, I didn't hesitate to take 1share per week as well as delegate 70SP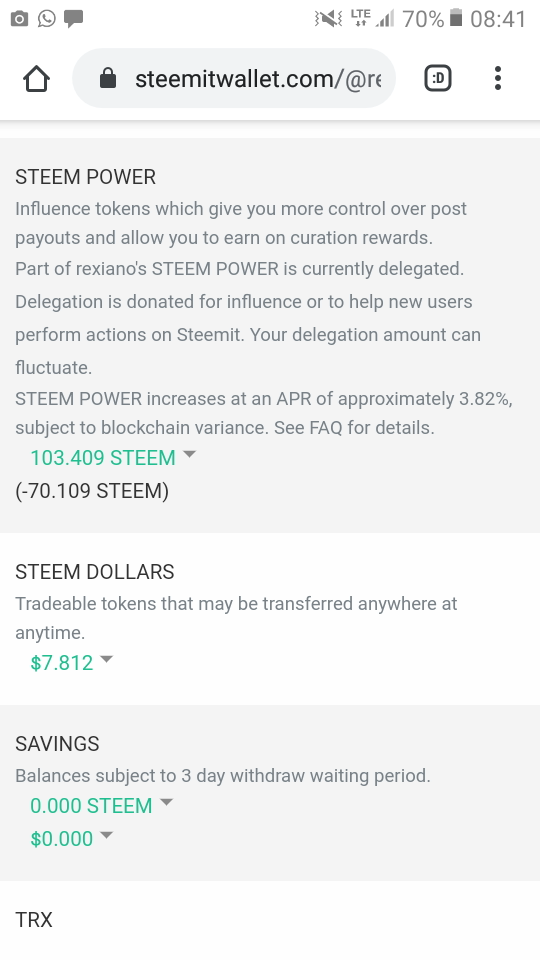 and currently powering up 42SP to delegate to @steem-cameroon. And today we have about close to #81 share holders , before I tell everyone detaily what I'm going to use my #26SBD benefits from the njangi to do, it will be but normal and correct for me to share with you how STEEM has been a blessing to me , what it has done for me over time and the #challenge which I think my 26sbd will help to solve, please prepare to read... I love writing
I joint steem in the year 2020 in the month of October, mentored by @saxopedia, at the time I just came into douala , I had no idea what I was going to be up to in douala, I was just a normal musician and a music producer as well as instrumentalist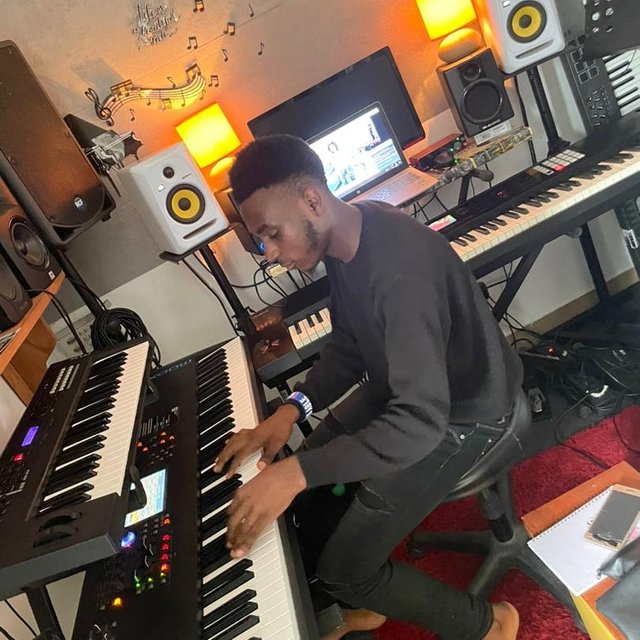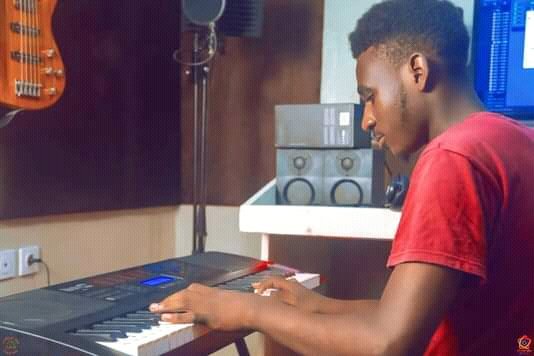 , a holder of #Advance #Level certificate which I had in 2016 and because of the Anglophone crisis and war in the northwest, precisely Kumbo Bui Division, I had been for close to 4 years at home after my Advance level which I would have been doing my #masters one in the University already..
Arriving douala I had moved away from my family and from my junior brother @nickzy
![FB_IMG_16180870080067790.jpg](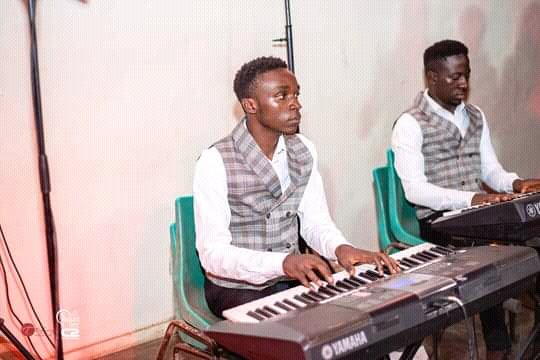 @nickzy
, I started life living with a friend since I never had a place to stay , he treated me very badly for about 3months, I arrived douala on August 26 2020 and from the first weeks of living with him he treated me really badly that I cried sometimes , he was working but many times he will go to his workshop #garage and buy his food and eat,where as I knew no one or how to survive , I only tried copying with him and managing like that .. thanks to @saxopedia, on October 2020 he got to me on phone and explained everything to me about #steemit, how could join communities like #musicforsteem to earn trophies and win contest just with my music, at that time steem-cameroon wasn't really function at all, so without hesitation I joint and made my #introductory post on october 20th - 2020 which paidout and made me earn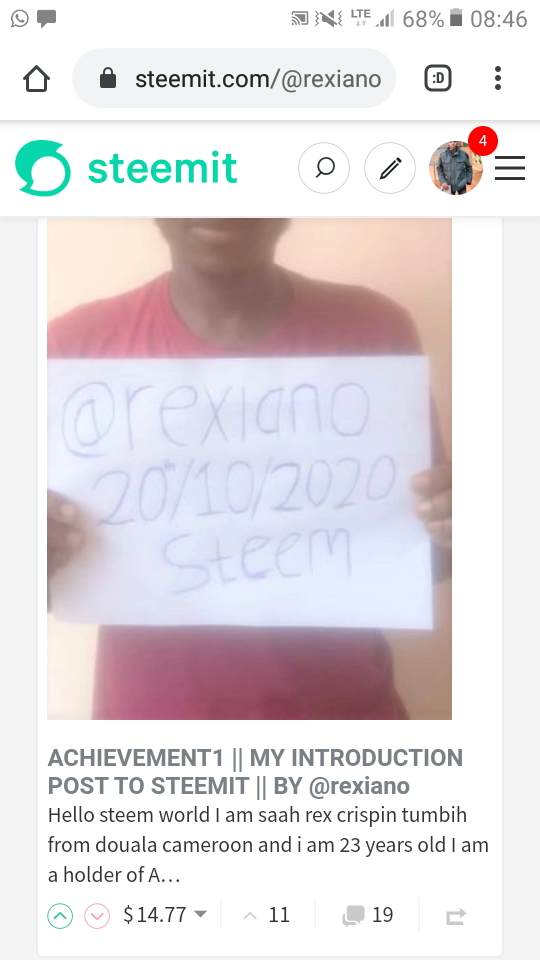 14.77$ , I was very happy, after my Achievement 1 was verified I then join music for steem and joint the contest which I played my first piano song, #Frozen(Let it go) which I earned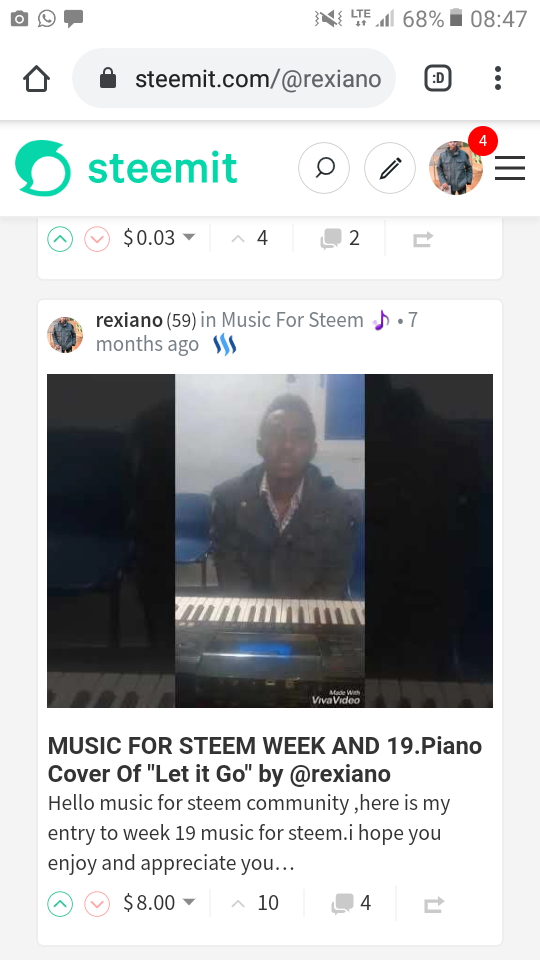 8$ . From then Saxopedia kept mentoring me from October till date eventhough I have a better understanding of steem now.. over those months I made about worth 80,000fcfa from #steem-cameroon.. when I did my first withdraws I just went in a search of a one room to rent , I was lucky to find a house at quatrè etage bonaberi, which cost 15,000fcfa per month , which I paid a 4months advancement of 60,000fcfa being left with 20,000fcfa, which I used to buy my pots and a mattress to lay down, together with the money I that I had saved from music over 150,000fcfa,I added to the 20,000Fcfa making 170k ... after buying my house needs I had the strong desire to go to school and precisely a professional school.. I was left just with 100,000fcfa on my hands , I then took out a day in search of a school both online and offline and in the real world, finally I met a friend who told me about a school which was giving a 20% discount on students from the northwest and southwest who enroll there , so he took me to the school, I selected what I wanted to study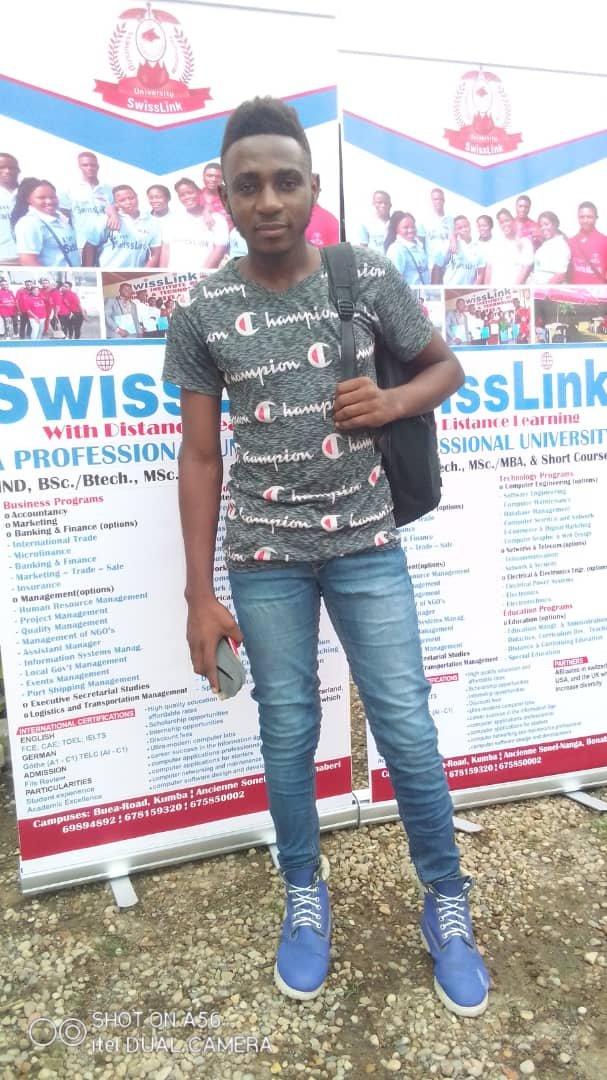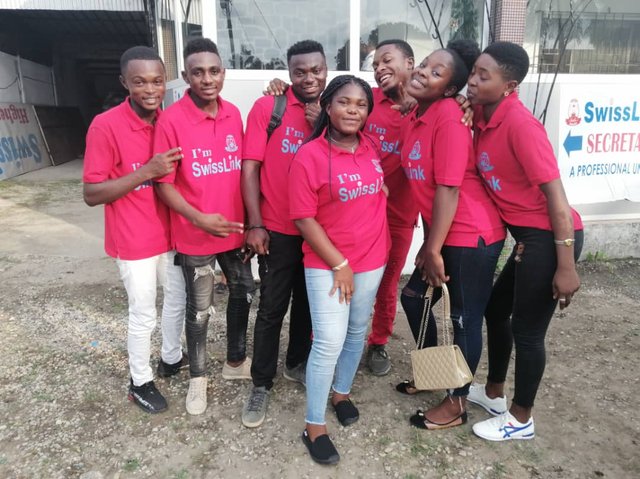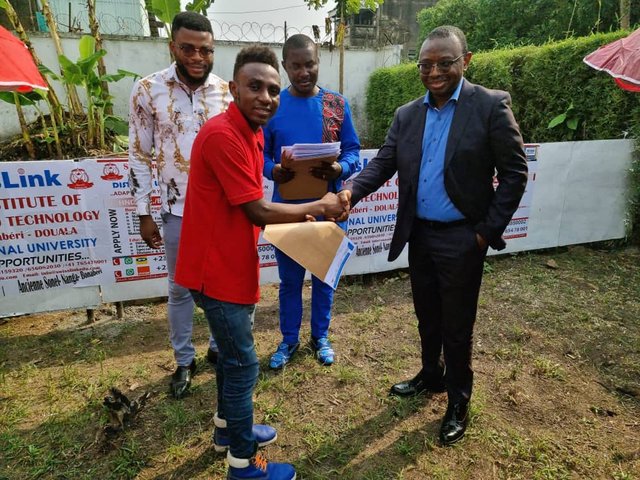 ME RECEIVING MY ADMISSION LETTER INTO SWISSLINK PROFESSIONAL UNIVERSITY DOUALA FROM THE PRESIDENT MR NEBA CARLSON
TRANSPORT AND LOGISTICS my fees projected was about 500,000fcfa.. but a 20%meant that I would be paying 480,000fcfa and I could pay installmentally, I deposited 100,000fcfa meaning I was left with 380,000fcfa. By the start of our first semester exams I was asked to deposit something again which I withdrew 50,000Fcfa from my steem account and added 100,000fcfa to it which I had saved up from my other small small hard works that I do round.. I deposited in school and wrote my exams being left with 230,000fcfa .. over time again I raise another money from steem since I was very functional and seriouse, telling many about steem and having recruits, I withdrew 50,000fcfa again from steem when the price went high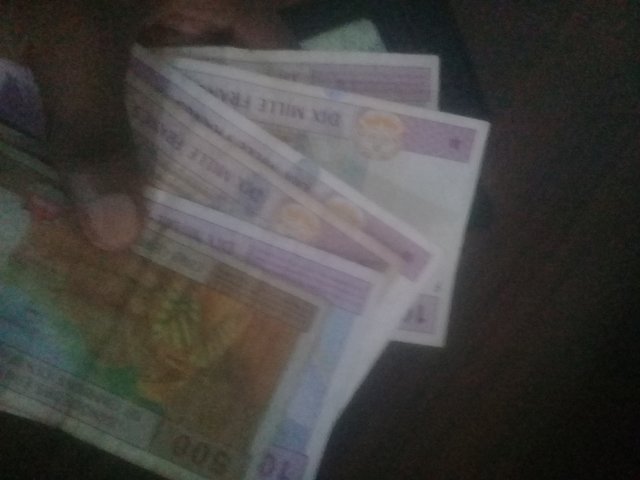 I MADE SURE I TOOK A PHOTO OF IT THAT DAY
.. and I deposited in school being left with 180,000fcfa but now second semester exams have come when I'm powering up and account and i have delegated my sp to steem-cameroon without any plans to power down. My school refused me from taking part in the second semester exams which I have worked so hard to reach that level, for last 2weeks I was so broke and so traumatized because I was about repeating level one after all the hard work,, the school told me that if I pay b4 June 15 2021 I would be able to sit for my exams when students are writing the #RESIT of papers that they didn't pass... As the date -line was approaching I was totally dying inside..
Then #Boom💥💥 , i remembered the #Njangi but didn't exactly know how i would fit it with such small shares and be able to be the njangi benefactor.. but then I still presented my situation about my school fees as well what am going through to @thegreens whom with a loving and gentle spirit tabled it before the admins of steem-cameroon , after a day @thegreens got to me and told me that my request has been approved I could be the #Njangi #Beneficiary for this week, with tears in my eyes I write this today...
THANK YOU @STEEM-CAMEROON
THANK YOU @THEGREENS,@FOMBAE,@SAXOPEDIA
THANK YOU @STEEM
WHAT I WILL USE MY NJANGI BENEFITS FOR
You've all heard my story I will use my 26SBD to pay my remaining school fees so that I will be able to go ahead and write my exams as well as move to the next well, I'm so happy that I am today the 4th beneficiary out of the 81share holders..
I'm not lucky I'm just loved by steem-cameroon..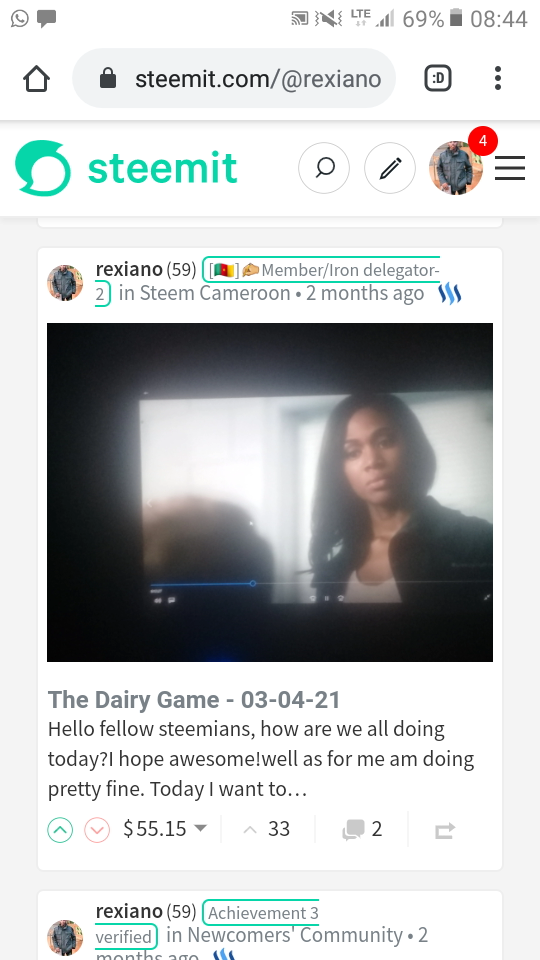 having 55$ on a post was out of love,thanks to steem
over the years steem has a blessing to me and all I will do is share to many how steem has helped me in life, I will bring it as many recruits as possible and i will continue making interesting post in #steem-cameroon, and performing in the many contest organized, because steem, I'm going to write my exams and also have peace of mind.. there is nothing else that I want aside that. I promise to support my fellow steemians as well.
I aspire to become a Logistician tommoro who works in the see as a sea captain.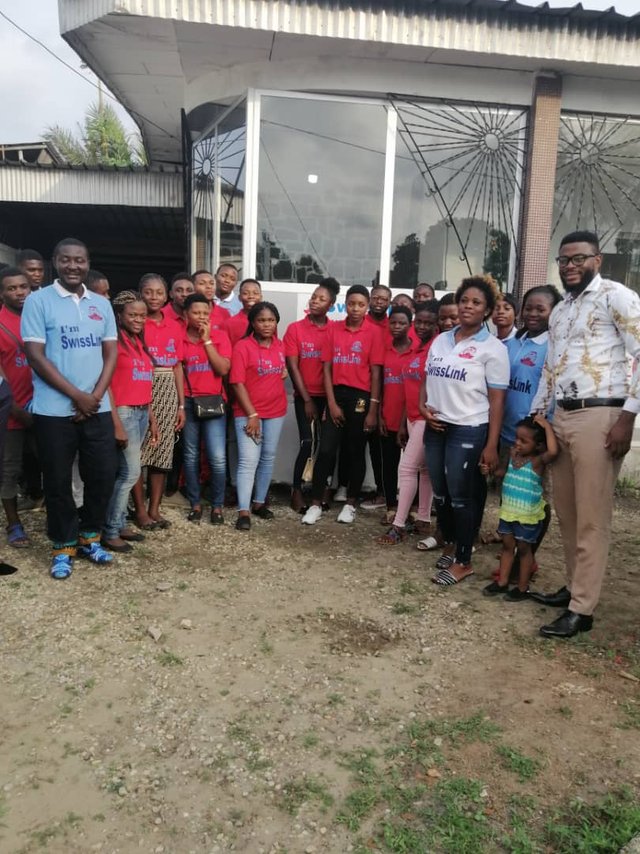 . I might get lucky to travel round the world and with my 26SBD I'll just get there sooner or later.😍😍
Thank you very much for reading through
I hope it was worth reading
#steem-cameroon
Cc:
@thegreens
@saxopedia
@fombae