THE 1000 DAYS OF STEEM, @TEAMG-NIGERIA FINAL TEAM MEMBERS ANNOUNCEMENT (WITH CHANGES) FOR THE DIARY GAME AND THIS WEEK'S UPDATE.
We have been working round the clock in the last couple of days. We have been keen to finetune our membership to include the most active people we can think of in the Southern part of Nigeria. Apart from the directive by @steemitblog to have team members that resides in the same country, we value proximity because of our plan to meet up in the course of the game, as a way of spicing up our engagement on steem, after all, it's a game and having fun should be part of it.
On interacting with each other in our whatsapp group, only three of the team members have known each other by facial encounter.
We have had various conversions with all former team members after which we concluded that two of them won't be able to post, comment, recruit and invite for a period of 50 days, being the duration of the diary game. We have taken this consistent engagement as our yardstick to be qualified as a member in @teamg-nigeria because we believe any individual that can be consistent for 50 days on steem can also stay consistent after the game. Thus, our goal have always been to see steem become great again through our little contribution as a team.
Besides, the consistency of our team members is also a great indication that they believe in steem and are ready to work smart to see it to the moon.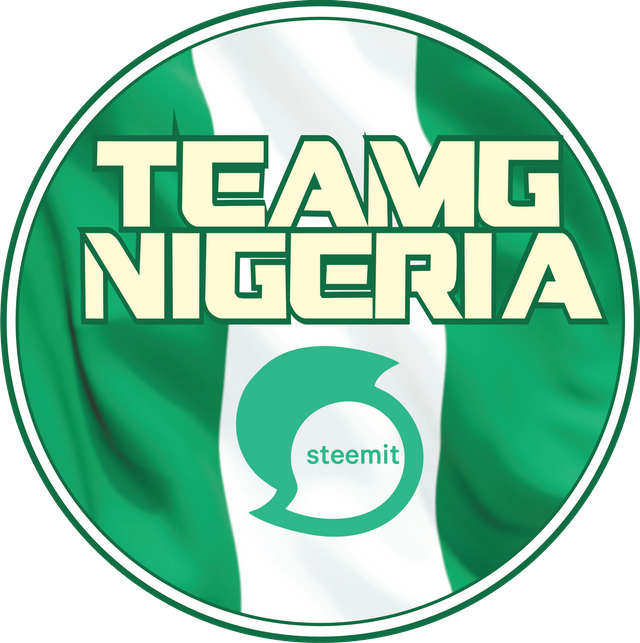 ON THAT NOTE, HERE'S THE FINAL LIST OF THE TEAM MEMBERS FOR THE 2020 SECOND PHASE STEEM DIARY GAME:
@greatness96 (Team lead)
@princesstj (Meet-up lead)
@senicbliss (Updates lead)
@oluwatobilola (Training lead)
@unyime (Promotion lead)
Our team goals remain the same as state IN OUR OFFICIAL ACCOUNT INTRODUCTION.
Additional Goals
Training of new recruits
Monthly meet-ups
Promoting steem in our localities
The weekly update on progress of the team in relation to our goals will be posted throughout the duration of the game.
Worthy of note is our plan to build the steem power of @teamg-nigeria for the purpose of curating the posts by new recruits. The first payout of this account was 3 sbd and 14.5 steem. The sbd has been converted to steem and powered up. We believe with consistent efforts, as individuals in particular and a team in general, we will chart the course to our desired greatness.
Update For The Week
It's busy week with members of the team fully engaging in everything that has to do with steem.
Posts by members of the team are:
THE SHOPPING GAME; 20/7/2020 - BABY CLOTHES by @greatness96
THE SHOPPING GAME; 21/7/2020 – FEW ITEMS FROM A SHOP IN MY NEIGHBOURHOOD by @greatness96
THE SHOPPING GAME; 23/07/2020, BABY FLASK AND SOCKS. by @greatness96
MY MEMBERSHIP IN TEAMG-NIGERIA FOR THE SEASON 2 DIARY GAME by @greatness96.
THE SHOPPING GAME; 21ST JULY 2020 by @princesstj
The shopping game 22/7/2020; my today's shopping by @princesstj
THE SHOPING GAME: 23rd July 2020. Late shopping by @princesstj
THE DIARY GAME ; MEMBERSHIP INTRODUCTION by @princesstj
The shopping game. 20/7/20. I got some facials by @senicbliss
My Membership In Teamg-Nigeria, Meet Our Team by @senicbliss
THE SHOPPING GAME. 23/07/2020. I VISITED A PHARMACY by @senicbliss
The Shopping Game: 23rd of July 2020, Shopping for Essentials at Exito Supermart. by @oluwatobiloba
The Diary Game: Membership Introduction. by @luwatobiloba
THE SHOPPING GAME 20/7/2020, BABIES WEAR'S. by @unyime
THE SHOPPING GAME 22/7/2020, PURCHASING OF WIG. by @unyime
THE SHOPPING GAME, 23/7/2020 – JUST TWO ITEMS. by @unyime
THE DIARY GAME; MY MEMBERSHIP TO TEAMG-NIGERIA by @unyime
All team members have posted their membership announcement.
Also, on achievement for the week, @greatness96 brought @oluwatobiloba on board and HERE'S HER FIRST SHOPPING GAME POST.
He went further to invite 26 people to the diary game. He has been working hard to help them form team, using the steemitbloggers group on whatsapp to interact with them. They are all Nigerians. They are:
team-1nigeria (@jammz100 is the lead)
@jammz100
@wireless07
@adisa1502
@xcoded247
@kenglogirl
team2-nigeria (@kebi4all is the lead)
@kebi4all – existing game player.
@gloryy
@thekachi
@globearn
@bayour
team3-nigeria (@whizzydom is the lead)
@whizzydom
@sirdeza
@etiufan
@chrisamuda
@adisalat
team4-nigeria (lead- @sebastian2020)
@sebastian2020
@botefarm
@adisaadetunji
@zhyreal
@pizu
team5-nigeria (Lead: @steemit4dan)
@steemit4dan
@lovveday
@demianv89
@prechyrukky
@jamesconfy
team6-nigeria (Lead: @globearn)
@areola
@demianvu
So far, @team-1nigeria and @team2-nigeria have their official account ready for the game. Others are working on it. It's really a busy week, according to @greatness96. As #thediarygame begins on August 1st, 2020, all participants brought by members of our team will mention them on their first three posts, as directed by @steemitblog.
@princesstj brought in @cecefine to steem and HERE'S HER INTRODUCTION POST
Thank you for your unending support.
Teamg-Nigeria