SUT - Steemit New User Tracking - Newcomers Active/Dormant Stats on Single Click
Steemit New User Tracking(#SUT)
As I am currently working on the New User Tracking related features. I would like to share an update on Newcomers' active/dormant list feature and details display on a single click.
Steemit New User Tracking Url - https://steemut.azurewebsites.net
Background and Uses Case
Steem Greeter team/country representatives could quickly check the list of newcomers along with total users, active, and dormant users count on a single click. This feature will avoid manual checks which are currently performed by CRs to prepare the active/dormant users weekly/monthly reports. It would also help in quickly analyze and in taking corrective action with help of these stats.
---
Development Update
Newcomers' active/dormant list feature currently in the development phase, I am working on it part-time from past few days. I have designed the solution and approach and very close to make this feature live so that the Steem Greeter team/country representatives could start using it.
Currently, I am implementing this for India and after that, this feature will be available for all countries to check active/dormant users with details on a single click.
Below is the current User Interface, I will improve the UI once other countries newcomers stats will be added.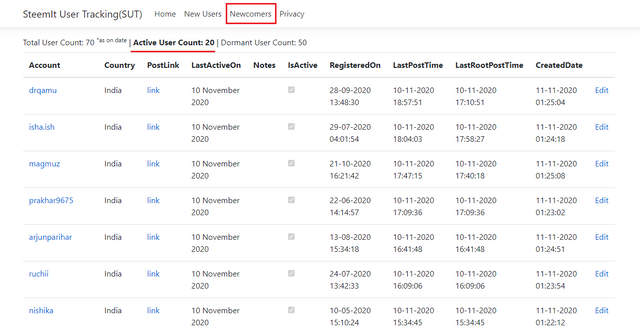 Newcomers list with total, active and dormant users list - India
Newcomers data import to #SUT SQL database
Newcomers account name with their country details will be imported only first time and after that background job will keep updating the user record by checking their latest blog post or replies with the timestamp. New user we can keep adding to the system through a user interface (to be developed). I have referred the Steem Greeter sheet to pull the Indian Steemit users account and imported it into #SUT.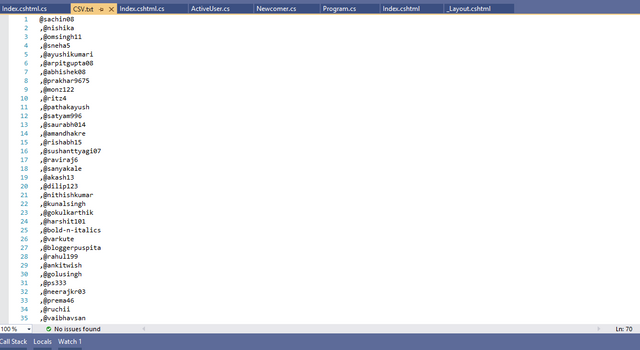 Newcomers list in CSV format | Initial data import
Updating Users Last Post and Root Post timestamp in SQL database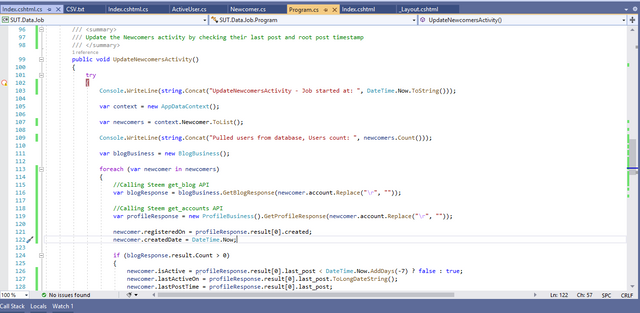 Background job to keep updating the user account last post timestamp based on their activity on Steemit
Displaying Newcomers stats and list sorted by last post date time on UI.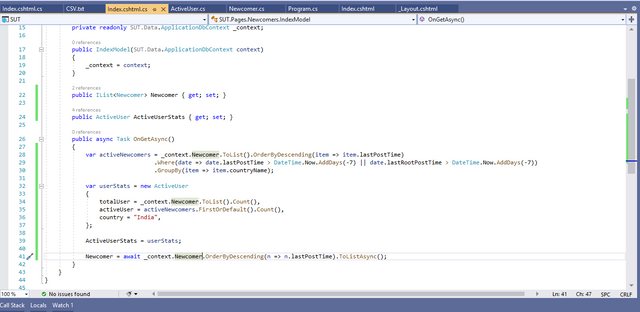 Next Steps:
Deploy this feature on production/live #SUT application.
Import other countries Steem user accounts and display active/dormant stats.
UI to add new users in the future to track active/dormant stats with updated users list.
The next set of activities will be defined later once the above is accomplished.
---
That was all the updates related to the Steemit New User Tracking application active/dormant users feature. I would really appreciate any feedback/suggestions on this.
Thank you!
Cc:-
@steemitblog
@steemcurator01
@steemcurator02
@stephenkendal
@shortsegments
@cryptokannon
@rishabh99946
@sapwood
**Note: All the screenshots are taken from the Steemit New User Tracking application (development environment) which is managed by me.
---
The post payout is set to "Power Up 100%".