SUT - Steemit New User Tracking feature - Active/Dormant List - Release 0.1.2
Steemit New User Tracking (#SUT)
As I am currently working on an experiment project i.e. New User Tracking. I would like to share an update on the same.
Steemit New User Tracking Url - https://steemut.azurewebsites.net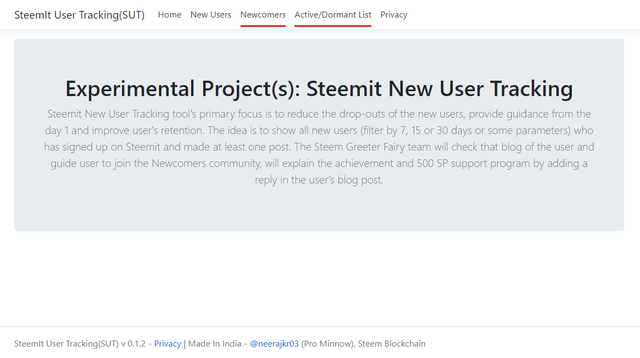 #SUT: Home page
Release v0.1.2
The latest build v0.1.1 is deployed on production on 15 November 2020.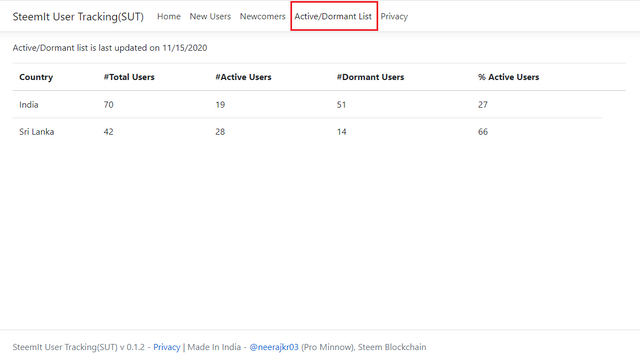 #SUT: Active/dormant Newcomers' list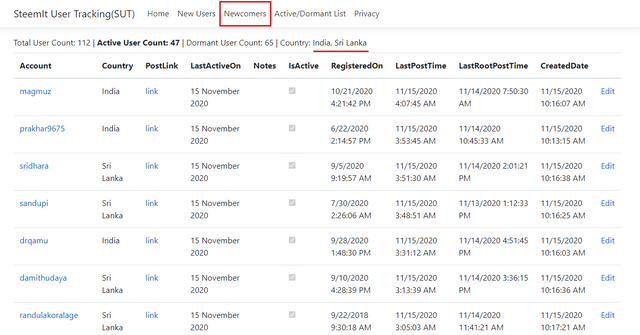 #SUT: Newcomers' - India & Sri Lanka
What's new
Added Newcomers' list of India and Sri Lanka who has participated in the Newcomers' achievement program task so far.
Added active/dormant list feature and covered Indian and Sri Lankan newcomers.
Please refer to this post for more details.
Next Steps:
Add all countries Newcomers' on the platform for easy tracking of active/dormant users and take necessary steps to improve retention ratio.
Login feature.
Add User Interface/screen so that CRs can keep the list of Newcomers'updated here for their respective country for accurate tracking of active/dormant Newcomers'.
Add background job to keep checking New Users(newly signed up) post in case they publish their first post after 7 days, maybe till 2 weeks.
Show New Users(newly signed up) list on a new page who has not posted any blog yet.
The next set of activities will be defined later once the above is accomplished.
That was all the updates related to the Steemit New User Tracking application. I would really appreciate any feedback/suggestions on this.
Thank you!
Cc:-
@steemitblog
@steemcurator01
@steemcurator02
@stephenkendal
@shortsegments
@cryptokannon
@rishabh99946
@sapwood
@randulakoralage
**Note: All the screenshots are taken from Steemit New User Tracking application which is managed by me.
---
10% of the reward from this post will go to @bestofindia.