Steem Photos contest #16-"Show the 5 best things you have " . || 25% [email protected]
Hi friends and dear members,
I hope everyone is doing well and having a good time with your family and friends.
I am Jyoti the admin of #steemphotos. I am happily announce a new contest: Contest #16 today.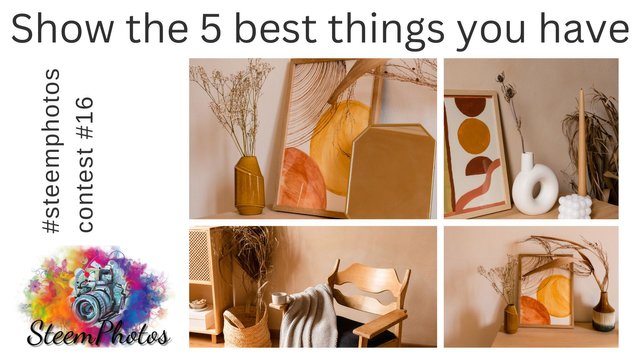 Contest Details:-
The contest's subject is "Show the 5 best things you have ".
To take part in this contest you have to show us five important and special things you have with photos and descriptions
What could they be?
It could be a gift someone gave you or a prize trophy, medal or shield you awarded or a great book or something like that.
The contest is open to all Steemit members and must write at least 300 words, as well as at least two photos. You can make a post in any language (English translation is optional).

Contest Prize:
We have decided to giveaway 11 steems pool prizes as below:
1st Prize- 5 steems
2nd Prize- 3 steems
3rd Prize- 2 steems
and a chance to get surprise upvotes from curators.
Contest deadline is 2nd October 2022, 11.59 am UTC .

Contest Rules to be Followed:
• Contest posts must be submitted only in the #steemphotos community.
• Title should be "Steemphotos contest #16 || Show the 5 best things you have by @user".
• Post must have at least 2 pictures, preferably a selfie with the special gift.
• A quality writing article must have at least 300 words.
• Participant must have joined any of one club such as #club5050 or #club75 or #club100.
• Use tags #Creativewriting #photography and the club you are in, for example #club5050.
• Add #burnsteem25 tag if you set 25% beneficiary to @null.
• Pictures must be your own, copying pictures from the internet is not allowed.
• Don't post any Plagiarised or illegal content.
• Follow @steemphotos.
• Invite at least three friends to take part in the contest.
• Submit your post link in the comment section of this post.
• Upvote and Resteem this post.

Cc: @kyrie1234, @arshani, @mrsokal, @sualeha, @eliany, @abiga554
@disconnect, @lavanyalakshman
💚THANK YOU & ALL THE BEST 💚