SEC S10W1: Un regalo para mi mismo. / A gift to myself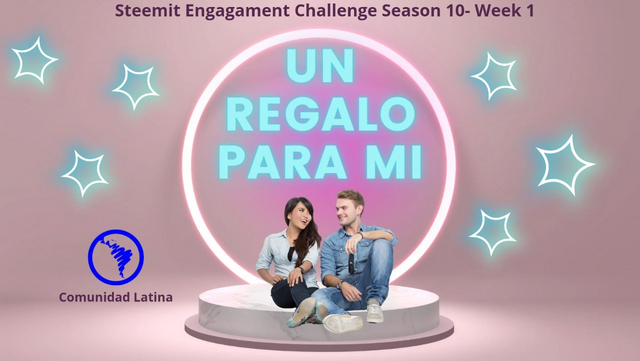 Created using Canva Pro.
---
Introducción / Introduction
---
Nos pasamos la vida trabajando por las cosas básicas y necesarias de cada día, la escuela, la comida, la ropa, la medicina, etc... Pero siempre hay un momento de la vida donde con mucho sacrificio decides hacer una inversión en ti mismo. Hoy queremos explorar en esos deseos que quieres cumplirte tu mismo a través de la primera semana de la temporada 10 del Steemit Engagement Challenge.
We spend our lives working for the basic and necessary things of each day, school, food, clothing, medicine, etc... But there is always a moment in life where with a lot of sacrifice you decide to make an investment in yourself , and today we want to explore those wishes that you want to fulfill yourself through the first week of season 10 of the Steemit Engagement Challenge.
---
¿Que tienes que hacer? / What you have to do?
---
Puedes responder las siguientes preguntas, aunque eres libre de hacerlo, según tu creatividad:
¿Qué regalo te darías?
¿Tenerlo te haría la vida más fácil? Cuéntanos el motivo.
¿Cuánto cuesta este regalo en tu país? Puedes tomar la Moneda local y transformarla a steem.
¿Steemit te ayuda a ahorrar para lo que tanto deseas?
¿Qué otros regalos te has dado antes?
You can answer the following questions, although you are free to do it to your creativity:
What gift would you give yourself?
Would owning it make your life easier? Tell us the reason.
How much does this gift cost in your country? You can take the price to steem.
Does steemit help you save for what you want so much?
What other gifts have you given yourself before?
---
Reglas y criterios
---
El título debe ser SEC S10W1: Un regalo para mi mismo.
Asegúrate de publicar tu entrada en Comunidad Latina.
Asegúrate de utilizar las etiquetas #cotina-s10w1 #cotina #steemexclusive y la etiqueta de tu país. (ejemplo, #venezuela)
Invita a 3 amigos a participar, reestemea este post y deja el enlace del concurso en tu publicación.
Deja el link de tu entrada en los comentarios de este post.
Este concurso estará abierto durante 7 días, se cerrará a las 00:00 UTC
Cualquier idioma es bienvenido.
The title must be SEC S10W1: A gift to myself.
Make sure to publish your entry in Comunidad Latina.
Make sure to use the tags #cotina-s10w1 #cotina #steemexclusive and the tag of your country. (example, #venezuela)
Invite 3 friends to participate, reesteem this post and leave the contest link in your post.
Leave the link of your entry in the comments of this post.
This contest will be open for 7 days, it will close 00:00 UTC
---
Notas adicionales / Additional Notes
---
Nuestro equipo comentará significativamente cada entrada y verificará los parámetros básicos a través de la siguiente tabla:
Our team will meaningfully comment each entry and verify the basic parameters through the following table:


---
Premios / Awards
---
1st: 5 STEEM
2nd: 3 STEEM
3rd: 2 STEEM
---
Adicionalmente, 10 STEEM serán repartidos entre 10 menciones honoríficas.
Additionally, 10 STEEM will be distributed among 10 honorable mentions
Enjoy with us this season and don't hesitate to let us know if there is any inconvenience!
Steem On!