Steemit Engagement Contest4 ; Describe what you do for personal development"📙 👩👨 #swcengagement4
Hello Steem Women Club Community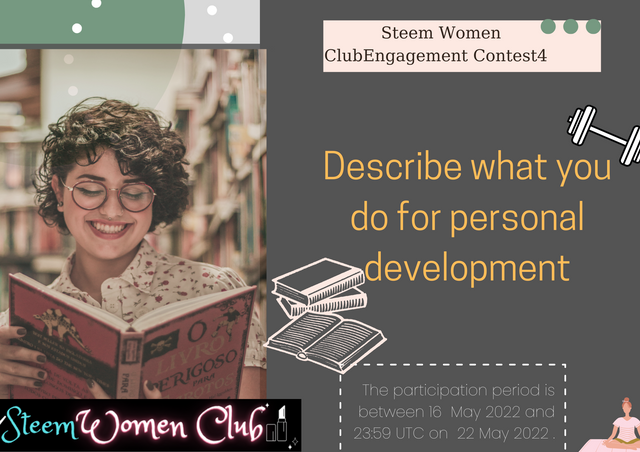 Introduction
Today I will announce to you the innovation of our community and the new competition. We are sure that this month will be very competitive and exciting. We hope that you will participate in the competitions on this innovation.
Steemit Engagement started today with a new contest theme that will be announced by all 7 communities. You can win prizes by following the competitions in other communities.
---
Steem women club Engagement Contest4 Topic;
Describe what you do for personal care/development"📙 👩👨
We adapted this competition for men and women. You can explain what you want. We know that people make improvements for personal development. We develop ourselves as human beings. we discover more information or appearance related innovations. Books, seminars, courses or care for appearance, aesthetics etc... we want to see how you improve yourself.
Most importantly, let's not forget that male users can participate in this contest
---

Contest Tips
•Tell us how you improved yourself
•Make recommendations.
•You can also describe it as appearance. (care, aesthetic make-up, etc.)
•must have at least 4 images
.
•Picture must be yours
• At least 300 words

Contest Rules
• Post your articles in the Steem Women club community . The participation period is between ** 16 may 2022 and 23:59 UTC on 22 May 2022** .
•Your contest title Steem Women club Engagement Contest | Your title | should be in shape.
•Competition text should be at least 300 words.
•Your article should not contain any plagiarism.
•The text or pictures must belong to you.
•The important tags of the competition #swcengagement4 #engagement #steemwomenclub #steemexclusive
•Participants must follow #club5050 or #club75 or #club100 as appropriate. Use the appropriate label for the club.
• Your article must receive at least 10 upvotes and 5 valid comments .
•Bots, vote buying etc. should not be used.
• At least 30 sp delegation to the Steem women club community
•Comment to users participating in the contest
•Follow svm038 and steemwomen club accounts.
• resteem this contest announcement.
•Tag your male and female friends
noteDelegation is not required for users who do not have sp/steem/sbd in their wallet. **
Male users delegation optional.

Competition Awards
The conditions for determining the winners are the same. Your post must receive at least 10 upvotes and 5 valid comments. Comments should be meaningful and of high quality.
Winner booming vote
2.Winner booming vote
3.Winner booming vote
4.Winner booming vote
5.Winner booming vote
Users to be selected must make sure that they follow the rules. and watch the hours. Moderators will comment on your posts.
---
Apart from that, SC01 will check all 7 participating communities and search for quality post. . Votes cannot be guaranteed.



At the end of the week/month, we would nominate top 3 users to be compared with other participants in other communities for a probable win for the week/month.
---
Steemit Engagement Challenge Important Information
Competitions in the 7 selected communities will be announced today. Those who want to win this season should participate in competitions in all communities. Also, carefully follow the rules of the communities.
---
Weekly Winners
The most important rule is that you must compete in another community every day. The user cannot participate in the competition twice in one day. Must have participated in 7 competitions in all participating communities within 7 days.



must participate in competitions in other communities every day on time. must have shared his article until 23:59 in utc time.



The articles must have an average number of ≥ 50 upvotes and ≥ 10 comments.






•At the end of the week/month, the 3 most active users who successfully complete the competition will be selected. And from these, 3 overall winners per week / month will be selected, along with the entrants selected by other communities..



Award;
- TOP 1: 30% from sc01
- BEST 2: 25% from sc01
- TOP 3: 20% from sc01

---

Monthly Winners

Users to be considered for the monthly winners must have at least 28 entries throughout the month.



One entry per day (in a community) posted before/at 23:59 UTC of each day. And must conform to all rules, also as specified in the contest hosted by each community. As such, a user total entries would be at least 28 in a month after entering contests in all the participating communities



The articles must have an average number of ≥ 50 upvotes and ≥ 10 comments.






Top 1, Top 2 and Top 3 gets 100%, 75% and 50% upvote respectively from SC01.

---

Award;

- TOP 1: 100% from sc01
- TOP 2: 75% from sc01
- TOP 3: 50% from sc01

Notice: Winners will be chosen weekly and monthly from the entire platform, not just one community.

---

The participation period is between 16 May 2022 and 23:59 UTC on 22 May 2022 .

---

---

SteemWomen Club Discord :https://discord.gg/yFykMWBb




İnstagram Account: Steem WOmen Club




Twitter Account:Steemwomenclub




Blog Site : Site

Support us by delegating STEEM POWER.