Steem Women Club Contest #7 || How Did Steemit Change Your Life? || Grand Awards !
Hello beautiful women of the community:
Today I will be announcing the seventh contest of our community. We
read very good posts in the previous contest. You have created quality
and attentive content. We have read the history, culture and food of beautiful cities in different countries of the world. Thank you again for participating in the contest.Votes will be given to the winners of the competition by the curators.
Steem Women Club Contest #6 ENDED || Promite Your Favorite City || CONTEST RESULT !
•I announced the winners of the competition. We congratulate the winners, We continue to offer you and win contests, we read beautiful and quality content. Mostly everyone got good awards.
I will continue to bring you back and encourage you to be active. We are not one in this community, we will all win!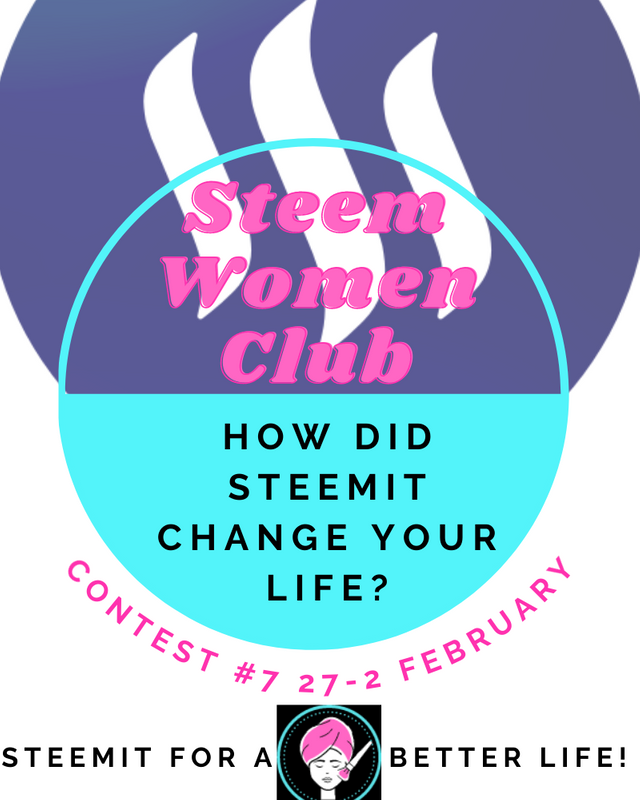 What is the Subject of the Contest?

'How Did Steemit Change Your Life?' The answer to this question is, of course, long. We all came to this blockchain for different purposes. The lives of some of us have changed a lot. Some of us are trying to understand this yet. The most important issue is Steemit's role in our lives.
Your own initiative for the contest;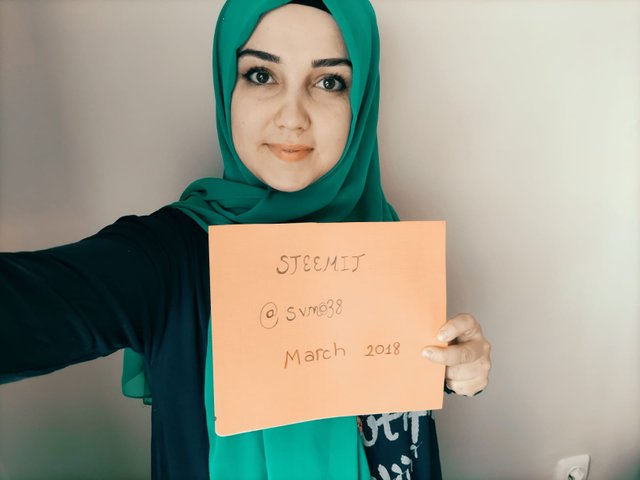 Steem Women Club Community Contest #7 || Goodness of My Life Steemit || How Did Steemit Change Your Life? || 100 %Power

Contest Tips;
• Your answer to these questions will be detailed;
What is a steemit?
How did Steemit change your life?
Are you satisfied with this situation?
What is your purpose for being on this platform?
What is your dream at Steemit?
Do you earn a daily income or invest here?
Tell me about your good or bad side.
• Take care to have detailed, quality and original content
• For emphasis in your post, please see the Markdown Styling Guide Use Preview . Writing styles written in different programs are not translated into different languages.
• There is no limit to language options, but it will be easier for me to understand if you write in English

Contest Rules;
• You must share your post in the SteemWomen Club community
• Resteem the contest post
• your post must be your own
• Invite your friends
• More than 300 words
• You should use the #steemwomenclub and #womenclubsteemit tags.(Don't Forget)
The reason we make this tag is to keep the contest posts together and the selection is easy.

About the Competition:
• The aim of this contest is to learn about Steemit's plans. We want to see how much knowledge he has, but also how much value Steemit adds to our lives.
• We can see how much value cryptocurrencies have gained in this changing world. Day after day, we find the right way to digital money. This will be an inevitable change.
That's why we will be here and see how much Steemit is valued over the years.
Steemit for a Better Life !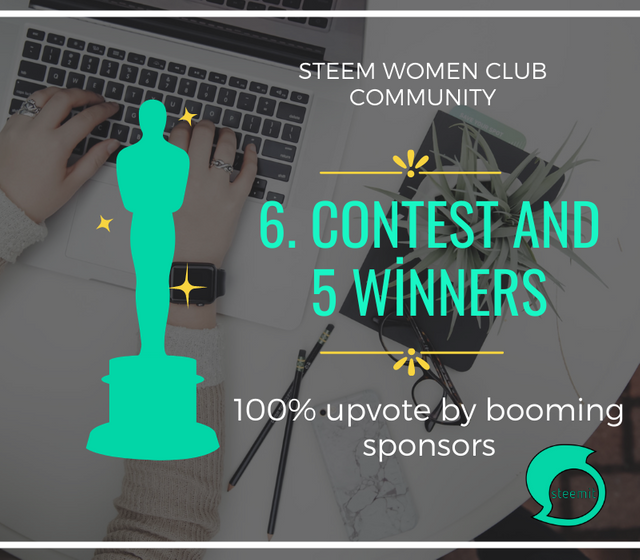 Competition Awards;

You know, I explained before that the reward system has changed. I mentioned that we will be supported by @Booming accounts. From now on, our Contest winners will be supported by @booming01 and @booming04.
• They are approximate numbers and may be more.
• If you win a reward for your posts over a week, your active post will be rewarded.
• #contest You can also get support from different curators using the tag.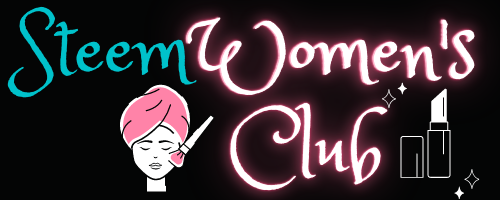 WE ARE STRONG TOGETHER If the community is strong, you will also be strong Stay with love ❣