BETTERLIFE WITH STEEM | MY TOWN IN TEN PICS | THE DIARY GAME | CONTESTS - TIPS / TOOLS FOR AN AWESOME POST & EXTRA REWARDS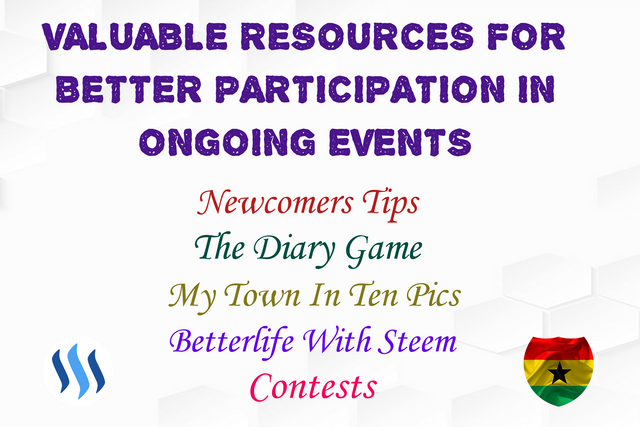 Greetings everyone,
This post is meant to provide some useful guidelines and tips to help guide our posts on the various ongoing challenges and games happening here on steem.
FOR NEWCOMERS
---
To start with, all newcomers are encouraged to read STEEMIT - A GUIDE FOR NEWCOMERS by @steemitblog. This would provide you with great information you will need right away as a newcomer.
7 Common Mistakes Newcomers Make on Steemit by @steem-sri.lanka also outlines some certain mistakes common amongst newcomers. Reading this post is extremely important as it prevents you from making certain mistakes most newcomers and even some existing users tend to make.
We also urge our newcomers to visit the Newcomer's Community and undertake the various achievement tasks available. This would help you prevent content abuse and provide you with a variety of exciting tools you might need for a successful steemit journey.

FOR EVERYONE
---
MY TOWN IN TEN PICS TIPS
---
Not too long ago, @steemitblog announced the New Challenge - My Town In Ten Pics. This is a very simple challenge involving sharing of pictures of your town/city pictures and @steemcurator01 (the steemit team) is still giving out rewards for various entries.
To make a valuable entry, remember to use what3words to show the locations the various pictures were taken. Also share on twitter and put the link to the share as well as a screenshot in the comment section. Use the labels #mytown10pics , county: #ghana and your town/city : #buoho, as part of your first five hashtags.
A swift tutorial on the use of what3words has been provided by @rishabh99946 below.
What's is What3words? How to use | all you need to know |The diary game useful tips.

THE DIARY GAME
---
The winners of the season 2 of #thediarygame were recently announced by @steemitblog and we were happy to see our very own country rep @oppongk winning of of the top positions. Season 3, has already commenced and is underway.
Write at least 300 words.
Share on twitter.
Include captions on your pictures to add more details.
Use what3words to show the location you took your pictures.
Remember to set post to a 100% powerup.
Include these hashtags as part of your first five hashtags ( #thediarygame, countrytag: #ghana)
Note : the 100% powerup extra rewards is given to steemians who are not powering down at the same time.
More details about the diary game can be found below.
Let's start using what3words|The diary game |My Town in 10 pics | 100%power up

BETTERLIFE WITH STEEM
---
The Betterlife With Steem is another event happening right here on steem initiated by @steemitblog. We get to share some of the good things we are doing to improve our lives, that of our families as well the community as a whole. There are seven themes within which you can write on and each of them comes with a specific label;
Acts of Kindness (#actsofkindness)
Crafty Content (#planetpositives)
Crypto and Me (#cryptoandme)
Learn With Steem (#learnwithsteem)
Grow Your Own (#growyourown)
Mind, Body and Spirit(#mindbodyspirit)
Planet Positives (#planetpositives)
More information on it can be found here A Better Life with Steem.
Remember the following;
Write about your own activities.
Write at least 300 words.
Set your posts to 100% power up for extra rewards.
Include twitter sharing.
Make use of captions on your images.
Also use what3words to show the location of your images.
What's is What3words? How to use | all you need to know |The diary game useful tips.

CONTESTS
---
Various contests are organized on steem by both individuals as well as communities. At times finding these contests becomes another issue.
Since most contests make use of the #contest tag/label, it makes the ability to find them easier. Use the link below to search for ongoing contests.
https://steemit.com/trending/contest
Better yet, @rishabh99947 usually compiles the list of ongoing contests as well. Here is this week's compilation.
Updated |As on 13th November |Compilation of On going contests on Steem blockchain

THANK YOU!