"Steem Engagement Challenge S7-W1: Share Your Favorite Festival"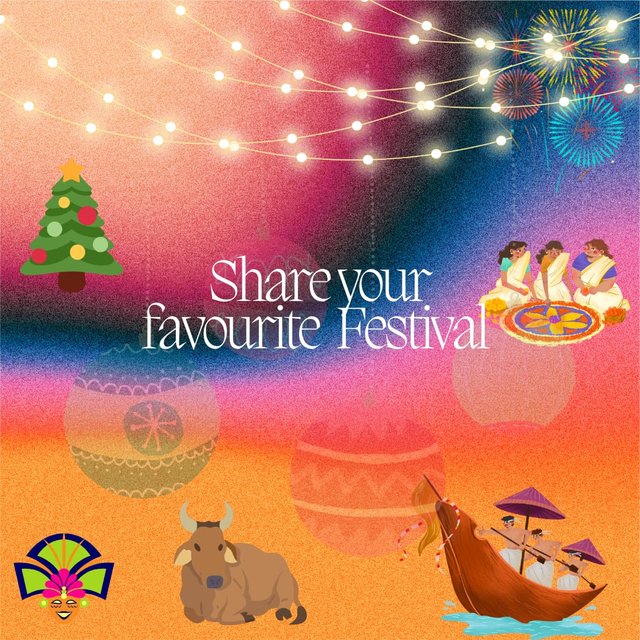 Greetings to all steemains!!
Happy new Year to all steemains. Hope you all are good and enjoying your lives. We are happy that our team has selected for Steemit Engagement Challenge Season 7 and it will be going to start now. We thank to steemit team for giving us this opportunity.
Topic of the week:
the topic of the engagement challenge is Share Your Favorite Festival
Here we are inviting all steemains to share your favorite festivals that are relevant to your culture or region or religion. We have users from all over the world having different religions, regions, and cultures.
For instance;
Christians celebrate Christmas
Muslims celebrate eid-ul-Fitr and eid-ul-azha
Hindus celebrate Holi, Navratri, etc.
Here we want to know about their favorite festivals so, tell us about what kind of preparations do you do before the festival? when does it start and end? and what do you do at your festival? Or how do you celebrate this festival?
Guidelines For Contest
We are giving some common guidelines that are necessary for Steemit Engagement Challenge and other post in Steem For Pakistan Community.
Your post must be original, we don't allow plagiarized content or spinning of words.

Post must be unique and contains more than 300 words.

User must be bid bot free and verified from new customers community .

Your post should be titled "Steemit Engagement Challenge | S7W1 | Your Favorite Festival ".

User must be part of #club5050, #club75 and #club100 and your post must be in Steem For Pakistan community.

The picture used in the post must be yours or should be taken from a free source.

If you share any information from internet, give its complete citation.

You can share your content in any language, there is no restriction of language.

Subscribe Steem For Pakistan community and Invite 3 of your friends to participate in the competition.

Please Resteem, upvote this post and leave your entry link in the comment section of this post.

The first 4 tags in your post should be #steem4pak-s7w1, #steemexclusive, #yourcountry and #clubstatus.

Don't forget to comment and support other participants' posts.

Share your post on your social networks Twitter, Instagram, Facebook or other.

The contest starts on Monday 09/01/2023 at 00:00 UTC and ends on Sunday 15/01/2023 at 23:59 UTC.
Contest Prize
| 1st place | 5 Steem |
| --- | --- |
| 2nd place | 5 Steem |
| 3rd place | 5 Steem |
We Evaluate Contest Post In This Way
Dear @ Thank you for sharing your Quality Blog with your Steem4pakistan community in the Season 7 Week 01. Your Post Information has been given below:
Description
Information
Score
Plagiarism Free
✅ or ❌
1/1
#steemexlusive
✅ or ❌
1/1
Bot Free
✅ or ❌
1/1
Verified User
✅ or ❌
1/1
Club status
club100
2/2
Markdown Style
2/2
Quality Content
2/2
Total Score
10/10
---
| Transfer to Vesting | xxx.xxx STEEM |
| --- | --- |
| Cash Out | xxx.xxx STEEM |
| Voting CSI | 00.00 ( 0.00 % self, 00 upvotes, 00 accounts, last 7d ) |
| Get Upvote | 0 |
| Valid Comments from Other Users | 0 |
Rivew:
Official Team
SUPPORT US BY YOUR DELEGATIONS