I am now a Steem Witness - Let's Celebrate.... ice-cream is on me!
Today I am really happy to tell all of my friends here in Project Hope about something that makes me really happy! I wrote about my intention to become a Steem Witness a few weeks ago, and I have been trying to fix it and solve problems along the way since then. And now, I have finally succeeded. I am a Steem Witness, and you can read my introduction as a Steem Witness right here.
May 26 update:
I would love to get your vote in the future as well, but I have almost run out of liquid Steem, so I cannot promise any more ice cream to people who vote for me as their witness! However, I do hope those who have voted for me already would have done so even without the ice cream invitation, and I do hope that you will consider voting for me as your witness on Steemit, even though I am officially saying that the initial celebration is over!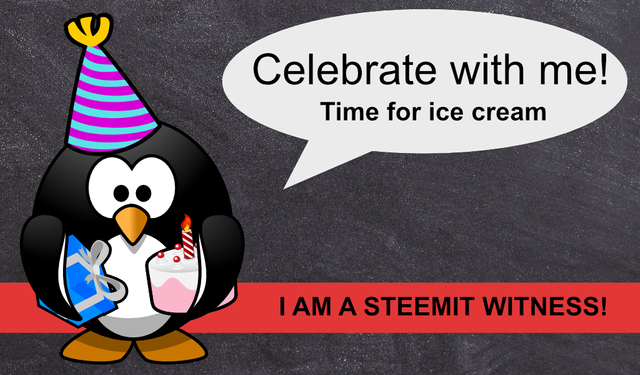 But, today I would like to celebrate with all of my friends on Steemit and especially in Project Hope! I wouldn't have been here at all if it wasn't for all your support, help, awesome articles, comments, and if it hadn't been for the platform itself.
One of my ways of saying thank you to the Project Hope community is also by giving 100% of the rewards from this article back to the community! But, let us move on!
Ice-cream is on me!!!
That is why I would like to invite anyone with Steem Power above 100 and a reputation above 50 who puts an effort to support me as a witness for ice cream.
You can, of course, come to Hungary and I will buy you the ice cream right here, but I guess an easier solution is for me to transfer 3 Steem tokens to you that you can use yourself. In Hungary, the price of ice cream is around 1 Steem, so hopefully, 3 Steem tokens will be enough to give you big ice cream, or a smaller one for you and someone else!
How can you support me as a witness?
Supporting or voting for a witness is entirely free. A witness is someone you believe is working for the good of the Steemit platform, and who is doing a job to make this a better place to be! Do you want to support me in that way?

You can go to www.steemworld.org/@yourusername . Click account details, and choose witness votes. Click the Vote for Witness text and add @unbiasedwriter to the box.

Did you like the ice cream? A chance to get an extra upvote!
When you have placed your vote, feel free to write a comment (it isn't required), and I will transfer the ice-cream tokens as quickly as I can! If someone would later even post a photo of themselves celebrating me as they eat their ice cream, I will give them a 100% upvote on the picture in the comment field (my upvote isn't worth a lot, but still - that would be really cool)!
I will track all votes myself, so you don't need to post pictures proving that you have voted for me as a Steemit witness and so, but a comment would be nice! :)
Please share if you want even more people to eat ice cream!
I am really grateful for this chance to be a Steem witness and would like to celebrate with as many people as possible, and thus, reach a wider audience and get to know even more people on the platform!
So, if you can, please resteem and share this article with other people you believe will find it interesting, or at least, people who love ice cream! :)