PROJECT.HOPE application for the COMMUNITY CURATOR PROJECT of Steemit
INTRODUCTION


It took me a few days to find "inspiration" to write this publication. I hestitated for that long partly because many of my supporters and people I collaborated with had decided to abandon Steem blockchain and move elsewhere. And some of them may turn their back on me as well, accusing that I'm supporting Justin Sun, censorship, centralization blah blah blah.
This simple fear of possible confrontation increased after seeing @TravelFeel developers being harassed and insulted after their application was posted.
I strongly believe that project.hope application could also potentially get us some new enemies and that we may be criticized by many on HIVE chain. It's an awful position to be in. However, I never chosed to give up on STEEM and I'm still not willing to do so. Definetly not because of some external pressure.
So HERE WE GO ....
PROJECT HOPE - our goals, vision and dreams


Click HERE if you like to learn more about out team.
We've started our operation around a year ago. During that time, I was passionate about history, culture and the economy of Venezuela. I even met a few well educated users on Steemit from this particular country. Some of those people were university professors, earning as little as 10 usd monthly and I wanted to change that, so I came up with an idea ...
Collectively, we formed a small group called "project hope" and our initial goal was to work towards setting up an online marketing agency - which would focus on providing several number of services to businesses built mostly on steem blockchain. Community building, consulting, brand building, attracting well targetted users/traffic for those businesses (representing one of few industries: blockchain, artificial intelligence and cybersecurity).
That's where the name for our PROJECT HOPE came from - we all work hard and share similar HOPE to be able to build and secure online job positions for ourselves.
The Community or subject areas you would like to curate

That is our vision and we're steadily moving in that direction. However, in meantime Project.hope developed greately and it turned into a large community of people passionate with topics related to:
technology,
steem,
blockchain,
artificial intelligence,
machine learning,
cybersecurity,
economy,
business,
marketing, social media, psychology etc
(we're trying to avoid topics related to poltics and religion)
POSTS ARE ONLY IN ENGLISH.
WHO DO WE SUPPORT AND HOW TO JOIN

We welcome all users who share similar passion towards the topics mentioned above to join, subscribe and post within our community. Anyone who understands and shares our values; anyone willing to be active and supportive towards other authors are more than welcome.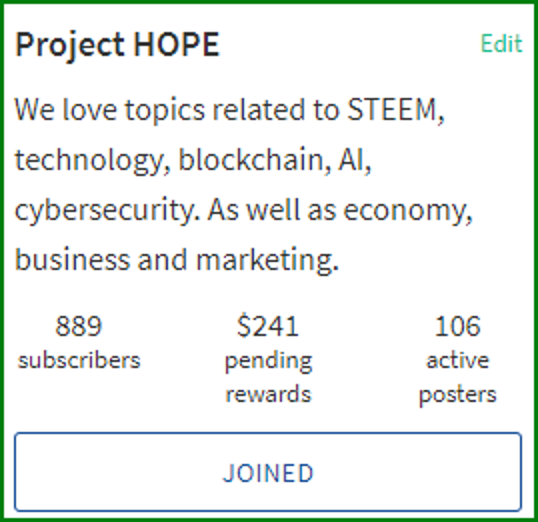 Link to our community: https://steemit.com/trending/hive-175254
Our goal is to mostly support already EXISTING users, who has proven some sort of track of activity and strong engagement with other steem users. As much as we do appreciate quality content - we believe that it's simply not enough and we focus that by upvoting publications of those, who are supportive towards other authors posting within project.hope community. We prioritize content creators, who are willing to invest their own time also to engage in comments with others.
IMPORTANT:
We're planning to focus on upvoting content published by users, who are NOT powering down all their rewards. PH intention is to support those steem users, who are here for long run and intend to increase their stake of our fav blockchain.
OUR UNIQUE ECONOMY AND FUTURE GROWTH

We came up with a very unique economy for our project. You may have already realized, that all authors who participate within our community are setting up 20% beneficiary to @ph-fund. And you may ask yourself a valid question: why is that?
Those funds are helping us to cover expenses related to our growth. It allows us to financially support our core team (5 Venezuelans - ouf of which 3 are university professors). In return, they are helping by engaging with other authors posting within PH community, bringing new new users to our community, getting more delegations etc.
You can read more details about our economy here.
Second part of those funds are being used to reward all most active users within our community. And our system has been proven to work well. Results of our efforts can be easily seen on the printscreen below (engagament rate):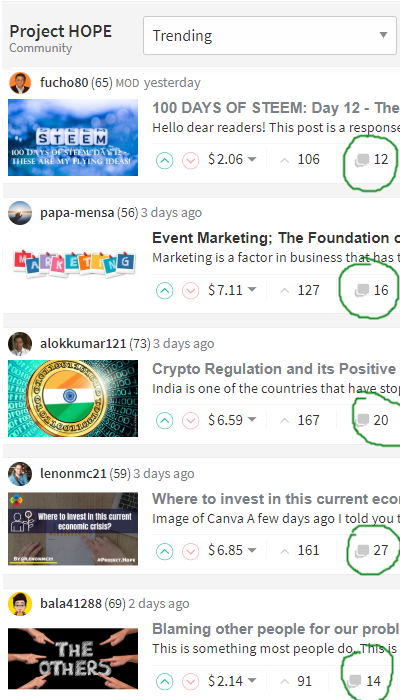 SUPPORTING GAMING INDUSTRY ON STEEM BLOCKCHAIN

I've already managed to introduce steem blockchain to a couple of businesses and I'm constantly learning how to attract business owners to get involved. Our focus will be to promote GAMES built on steem blockchain. We came up with an idea to promote those games with ref-links. Not as a single individual affiliate marketer, but as entire well coordinated team. A team capable of building a strong and active community around the promoted project.
Lately, our core team supported game @holybread with their product beta-testing and we've managed to attract over 150 new users. We consider it a valuable experience. I strongly believe that profits generated as affiliate marketing team, would allow our project to grow even bigger and indeed allow us to build a real-life business on STEEM blockchain. Bringing real value to our chain.
This is exactly how we're planning to bring value into steem and attract serious businesses to our blockchain.
Yours, Piotr

FEW ADDITIONAL QUESTIONS:
a) Your experience and background on Steem
I'm a social media marketer, with years of experience in this field. STEEM blockchain has been my passion since March 2018.
b) Any languages you are fluent in
Polish, English
c) Why you think you would make a good curator
I'm relentless, open-minded and constantly working hard to achieve our goals. Most of all, I know how to deliver results and our project.hope community is just one great example.
I also lived for 11 years of my life in Asia and I like to believe that I developed solid understanding of Asian cultures and Chinese ways of doing business. I'm a combination of 2 different worlds and it is my huge advantage.
Yours,
Project HOPE founder,
@crypto.Piotr
https://www.projecthope.pl/