Crypto Space BLEEDING OUT? BUCKLE UP - recent correction AIN'T OVER just yet [my personal expectations]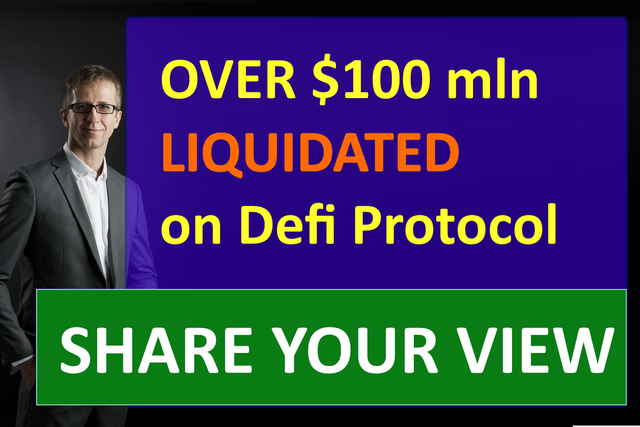 INTRODUCTION

Let me underline that this post is not financial advice and I'm only sharing my point of view on the discussed topic. Knowing that I may be absolutely wrong, I'm also hoping to receive some valuable feedback from you dear readers.
Whether you would agree with my conclusions or not - I will gladly learn your opinion on the current situation in the crypto market.
WAS RECENT CORRECTION TO BE EXPECTED?

Just the other day when the price of Bitcoin was already reaching 19k USD, I've talked to a few PH members about the upcoming correction and it struck me, that the level of optimism has been so high that almost everyone expected a new ATH (all-time high) to happen very soon. Also, a majority of those I spoke to didn't expect a correction to be happening anytime soon.
However, I myself couldn't imagine that the recent BTC price parabolic upward move will continue at its current rate. Luckily for me, at the beginning of this week I've made the decision to move all my little resources to a more stable coin USDT (Tether). Right before the bloodbath took place this thursday. So imagine my relief when I woke up this Thursday morning ...
On Thursday, we've witnessed a heavy BTC drop since 19k usd all the way to 16.5k usd and many of us probably wondered if this is the end of the current correction. Or maybe we should prepare ourselves for an even deeper one?
Let me share my own view and back it up with some personal EXPECTATIONS.
READY FOR ANOTHER DROP?

At the time of writing this post, the price of Bitcoin seems to stabilize itself at around 17k and an entire market seems to be holding its breath. Trade volumes on coinmarketcap.com dropped from 260mln (just yesterday) to below 150mln right now. THAT'S HUGE!
At the same time, if we look at the volumes and price action on Bitcoin, we may see a very interesting pattern. One that I'm always looking for. One that 9 times out of 10 are ending up with sell-out and price going down: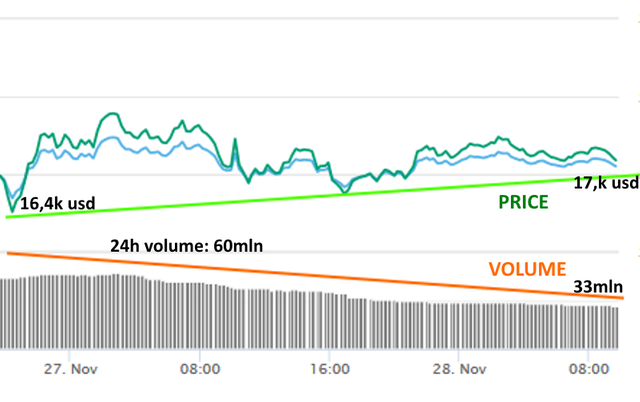 Within those few years in the crypto market, I've learned something: whenever prices are growing and volume are slowing down, then most of the time it means that this growth is not strong enough to sustain itself. I like to imagine that the current price growth is moving forward on "fumes". Not long-lasting.
Since yesterday, BTC price went up from 16,4k to 17k, and at the same time volumes dropped from 62mln ... all the way to 33mln. That is MASSIVE. That's almost a 50% volume drop in such a short timeframe. Based on just that simple "analysis", I would expect another heavy drop in BTC price coming soon.
There is also IMPORTANT news that I would like to share with you. One that most of you may have never heard about:
100 mln LIQUIDATED on DeFi Protocol Compound

It seems to me, that not many people out there are aware of this MASSIVE liquidation which took place this Thursday. I couldn't find even one video on youtube about this topic and the media did not seem to talk much about it either. And yet, I found it to be very important to realize what had just happened.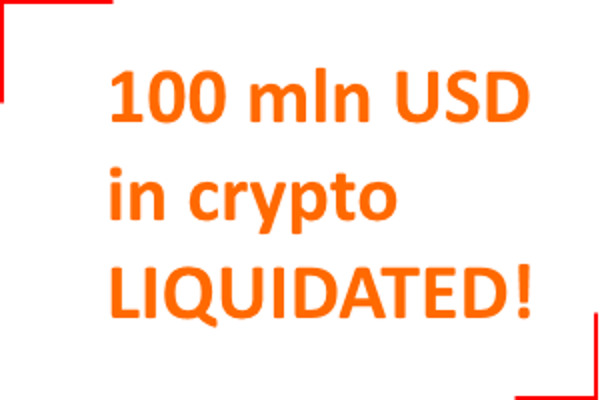 In a nutshell: over 100mln usd just simply "vanished" from the market. Simply because those who borrowed FIAT / other crypto using Compound DeFi didn't have deposited collateral large enough. And to make things worse - many seemed to leverage their investments.
So ... those investors are being left with borrowed funds, however they have lost all deposited collateral.
You could read more about it here:
$100 Million Liquidated on Defi Protocol Compound Following Oracle Exploit
Why is it important?
Can you imagine being one of those investors who were affected by this brutal liquidation? How many of them will lose trust towards crypto? How many will walk away from this industry, considering it to be still not mature enough? And most importantly: how to even replace a 100mln USD "hole" which kind of disappeared?
That is HELL OF ALOT OF MONEY. And we can assume that those funds are gone forever. And some investors who lost it, will be gone forever as well.
Also, DeFi has been fueling the cryptospace in 2020 and that massive liquidation may bring much unwanted attention. I wouldn't be surprised if regulators would step in and start regulating DeFi. Especially if similar incidents will repeat itself in the future.
OTHER TERRIFIC NEWS - 1% BITCOIN seized by Chinese police

Chinese Police Seize 1% of Bitcoin's Total Supply.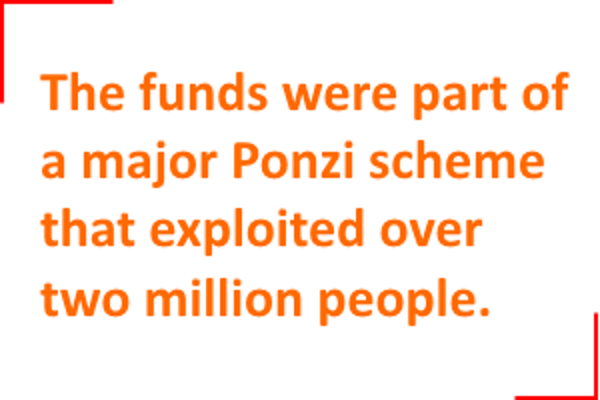 This is definitely another HUGE news I've learned about just today.

One that may result in a huge wave of FUD in the upcoming days.
According to decrypt.co: "Chinese authorities have seized over $4 billion in crypto assets. The funds were part of a major Ponzi scheme that exploited over two million people. ".
What is important is not only the fact that a huge chunk of crypto has been seized by the police (worth 4 billion usd) but was devastating to learn that 2 million people out there lost all their invested funds. That is devastating and the consequences may be very painful to the market.
How can it not affect markets in a negative way?
MY PERSONAL EXPECTATIONS

I'm neither a trader nor an expert. So allow me to repeat: this is not financial advice.
However, I do watch several youtube channels managed by people I value. People with knowledge and experience who are sharing their warnings, predictions and expectations. And most seem to agree that we will probably witness BITCOIN falling down to 14-15k USD levels.
Resistance becomes support
There is one more thing that most of those YouTubers also seem to agree on: assuming that BITCOIN would drop below 14-15k level, then we shall expect huge support of around 11-12k USD. Simply because that was previously a so-called "ceiling" and we've experienced solid resistance through the entire month of August.
Those are also my targets. Let me know what are your personal expectations.
SHARE YOUR VIEW and RESTEEM PLEASE

Please share your view on the discussed topic.

I read all comments and will place solid upvotes on the most valuable ones.
I would naturally appreciate every single resteem. Help me reach out to more people with this content, as I believe that this is a very important topic and I would like more people to join our discussion.
Yours, Piotr
@project.hope founder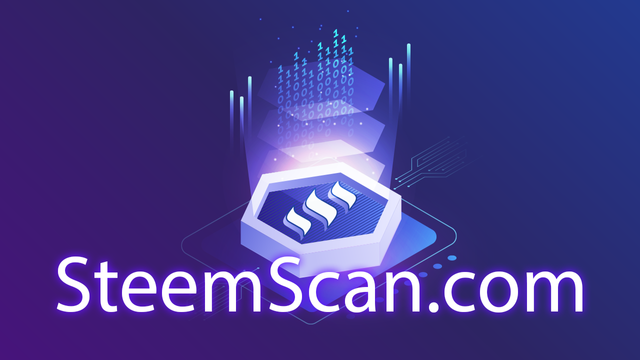 Visit our partner www.steemscan.com/convert if you're looking for easy and fast way of converting STEEM to other major cryptocurrencies.