ENGAGE Token Distribution Stats
Two weeks into the revived ENGAGE token distribution - some numbers around @misterengagement's voting/visits and ENGAGE tokens.
---
Allowing the community to issue a token with no coded rules apart from the fact the issuing account needs to hold 1000 is a bit of an experiment I guess. I mean, it's totally possible to buy 1000 ENGAGE from Steem-Engine and send all the tokens @misterengagement has to your friends, 50 at a time - but the numbers tell me that no-one has tried this, yet.
Today, 200,000 of the 1,000,000 ENGAGE tokens are out in the wild. @misterengagement holds a couple of thousand (partly to limit potential d-bag behavior), I have a few thousand (bought from Steem-Engine), and the rest are owned by community members.
In the early days, tokens were distributed based on performance in the Engagement League, as well as accounts appearing on other stats posts relating to engagement.
Over the past couple of weeks though, over 14000 ENGAGE have been issued by community members holding 1000 or more of the tokens, and this distribution has been made by rewarding over 420 comments.
---
The drivers for the revival of the token are @acidyo's @ocd and witness @untersatz bot. Without the bot distribution would be difficult, and without @ocd, random purchasing of the token and plans for gamification would not exist. Hopefully a combination of these can create demand for a token I've always thought of as a 'vanity' token. Perhaps that's all it will be, but for now there is value attached.
With @ocd's involvement, it's nice to see that comments made on posts within the @ocd community (https://beta.steemit.com/trending/hive-174578) have received the the most visits by @misterengagement.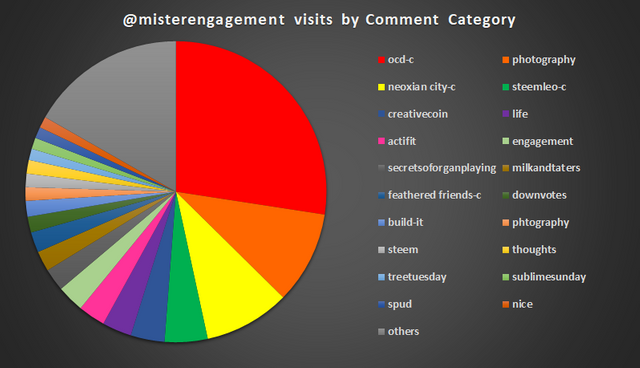 Three other communities, Neoxian City, SteemLeo, and Feathered Friends, have also recieved a decent percentage share of visits by @misterengagement, and we've even had a bit of #milkandtaters too.
---
The following chart is @misterengagement's vote weight chart over the past 14 days.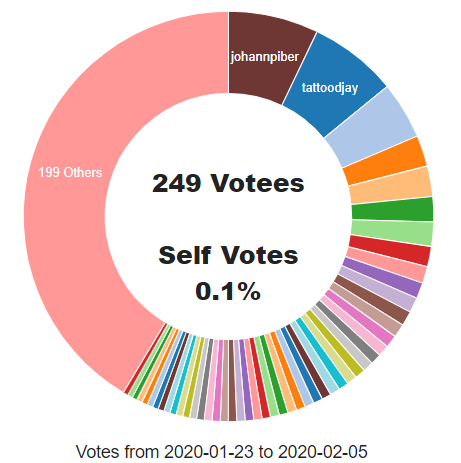 Both of the accounts at the head of the pie chart have been multiple champions of the Engagement League, and so it is perhaps not surprising to see them there. Ideally, I'd like to see an even wider distribution, but I think that looks reasonable for starters.
It's probably worth mentioning here that one of the stats 'we' could be looking to reward is those issuing the token the widest - the more people holding some ENGAGE the better!
---
The next chart shows how many tokens the top 20 issuers have sent out. There is no limit to how many you can issue each day as long as @misterengagement is holding some, but it could be worth checking the current balance of @misterengagement on Steem-Engine, and taking a look at the account's Voting % on Steemworld.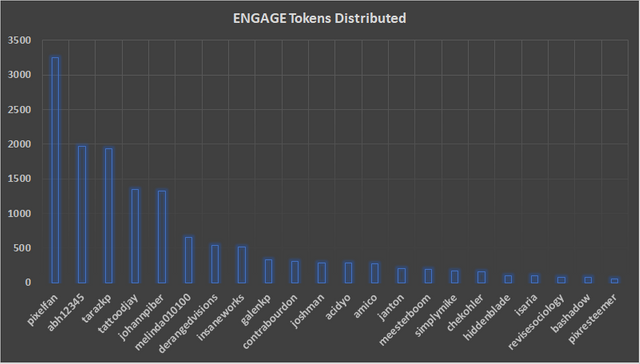 ---
The final charts show who's been receiving the most ENGAGE tokens, and who from.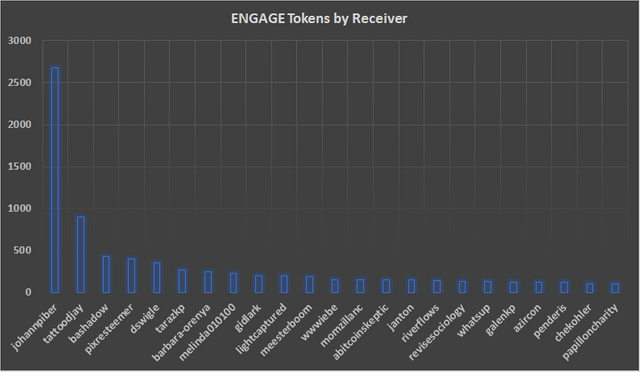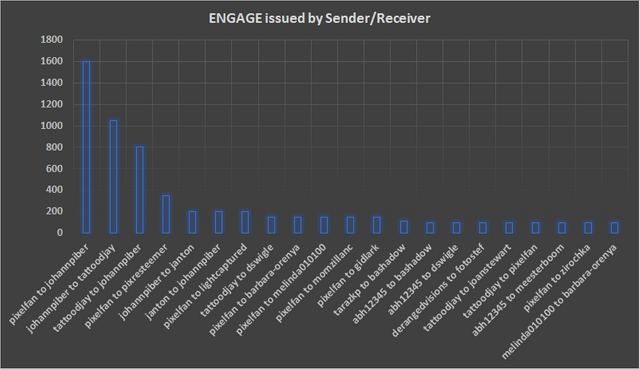 ---
All charts cover the past 14 days.
A reminder that '!engage 50' isn't going to do anything, the command needs to be in CAPS.
Check how many tokens @misterengagement has here: https://steem-engine.com/?p=balances&a=misterengagement
Check the accounts VP here: https://steemworld.org/@misterengagement
If you notice the account is low (-70?) on VP, maybe hold off a day? And if you spot that @misterengagement has no tokens, message me on discord.
Thanks again to witnesses @ocd and @undersatz, and thanks to everyone who's playing along!
Cheers
Asher