Announcing Contest: STEEM SUMMER PRODUCTS CONTEST SERIES || Create A Post About Summer's Cosmetics | Bangladesh-বাংলাদেশ Contest | Week-01 | 15 Steem In Prize Poll
Hello Steemian friends,
At the End of March and at the beginning of April it's time for Announcing my very first Contest in Steemit. Here is the contest SUMMER PRODUCTS CONTEST SERIES In Bangladesh-বাংলাদেশ community Week-01 !!.. Let Me Show You All what I have for You ----
Contest Theme Or Topic:
This week topic or theme of the contest is cosmetics you use in summer and your review on that product. This is not only for female but also male can participate. Cosmetics would be a sunscreen, a soap, a cream, oil, lotion or anything you may love to use in summer and the cosmetic suits you well.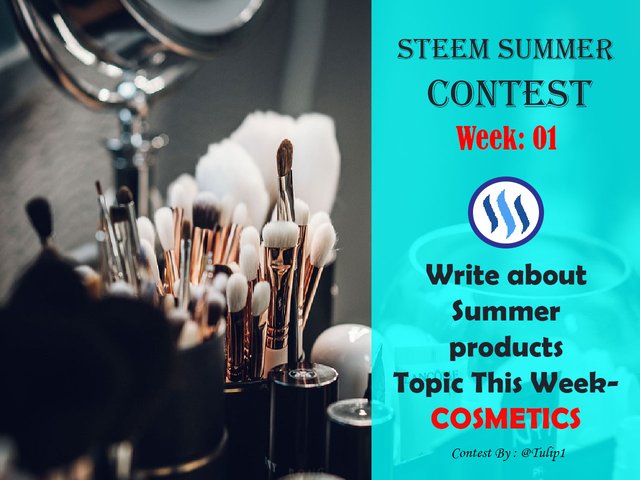 About Contest Cover Design: Pixabay Image edited by @tulip1
What you have to Do:
The contest is super easy, Tell us more about the cosmetic you like most to use in summer specially when you go out. Write minimum 300 words about your favorite summer product and do not plagiarism that's all.
You Also Can Add:
Name of your summer's special cosmetic ?
When you use it? day/night
Benefits of that cosmetic.
How long time you are using this product (cosmetic)?
What kind of skin suitable for this cosmetic? dry or oily skin?
Will you recommend this cosmetic to your friends?
Any side effect of the cosmetic you may honestly share.
Please Focus On Contest Rules:
The title of your post must be : SUMMER PRODUCTS CONTEST SERIES || Create A Post About Summer's Cosmetics | Bangladesh-বাংলাদেশ Contest | Week-01 |
SUBSCRIBE & Make sure to put your entry in Bangladesh-বাংলাদেশ community and put your entry link in the comment section of this post or else your entry won't be count.
This contest is open for anyone who interests in this.
Try to be more creative in your work.
Make your contest with at least 300 words.
Try to share your Original Images with us. And make sure to share a few.
Must use these tags #steemsummer your country ( #Bangladesh in my case)
Make sure you Comment the Link of your Entry under this Post. MUST
Resteem this post, so more people find out about the contest.
Share your post to social media (Facebook, twitter or others)
Only one entry per person
This contest begins on 1st day of April and will be running till the 8th of April at 11:59 pm Bangladesh time Get Bangladesh Time Here
Winners will be announced within 3 days after the contest ends.
Prizes:
1st place= 7 steem
2nd place= 5 steem
3rd place= 3 steem
Note: Right now I can afford this prize to offer If my contest will be appreciated with community support team @steemitblog @steemcurator01 or @steemcurator02 or @booming I'll arrange another contest next week and will announce good amount of prize 🙂
Thank You